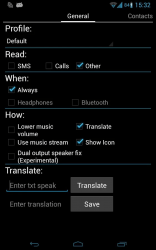 No matter how prompt you are when it comes to reading your incoming text messages, there will always come a time wherein you just can't directly open your phone because you are doing something else. This usually happens when you are cooking or when you are in the middle of performing your daily exercise routines. Even so, that doesn't mean that you cannot set your phone to read your incoming calls and messages out loud. All you need is a reliable hands-free call and SMS reader app like ReadItToMe. Now, let's find out if this app can fulfill the role that is supposed to be done by your intelligent personal assistant.
What Is It and What Does It Do
Main Functionality
Created and developed by Rob J, ReadItToMe is an advanced type of text-to-speech application that is designed to read your incoming calls and SMS messages. If you have this app, then you can easily set it to your read messages out loud so you don't have to check your phone every time there is an incoming text or call. Furthermore, this app can also read all sorts of text lingo and it will automatically translate these messages into normal language.
Pros
Nice and neat UI, responsive and very stable
Easy to use plus the app will automatically provide a quick tutorial for its new users
Features three basic user profiles – default, Bluetooth and headphones
Can read incoming calls (the name and number of the caller) and incoming text messages
Can easily translate text lingo into normal language
Automatic – you can set the app to automatically read your messages every time your phone or tablet is connected to Bluetooth or headphone. You can also set it to always read your incoming calls and SMS messages
Can easily read your incoming message notifications even if your music player is turned on
You can set a different setting for each person that is listed on your contact list – ex. you can mute all incoming notifications (SMS, calls, etc.) for Person X while you can automatically set the app to read all of the messages that will come from Person Y whenever your headset is on
You are free to set your own voice prompts – ex. For incoming calls, instead of saying "Person X is calling", you can customize the app so that it will say something like "Person X wants you to pick up his call"
Cons
Can only read incoming calls and SMS messages aloud – the free version cannot read any app notifications so if you want this app to read your messages from Line or WhatsApp, then you need to purchase its Pro version which is worth around $2.74
You cannot automatically set your replies by voice – this feature is only available for Pro users
Discussion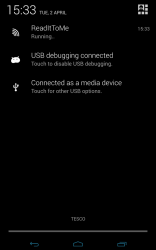 ReadItToMe is ideal for anyone who wants a simple yet effective way of managing their incoming text messages and incoming call alerts. However, it is important to keep in mind that the free version of this app has limited features and if you want to unlock its premium features, you will need to purchase its Pro version for $2.74. Nevertheless, the free version is already good enough. It has all the basic tools and options that you need to make your phone read your incoming text messages. It can even recognize a wide variety of text terms such as btw, lol, atm and a whole lot more. This also makes it easier for the app to translate or convert these terms into their original forms. For example, instead of saying "atm", the app will read the message as "at the moment".
Functionality wise, I really don't have any serious issues with this app. It basically does what it is intended to do. Upon launch, the app will immediately guide you to set your custom preferences such as choosing your preferred user profile, choosing the type of notifications that you want your app to read, etc. You can even set a different setting for each of your contacts and you are also allowed to create some custom voice prompts.
It's just a bit disappointing to know that the app's free users are not allowed to read and convert any kind of app notification into voice. So if you are using those free chat and call messengers such as Viberr, WhatsApp or Line, you have to check your notifications manually. Aside from this, you are also not allowed to automatically reply to the messages that you've received. So if you want to respond to the messages that were sent by your contacts, you need to unlock the app's Pro version.
Anyways, what I like most about ReadItToMe is that its text-to-speech function can deliver those voice prompts using its naturally sounding female voice. It also features a lot of options for user customization.
As a wrap-up, I could say that this hands-free text reading application for Android is the best solution for multi-taskers. It's a great app that will help you manage and read your SMS messages especially when you are too busy to take a peek at your smartphone's pending notifications.
Conclusion and Download Link
There's no doubt that there are a lot of hands-free SMS readers out there but the ReadItToMe app is, by far, one of the best that I've ever tried and tested. It is a very stable and responsive application plus it does its job well. It's free version may have some inaccessible features but its pros has definitely outweighed its cons.
Price: Free – users can upgrade to Pro for $2.74
Version reviewed: 1.2.1
Requires: Android 2.2 and up
Download size: 395KB
Related Posts