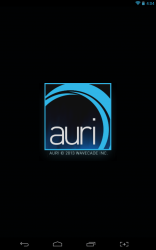 Audio books are remarkably convenient and versatile. You can listen to them on a morning commute, during a workout or when you're just plain being productive. They allow you to absorb the content that's being cited, while keeping your mind and hands free for other tasks. What if you could take that same practice and adapt it for use with your RSS feed or favorite websites. What if you could have daily text content read aloud to you while you continued to work or do other things around the house? Auri is a unique Android application that will do just that, through the integrated Text-to-Speech engine that comes with the OS.
What is it and what does it do
Main Functionality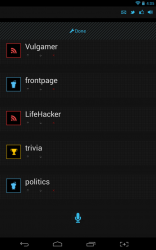 Auri is a rather unique dictation and voice assistant app that can read back daily RSS and web based text content. It's not just a content curation tool though it's a little more than that. As the content is announced aloud, ambient music is played to enhance the experience. It works more like a traditional radio station than anything, with a radio DJ or news caster narrating to subtle melodies. Better yet, you can customize both the content and the audio to suit your personal tastes.
Pros
Narrates [custom] RSS, Reddit and 4Chan feeds out loud
Continues to narrate and playback content while doing other tasks on the device, or while the screen is off
Each feed is given it's own channel and played like a radio station, with subtle music in the background during narration
Media controls allow you to stop playback, skip and return to previous posts or comments
You can open any post in a browser window to view the actual page
Includes voice activation support, and a voice trivia game
Works great with the default TTS engine, but also offers links to third party engines (voices)
Uses a limited amount of system resources, at a maximum of 17MB of RAM
Cons
No homescreen or lockscreen widget support
No media playback controls are displayed on the lockscreen after the device has been turned off
Discussion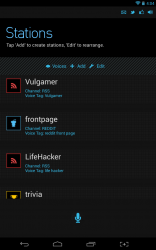 Frankly, the UI is quite attractive and fits in nicely with the Android theme and OS. I went into this expecting it to be a lot like an RSS reader, but it's almost nothing like that. In fact, I really didn't recognize any RSS elements at all.
This app more closely resembles a voice assistant service like Google Now or the infamous Siri –yes I said it. Auri already comes with several pre-configured channels so you can try it out and get familiar with using the app. If you don't have a third party TTS engine installed, then the app will use the integrated Android one. You can also visit several sources to download more TTS content directly through the app.
When you load up the application you will automatically be presented with your custom channels. Obviously, the first time you run the application you will only see the pre-configured channels. You can quickly and easily add a channel by providing its source (Reddit, 4Chan, or RSS), entering the appropriate URL and then defining a station tag.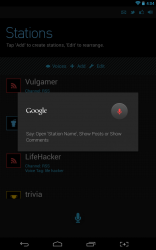 At the very bottom of the main menu, is a single mic icon much like you see when using Google Now or the virtual keyboard. If you tap on the mic it opens a Google Now type prompt, and you can use voice dictation to call upon one of your RSS feeds or channels. Three voice commands are available "open [station name]," "show posts," or "show comments". Depending on which command you choose, the application will automatically begin narrating the related content. While playback is in progress you have the option to stop, skip or return to previous content through media buttons. The "show posts" and "show comments" commands only work after you have already called upon a particular channel.
You can also tap on a channel in the list to open it for voice dictation. While content is being read aloud, subtle music will play in the background. This adds a bit of ambience and just makes the experience seem more radio-like.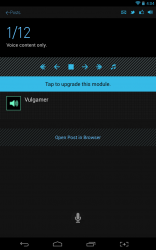 Perhaps most interesting is the voice trivia game which can be launched from the main menu like any other custom channel. The application will ask you a series of questions, to which you can respond with the corresponding letter or the full answer. For example, the application might ask you what the color of an orange is and give you the following answers: a) orange, b) red, or c) blue. You can either respond by saying the letter "a" or you can just simply say "orange". It's not exactly a necessary feature, but it's certainly welcome. If you're bored with nothing else to do, the voice trivia can offer a bit of fun.
While this is an early version of the app, meaning more updates are coming later I was a bit disappointed to find that no widgets are bundled with the app. That is, you cannot add channels to your homescreen for quick access or anything like that. Hopefully, the developers will add support in a later update.
For reference, Auri uses about 17MB of RAM while running which is fairly lightweight.
Conclusion and download link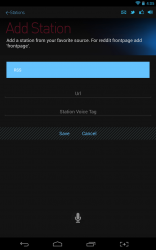 Auri is a very unique voice assistant type app for Android. Instead of answering questions, offering directions and handling operations like most other apps like it, Auri will read RSS, Reddit and 4Chan feeds out loud. Instead of playing back the audio with an eerie robotic voice, subtle music is played in the background to give the impression that you're listening to a radio station or DJ. Auri will use the default TTS (Text-to-Speech) engine installed on your device, but there are options to download third party replacements. The application will narrate RSS and social feeds, leaving you free to do other work or activities. You can also play a voice trivia game through the app, which just adds to the general featureset. If you've ever wanted to listen to your RSS feeds or web based content while doing something else, definitely check this app out.
Price: Free
Version reviewed: 1.06
Requires: Android 2.2 and up
Download size: 10MB
Related Posts