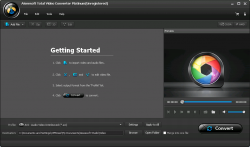 In today's world, having the ability to be able to convert media files into other formats is very important. Here on dotTech we have an article on best free video and audio converter for Windows, to help you find the perfect audio/video for your needs without having to pay anything. Not happy with what we suggested? Then Aiseesoft Total Video Converter is another options. Let's see if it is worth your time.
WHAT IS IT AND WHAT DOES IT DO
Main Functionality
Aiseesoft Total Video Converter is a Windows program that will help you convert videos and audio files.
Take note that Aiseesoft Total Video Converter has two versions, Platinum and Standard. The following are the differences between Platinum and Standard, as per the developer: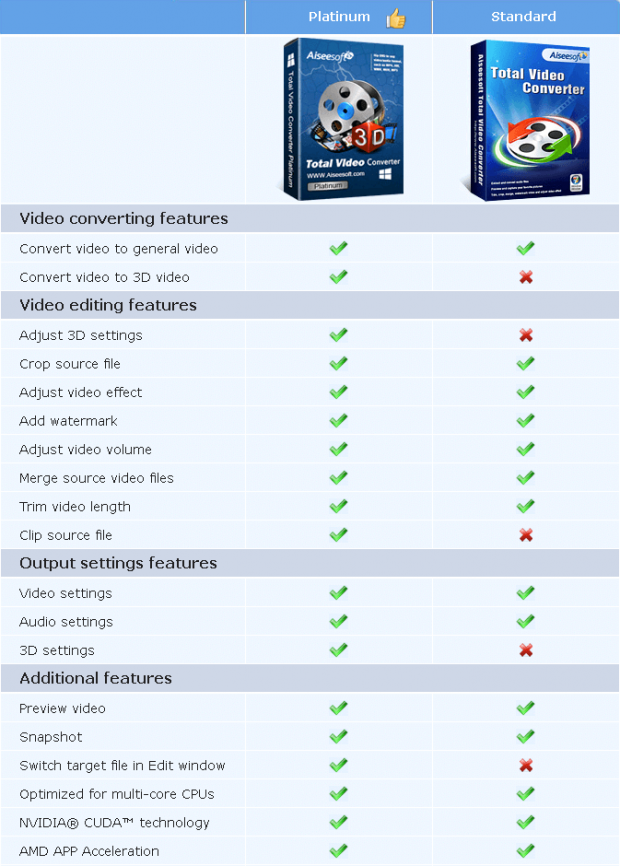 Pros
Convert video -> video, audio -> audio, and video -> audio conversions
Supports many input and output formats (see chart to right for more details)
Allows users the choice between picking a preset profile for specific electronic devices or video types or completely customizing the output settings (video encoder, resolution, frame rate, aspect ratio, video bitrate, audio encoder, audio sample rate, audio channels, and audio bitrate)
Includes basic video editing features: add text or image watermark, trim the length of any clip, crop the video play region, adjust audio level, and adjust video properties (color, brightness, saturation, hue, deinterlacing)
Can merge input files together into one output
Can turn 2D videos into 3D videos
Uses FFMPEG as the behind-the-scenes conversion engine, so conversion quality and speed is excellent
Supports NVIDIA and AMD GPU acceleration, plus works with multi-core CPUs
Has an option to automatically shut down computer after a conversion is complete
Supports batch processing and drag + drop

NOTE: When batch processing, you can convert each input file to its own customized output settings, meaning you can convert each file to a different output format/profile with different settings, if desired — all input files need not be converted to the same format/settings.
Cons
No "keep original resolution" option for output videos (however, you can manually customize the output resolution to match input resolution)
Movies converted into 3D don't offer as much depth as movies that were designed to be in 3D from the start (not necessarily a limitation of the program but rather a limitation of converting 2D to 3D in general)
Doesn't appear to be a way to add custom subtitles (via an external subtitle file) to videos
Discussion
There are a ton of different video and audio converters out there. Aiseesoft Total Media Converter may look like all the others, but that doesn't stop it from being a great program. Now we just have to find out if it is worth the price tag.
First, let me start of by saying that there are two versions of Total Media Converter. There is the Standard edition and the Platinum edition. Today, we are going to be covering the Platinum version, but if you want to try Standard (because it is cheaper), you should know the following can only be found in the Platinum version:
Convert Videos to 3D
Clip Source File
Adjust 3D Settings
Switch Target File to Edit Windows
Aside from that, both Standard and Platinum have all the same features. In other words, the most notable difference between Standard and Platinum is the ability to make 3D videos.
So what can Total Media Converter do? Well, basically it is your all-in-one audio and video converter. To name the most important functionality, it can convert video -> video, audio -> audio, video -> audio, modify video properties such as brightness, crop and trim videos, join video files together, add watermarks, and adjust numerous parameters. All of the changes you make to a video can be seen in real time thanks to the instant preview window they offer on the right side of the program. Then when you are ready to convert, you simply convert.
As you already know, many input and output formats are supported plus there is support for specific electronic devices. Although the program doesn't support iPhone 5s and iPhone 5c yet (because, at the time of this writing, the two devices have been announced but not released), it does have one of the best support for electronic devices I've seen. Not perfect — there are still some missing devices — but still excellent.
That being said, is Aiseesoft Total Video Converter worth spending money for? Meh, not really. The program itself is excellent, no doubt. However, aside from the 2D -> 3D conversion feature, Aiseesoft Total Video Converter offers nothing you cannot find in freeware video/audio converters. True, Aiseesoft Total Video Converter provides a great interface and is a bit easier to use than some freeware video converters, but in terms of functionality it doesn't offer anything to warrant you to give Aiseesoft your hard earned money. At least, not in my opinion.
CONCLUSION AND DOWNLOAD LINK
In and of itself, Aiseesoft Total Video Converter is a good program. However, is it worth the price tag? Not really. Assuming you don't care about the 2D -> 3D conversion feature, you can grab Standard for $34. This $34 will fetch you a video converter and audio converter. If you want 2D -> 3D conversion features, you can grab Platinum for $39. On the flip side, for $0 you can grab excellent freeware video converters like Video to Video Converter that have all the features offered by Aiseesoft Total Video Converter without the price tag (and no 2D -> 3D conversion).
You see, video and audio converting is no longer an art — it is a science. Maybe in 2010 Aiseesoft Total Video Converter's video/audio conversion capabilities would have been impressive. Today there are tons of freeware that do excellent video/audio conversions — there is absolutely no need to purchase a shareware program for the ability to convert your video/audio files. Freeware video/audio converters can all do excellent video/audio conversions and support tons of input/output formats — just like Aiseesoft Total Video Converter.
Overall, Aiseesoft Total Video Converter is a good program… but it isn't worth the price tag. Our recommendation is to skip out on this one and grab one of the many excellent free video converters mentioned in our review on best free video and audio converters for Windows.
Price: $34.00, $39.00
Version reviewed: 7.1.8

Supported OS: Windows XP, Vista, Windows 7, and Windows 8

Download size: 33.2MB
VirusTotal malware scan results:
Is it portable? No
Aiseesoft Total Video Converter homepage
Related Posts