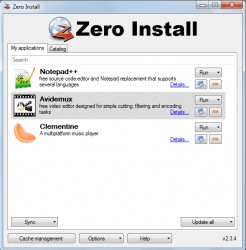 It's already typical for a Windows user to download and install a software or program. It is also the responsibility of the user to keep its program up-to-date. This could be a hassle especially to those who do not regularly update their programs. Luckily, there's a simpler method that you can use to run and update your Windows apps. With Zero Install, you don't even need to install your programs on your PC or laptop.
What Is It and What Does It Do
Main Functionality
By now, you might be wondering what this Zero Install system is all about. Well, it is basically a decentralized cross-platform software installation system that allows you to run and update your programs. Compared to the usual software installation process, this system is rather different because there's no need for you to install your software or apps. Just search its catalog, choose the app that you like, run it and that's it. You're all set to use the program.
In other words, Zero Install lets you download/update, run, and use programs without having to install them. Essentially, you run all programs supported by Zero Install as if they were portable.
Take note Zero Install supports Windows, Mac OS X, and Linux. We specifically reviewed the Windows version.
Pros
Neat and user-friendly UI, responsive and very stable
There's no need for you to install any software or app – you can just run the app directly via the Zero Install system
Zero Install has a catalog of supported software. If the catalog doesn't have a program you want to use, you can run your own custom software provided that you follow the system's official packaging guide.
You can integrate your programs so that you can easily access them through your start menu or desktop
Automatic software updates – your programs will be automatically updated every time its developer gets to publish a new version to its website
Supports auto-sync – will automatically integrate and transfer your application list from one computer to another
You can use programs' previously released versions – e.g. If you prefer the version 5.9.8 of Notepadd++, just click its drop-down menu then choose "select version" instead of the latest version
Zero Install allows you to run programs without admin access, programs that would normally require admin access
Zero Install itself has portable version
Zero Install claims "software developers publish programs directly from their own websites" and that "digital signatures are always checked", which means there shouldn't be a big risk of accidentally download malware disguised as a legitimate program. However, always have your antivirus up-to-date in case something goes wrong.
Is open source
Cons
Its catalog, while extensive, does not contain *all* of the programs that you might want to install on your computer so if ever you want to run a program that is not available on its list, you are required to follow the steps indicated in its packaging guide which is, of course, are not that easy to do especially if you're just a normal (non-techie) user
There's no advanced search option – you cannot search for apps by developer, category or tags
There doesn't appear to be an online version of Zero Install's supported software catalog — the catalog is only available via Zero Install itself, meaning you have to download it before you can learn if a certain program is supported or not
It isn't clear if Zero Install required. NET Framework or not, and if .NET Framework is required then what version
Discussion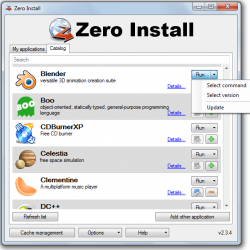 The Zero Install system is a splendid concept that possesses a great potential. Keep in mind that if you use this system, you can run and update your Windows applications but it won't install anything on your computer. Everything goes through the Zero Install platform. This has been made possible because of the system's unique method of allowing the software developers to publish their programs directly from their own websites.
What's great about this system is that it already has a large collection of Windows applications. All you need to do is to choose the app that you like, run it and then you're free to do whatever you want. For first time users, you will be guided by the system's video tutorial. After that, you can start searching its catalog to see if there's a program that would best suit your needs or demands. For example, if you want a reliable video or audio editor, there's Audacity and Avidemux. Once you've found the program that you like, click the green "plus" button that is located next to the software's title and then you go to "My Applications". In this tab, find the software that you've recently added then click "Run". This will prompt the system to download the necessary components needed to run the software and once everything is set, it will automatically load the software or program.
Do take note that the downloading process could take some time but this is only a part of the initial set-up. So the next time that you open the program, it will no longer go through the same process. For easy access, you can also opt to place your program into your start menu or desktop. You can do this by clicking the "Integrate" button that is located right below the "Run" button.
Another notable feature of the Zero Install system is its ability to load a program's previous versions. You can easily set this up by clicking the drop-down menu that corresponds to your chosen program. Of course, you can easily revert back to the latest version.
While Zero Install apparently flaunts a very interesting and reliable method of running and managing a wide variety of Windows applications, it is still need not capable of providing all of the Windows apps that you want. Furthermore, the process for adding custom apps is something that can only be done by advanced users.
Conclusion and Download Link
Zero Install is an interesting program, to say the least. Aside from the fact that Zero Install lets you run programs without installing them, a favorite feature of mine is how Zero Install lets you run older versions of software in case you ever upgrade to a newer version only to find it to be buggy.
Overall, I feel Zero Install is definitely worth a try. Just keep in mind, if Zero Install's catalog does not have a program you want to use, you will have to follow some extra steps to make it Zero Install compatible. Check it out.
Price: Free
Version reviewed: 2.3.4
Supported OS: Windows XP, Vista, Windows 7, Windows 8 | Mac OS X | Linux

Download size: 4.59MB
VirusTotal malware scan results: 0/46
Is it portable? Yes

Zero Install homepage [Zone Install download page]
Related Posts