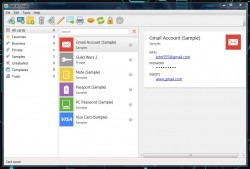 Password manager applications and services are available in plentiful amounts, no matter what platform you're using. Password protection is one of the most common ways to secure sensitive information or a personal account. It's likely that will never change, as passwords will always have a place in the digital world. It makes sense then, that many would want a tool that keeps track of various passwords and associated platforms. Most of the time, password managers focus on local storage for added security. Every once in a while you come across a service with cloud storage support, but when it is offered it's almost always some form of proprietary cloud storage. Safe In Cloud is a password manager for Windows and Android, that actually stores your information using a personal cloud storage option. It can sync directly with Google Drive, Dropbox, SkyDrive or even Box.net.
What is it and what does it do
Main Functionality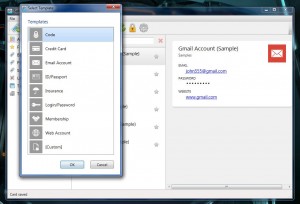 Safe in Cloud is a multi-platform password manager that stores all of your sensitive information in the cloud, yet it uses your own storage accounts to do so. You can use Dropbox, Google Drive, Skydrive or Box.net. The data isn't just sitting there unprotected either, it's hidden behind 256-bit AES encryption. If there's another password manager that you've been using you can import and export your Safe In Cloud data.
Pros
Password manager with simple organization options
You can classify information and cards with labels like 'business' or 'personal'
New cards (password information) can be created using several pre-configured templates or a custom one
Includes cloud storage backup to personal accounts: Google Drive, Dropbox, Box.net, and SkyDrive
Passwords are secured behind 256-bit AES encryption
The application is set to automatically lock-out user access when idle after a certain period or when minimized, the individual settings can be customized
Cons
Requires Microsoft .Net Framework 4.0
Uses 42MB of RAM while running, which is a bit high for an always-on program
Discussion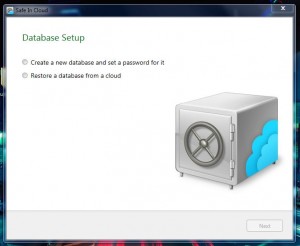 This software is offered in two different versions, one of which comes as a traditional install package and the other is portable. The portable version is compressed and requires a tool like WinZIP, WinRAR or 7ZIP to extract the related contents. In addition, it requires the Microsoft .NET Framework 4.0 which is only compatible with Windows Vista or higher. If you do choose to download the portable version, it does not come bundled with the Chrome and Firefox extensions whereas the install variant does.
Immediately after installing the software (or starting the portable version up for the first time) you will be prompted to create a database. Obviously, this is where all your information is kept and organized. You will need to set a password for your new database, and the application will tell you how secure it is. If you have a database already stored in the cloud, you can also restore it instead of creating a new one. That setting is particularly useful if you've already created a database through the Android app.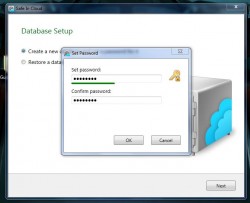 Once the database is all setup, the application will spit you out to the main UI. It's looks more complicated than it actually is. In fact, using the app is quite straightforward. You submit sensitive information and then organize it accordingly.
There are three different entries to make: labels, cards and notes. Cards allow you to store accounts, credit cards, codes and passwords. Labels allow you to organize your cards and personal information. Preconfigured labels include business, private, samples and unlabeled. Notes are exactly what you'd expect, you can leave personal notes for yourself- this feature will likely be used to notate the personal information stored through the app.
When adding a card you have several different templates to choose from, which include options like credit card, email account, web account, insurance, login/password and more. Of course, you can always build your own custom template for other passwords mediums and platforms.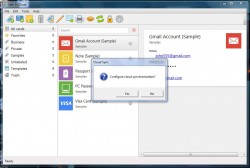 Through the application settings, you can login to your cloud storage account of choice at any time. This allows you to backup all content to a connected cloud storage account. If you'd much rather keep your information stored locally, you don't have to login to any accounts or services.
For added security the application locks down on its own shortly after its minimized. In addition, it automatically locks after five minutes of idle time. You can customize this through the security tab of the app settings. You can also configure how many failed login attempts are allowed before access is locked completely.
All in all, the application works quite well as a password and sensitive data manager. Perhaps the best part is that you can completely organize all of your information with labels. Believe me when I say it helps a lot, especially since you can separate business accounts from personal ones this way. You don't have to use the cloud storage backup feature if you don't want, and there's a solid amount of security features layered in.
Safe In Cloud uses about 42MB of RAM while running.
Conclusion and download link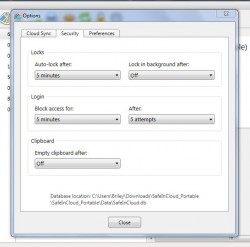 Safe In Cloud is a password manager with simple organization options. What makes it particularly appealing is that you can backup all your sensitive information and data to a personal cloud storage account of choice or not if you don't want to store your (encrypted) passwords in the cloud. It comes with several preconfigured card templates which include specific entry forms for login or code information. You can always put together a custom information card if necessary. All passwords are locked behind 256-bit AES encryption standards, and the application itself locks out user access when idle for a certain period of time or when minimized. There is an Android version of the app available for mobile devices, but it costs $4.99. The Windows application however, is totally free.
Overall, if you're looking for a simple password manager with cloud storage backup support then Safe In Cloud is a viable option.
Price: Free
Version reviewed: 1.8
Supported OS: Windows 8/7/Vista/XO
Download size: 4.4MB (install), 2.6MB (portable)
VirusTotal malware scan results: 0/47 (install), 0/46 (portable)
Is it portable? Yes
Related Posts