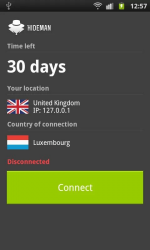 One of the best things about using a VPN client is that you can surf the web anonymously. This also means that your data is safe from prying eyes. While finding a reliable VPN client for your computer is easy, Hideman VPN offers a secure and private connection while you're surfing the web using your Android device.
What Is It and What Does It Do
Main Functionality
Created and developed by Hideman Ltd, Hideman VPN is a free application for Android that will allow you to surf the web through a secured network. This app also relies on its strong 256-bit encryption to encrypt and protect your internet data so you can literally surf any website or blog without restrictions. By using this app, you can use your mobile device to connect to the Internet but instead of revealing your real IP address, this app will automatically hide your real location.
Pros
Easy to use, neat user interface
Provides a secure and private connection – encrypts your data using its 256-bit encryption
Has multiple servers that are located in different countries including United States, Malaysia, Russia, Poland, Germany, Ukraine, Sweden, Panama, Turkey and a whole lot more – allows you to change or hide your real IP address
Provides at least five hours of free usage per week. If you want to extend your hours of private web surfing, you can upgrade to the app's Premium version for as low as $2.90 per month/$24.90 per year
Supports OpenVPN and PPtP
No need for special configuration – just launch and use the app as it is
Cons
Hideman VPN hides your IP from websites you visit, but it is unclear if Hideman VPN itself records your data or not, like IP address, websites visited, etc.
For free users, there's only a limited choice of countries. You can only lift this limit if ever you upgrade to the app's premium version.
The available bandwidth for free users is limited to 2GB/month while the speed is limited to 512kbit/s
You are only given up to five hours of free access per week. As soon as your time is up, you will be automatically disconnected from your VPN client
The user interface shows some connection delays and even if you're already connected to your VPN client, its UI will still show that it's loading
Discussion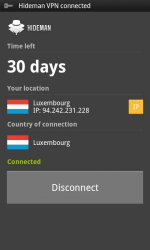 Hideman VPN features an easy to use user interface. After downloading the app into your mobile device, find and tap its icon from the app drawer. This will launch the app's user interface and you can actually see your current location (your country and IP address) as well as the numbers of times left for you to make use of the app's free VPN access. Do take note that even if this app is free to download, you are only given at least five hours of free access per week. You can also monitor the time that you've spent online by merely looking at the app's built-in timer.
By default, the app will automatically choose the country in which you can connect to one of its servers. Even so, you are still free to select your country of preference. It's just that if you are a free user, the choices are limited. Anyways, after you've chosen your country of connection, simply press the "Connect" button and then wait until the app will state that you've successfully connected to one of its servers. After this, you can just proceed to whatever you feel like doing such as a watching a geo-restricted music video. Just be mindful of your time because as soon as you reach your time limit, the app will automatically disconnect you from its server.
If there's still some time left and you're already done watching, simply press the app's "disconnect" button. This will allow you to revert back to your original IP address. The good thing about this app is that it won't consume all of your time in just a single session. Say, for example, if you have decided to surf the web via Hideman VPN for one hour and yet, you've only surfed for thirty minutes, you can still reconnect to consume the remaining time. The problem with this feature, however, is the fact that timer will continue to run even if you're no longer using the app. You cannot stop the timer so it would be best to consume your entire allotted Internet browsing time within just a single browsing session.
On the lighter side, this app is great for browsing sites that are only available to certain countries. For example, if you are trying to access a site that is only available to US users, you can connect to the app's US-based server. Through this, you can freely watch videos on Hulu or DramaFever. Another good feature of this app is that you can share your connection to other devices. You can connect up to three devices at the same time.
Given the above mentioned pros and cons, it is clear that the free version of this app isn't ideal for heavy VPN users. It's just good for users who occasionally use their mobile devices to surf the Internet. Now, you might think that five hours of free VPN access per week isn't a lot but on the contrary, it's already enough to allow you to visit a couple of geo-restricted sites and blogs.
Conclusion and Download Link
What I like most about Hideman VPN is the fact that its VPN service is not only restricted to one server or country. You can actually make use of its multiple servers to connect from one country to another. This is great especially if you have a task that requires you to make use of multiple IP addresses. It's just that it could have been better if this app would take some time to upgrade or modify some of its important features. Come to think of it, it's like you are obliged to consume all of your free hours in just one surfing session. If you don't, the timer will still continue to tick and you will end up wasting all your remaining hours.
Overall, Hideman VPN is good but TunnelBear is better. TunnelBear gives you up to 1.5 GB of free usage per month (with the option to upgrade to unlimited usage for $2.99/month), has a strict we-don't-log-your-data policy, and it works well. If you are going to use a VPN on your Android device, I suggest TunnelBear over Hideman VPN.
Price: Free – users can upgrade to Premium for $2.90 per month ($24.90 per year)
Version reviewed: 2.1
Requires: Android 2.1 and up
Download size: 1.7MB
Related Posts