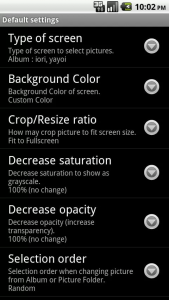 Did you ever wonder if it's possible to set multiple wallpapers on your phone or tablet's home screen? If that thought just came into your mind, then you should know that such a thing is actually possible especially if you have an app like MultiPicture Live Wallpaper.
What Is It and What Does It Do
Main Functionality
Created and developed by lllllT, MultiPicture Live Wallpaper is a free personalization app for Android. It is basically meant to help you deal with your dilemma of not being able to set two or more wallpapers on your home screen. With the help of this app, you can easily make your home screen look more stylish and visually appealing. All you need to do is to configure the app's wallpaper and screen settings.
Pros
Very easy to use, responsive, easy to configure
Lots of options for wallpaper and home screen customization – you can choose a set of photos and images that you want to use as wallpapers, you can also customize the options for each screen separately (for example, the setting for screen 1 is different from screen 2)
Also offers options for changing the wallpaper settings of your lock screen
Features a variety of home screen wallpaper transition effects such as slide, crossfade, fade in/out, zoom in/out and a whole lot more… you can also opt to completely turn off the home screen wallpaper option
You can increase or decrease your wallpaper's opacity and saturation
Doesn't oblige you to upgrade to its paid version but you are free to purchase the app's donation version. This particular version, however, contains all of the features that you can get from its free version. So if you think paying at least $1.00 isn't that much to show your support to this app's developer, then you should go ahead and purchase it from the Play Store.
Cons
The lock screen wallpaper option doesn't work
The app's wallpaper image crop tool only provides a "medium crop" option so you cannot fully customize or crop your wallpaper according to your desired size
Discussion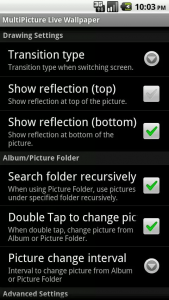 MultiPicture Live Wallpaper app is a really useful app. Besides, it's concept of allowing users to use multiple pictures as home screen wallpapers is really clever. What I like most about this app is that it's pretty responsive and stable. I didn't experience any lags. The app also responds well to touch commands.
To use this app, you simply go to Home > Menu > Wallpaper then go to Live Wallpapers. This is where you can view all of the available live wallpaper apps that you've installed on your Android device. After this, choose "MultiPicture Live Wallpaper" from the menu and then it will show you a quick preview of the default wallpaper that is supposed to appear on your device home screen. Once you see this, simply tap the "Settings" button and then the app will automatically redirect you to its user options which basically include the screen settings, drawing settings and a whole lot more.
Here's the thing – If the wallpaper that you want to use is too large, you cannot crop it according to your liking. You just have to make the most out of the app's available crop and resize tools or if you have a photo editing app on your device, better crop the image that you want to use as wallpaper first. Once you're done, move all of the wallpapers (the cropped images) into a separate folder. Do take note that creating a separate folder is necessary since by default, this app will basically make use of all the wallpapers that you've saved inside your image gallery.
After you've selected your preferred wallpapers, you can directly proceed to the app's user settings. This will allow you to customize or adjust your app's settings according to your own preference. In other words, you are free to do whatever you like with your custom home screen wallpapers. You can even change their opacity and saturation.
As a wrap up, I could say that the MultiPicture Live Wallpaper app offers a direct approach to customizing the home screen. Since Android devices usually support multiple home screens in its UI, it's really good to see an app that could set multiple wallpapers in your home screen. Even so, this app also has its own downsides such as failing to show a custom lock screen. It does have the tool for that but for some reason, it doesn't work. Another thing that isn't good about this app is that it could not crop or set the photos in a way that you want them to. Nevertheless, this app is still doing a very good job despite of its particular drawbacks.
Conclusion and Download Link
If you want to make your home screen look more stylish and lively, I definitely suggest that you try out this app. With the help of this app, setting two or more wallpapers on your Android device will no longer be considered as a tedious task. Just download and install the MultiPicture Live Wallpaper and you're done.
Price: Free – users can also purchase the donation version for $1.00
Version reviewed: 0.6.11
Requires: Android 2.1 and up
Download size: 287KB
MultiPicture Live Wallpaper on Play Store
Related Posts