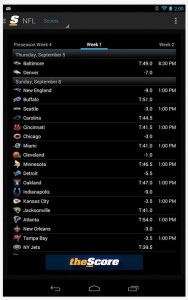 Ah, it's that time again where sports are in full swing. Well, if you want to be realistic about it there's always some type of active sport going on. As general sports lovers all around, we tend to do one thing in particular very often. That one thing is keeping a close eye on game scores, both past and present. Even when you're watching a game, you're still generally monitoring the scores for other games via an onscreen ticker. Traditionally, when you had to be away from the TV you could rely on something like the radio to get your scores. Now we have the luxury of mobile devices that are always connected to the internet, why not use them properly right? theScore is an Android application that has been designed to do one thing, display scores and minor stats through a responsive and simple interface.
What is it and what does it do
Main Functionality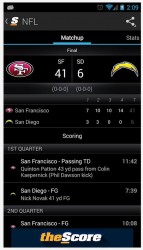 theScore is an Android application that was designed with meticulous scorekeepers in mind. You can quickly pull up scores and stats for multiple leagues, including the NFL, NBA, MLB, NHL, UFC and much more. You can configure it to send out alerts and notifications depending on game updates and score changes. You can also follow news, scheduling info and more in relation to your favorite teams. Scores and information can be refreshed in realtime, to keep up with even live games. Like I said above, you have a device that's always connected to the internet why not put it to good use?
Pros
Responsive and simple score tracking app for professional sports enthusiasts
Track scores and stats in realtime, even during live events
Have updates and notifications delivered right when things happen, you can customize what you're notified about too
Choose from a wide variety of professional sports leagues
You can keep track of your favorite teams, or individual players and add items to favorites for quick recall later
Cons
There are in-app ads, but they are non-obstrusive and that app is completely free
Uses nearly 61MB of RAM while running (whoa)
Discussion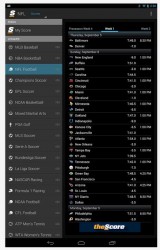 The first time you start the application, you will be presented with all the sports leagues that you can monitor. The application uses the Holo Android theme, so they appear in a slideout side-menu. There are too many to list here, but the major leagues available include the NFL, NCAA (basketball and football), MLB, NBA, NASCAR, PGA, NHL, MLS and more. You can change leagues at any time by opening the side-menu again, so don't worry about making any final decisions. As they say in baseball, you're safe- or something like that.
When you pick a league, the main page will be populated with a complete list of teams along with any updated scores, and odds. Of course, the odds only show up for the most recent game week. Speaking of weeks, it will spit you out to the current week. You can navigate to past, or future weeks by swiping to the respective edges of the screen.
When it comes to team matchups, you can tap on an entry in the list to view more detailed information about the participating teams. For example, a game this Sunday (which was Sept 22nd, 2013 when I write this) between the Tampa Bay Buccaneers and the New England Patriots displays the odds of each team winning, their current win/loss records, current injuries for each team and more.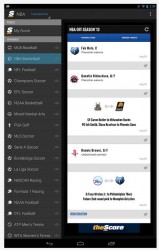 With each league the information displayed may be a bit different. If you choose the MMA, for instance you're going to see news, as well as information about fighter rankings and upcoming events. As with the other leagues you might see current season matchups, post season stats or even general news.
You can tap any team or event and add it as a favorite, which will then display notifications in realtime on your device. You can be notified any time there's a goal, injury, quarter end and more. The basic idea is that the app will provide you with realtime information to keep you in the loop right when it's all happening. That's of particular note to anyone that happens to have other obligations during the time their favorite team is playing.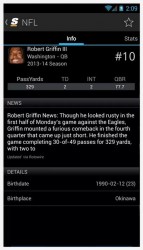 With team based sports like Football, Basketball or Soccer you can follow individual players. If you're more interested in being notified about updates in regards to your favorite players that's possible too.
The best part is that you don't even have to open the application to get your sports scores and news updates. theScore comes bundled with several different homescreen widgets that you can to your preferred homescreen or lockscreen.
It's responsive, delivers all of your updates in realtime and the interface is well organized- what more could you ask for? Generally, I would ask for widget support, but it's already there.
theScore does use about 61MB of RAM while running which is pretty hefty. You'll want to shut the thing down on a device that's prone to poor battery life. Furthermore, you probably won't want to leave this app running constantly in the background unless you're using the widgets.
Conclusion and download link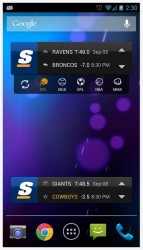 theScore is a charming little application that delivers professional sports scores in a responsive and timely manner. During the active season you can get realtime score updates and notifications regarding your favorite games or events. You can even configure notifications to suit your personal tastes. There are a plethora of professional leagues available to choose from, and the app will also deliver news when necessary. If you're very meticulous about tracking game scores, or you just want to be able to check up on your favorite team while you're out an about theScore is a great app for that. Keep in mind it does use about 61MB of RAM while running. That being said, you can add widgets to your homescreen or lockscreen to help mitigate some of that resource usage.
Price: Free
Version reviewed: 3.4.1
Requires: Android 2.2 and up
Download size: 4.3MB
Related Posts