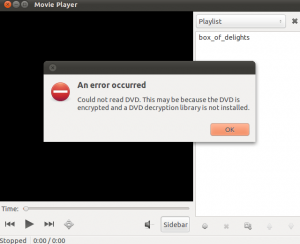 Ever put a DVD disc into your Ubuntu machine only to find out that it's not playable? For legal reasons, Canonical does not ship Ubuntu with DVD playback functionality. Don't worry! This guide will help you enable DVD playback on your machine! Let's get started!
Before We Begin
DVD playback functionality does not ship on Ubuntu by default for legal reasons.
After enabling DVD playback, all video players will then use the DVD decoding library.
This guide is accomplished with terminal commands. Open a terminal by opening the Unity dash and searching for 'terminal'.
How To Enable DVD Playback On Ubuntu
To enable DVD playback, we need to install a library. This library (libdvdread4), is a decoding library that makes it possible to cut through DVD drm and allow the disc to be played. Enter the command below into the terminal window.
sudo apt-get install libdvdread4
Once the software is installed onto your system, configuration is necessary. Enter the command below to run the install/configure script.
sudo /usr/share/doc/libdvdread4/install-css.sh
After the script has finished running on your system, it may become neccesary that you reboot your machine.
Done!
Conclusion
Though the Digital Video Disc is aging technology, it's still used today. That means that even today, it's still important to make sure that your machine can playback DVDs. With this guide, you've learned exactly how to do that! Enjoy!
Related Posts