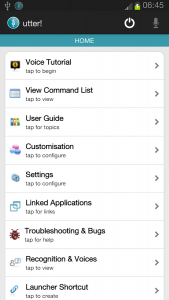 Siri might be considered as the queen of all virtual assistants for iOS but how about on Android? Is there any reliable and intelligent personal assistant out there that could accurately respond to your voice commands? If you still haven't heard of utter! Voice Commands, then why don't you check it out? It's still on BETA release but it can already do a lot of interesting things such as posting your status updates on Facebook and Twitter.
What Is It and What Does It Do
Main Functionality
Created and developed by brandall, utter! Voice Commands is a free intelligent personal assistant for Android. With the help of this app, you can carry out a lot of tasks by simply speaking to your tablet or smartphone. So instead of doing it manually, you can rest easy since all you need to do is to utter a valid voice command. Say, for example, if you want to know about the current time and date, you can just say "What's the time?" or "What's the time in (New York City)?" The app will automatically respond to you using its naturally sounding female voice. Of course, this is just an example of the many things that utter! can do so if you want to learn more about it, you better read on.
Pros
Neat and responsive UI, very easy to use
Provides a comprehensive tutorial and user guide – ideal for beginners
Has a large collection of voice controlled commands – for further reference, I suggest that you go to the app's "command list". Here are a few examples:

"Call me + (your name)" – ex. "Call me Jane"
"Email + (contact name)" – ex. "Email Greg"
"Tweet ~ (your message)" – ex. Tweet "I'm using utter! Voice Commands for Android"
"Play + (artist) + (track name) – ex. "Play Cross Gene ~ One Way Love"
"Launch + (name of the app)" – ex. "Launch Instagram"

Customizable commands and controls – you can make your own voice commands with import/export functions. This app also supports custom phrases – ideal for fun conversations.
Runs as a background application
Supports shake to wake, wave to wake and tap mic to speak
Supports third-party apps such as Facebook, Twitter and Dropbox (For security purposes, you will be required to manually set your linked apps)
Features a naturally sounding female voice
Provides options for advanced users – ideal for developers and power users
Supports a wide range of voice recognition tools such as iSpeech, Dragon Nuance and Google Voice
Cons
There are times wherein the app won't recognize any voice command especially when you are in the noisy place
The app's offline feature is only applicable for users with Android Jelly Bean-powered devices – for users with older Android OS versions, this app won't work unless your device is connected to the Internet
Unless you set your own custom phrases, this app won't properly respond to your casual or random queries
Discussion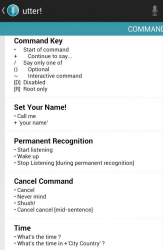 I've already tried a couple of intelligent personal assistants but so far, I have never encountered one that can accurately respond to my queries and commands. Thus, when I tried utter! Voice Commands, I didn't really have any serious expectations. Anyways, I was quite surprised because it is actually way better than the ones that I've tried so far. It's fast, it's accurate plus it provides a lot of options for user customization.
What I like most about this app is that it could recognize a lot of voice commands. Even though it's still on BETA, you can already use it like a fully released app because it can literally do almost anything. It can search for difficult terms, it can launch apps, it can visit websites, it can search for photos, it can send SMS, etc. You can also set it to schedule your next appointment plus if you want to listen to your favorite song, just utter the right command and the app will immediately carry out the said action.
Another good feature of this app is that you can set your own commands and controls. Say, for example, if you want to use your own voice command for launching a particular app, you can just go to its customization section and then you simply follow the on-screen guide as well as the naturally spoken instructions. Aside from this, utter! Voice Commands also supports custom phrases. It may not be that witty in terms of casual conversations but if you properly set it to respond to your random queries, you'll be surprised to know that it can actually carry out a fun and interesting conversation.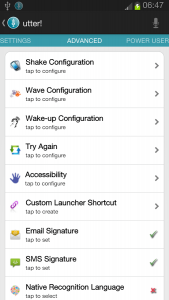 What's also great about this app is that it silently runs in the background. You can also configure it in such a way that it will wake up every time you perform a specific gesture or action. For example, if you enable the app's "shake to wake" feature, it will start listening to your commands right after you shake your phone. Furthermore, this intelligent personal assistant supports a variety of third-party apps plus it currently supports Google Voice Search. Just keep in mind that when you're speaking to your phone, make sure that you don't speak too loud or too low. Just speak normally. This app will be able to recognize your commands more accurately if you just speak as if you are talking to a friend or acquaintance. As for non-English speakers, it really doesn't matter if you don't have an accent. Just see to it that you can pronounce the words clearly.
Given its list of features, I could say that this app really does well and it will probably do even better. Still, that doesn't mean that it's already perfect. What I've noticed in this app is that it cannot properly recognize voice commands especially when you're inside a noisy room that is filled with people. Aside from that, this app doesn't work offline (except for Jelly Bean-powered devices) so you can't use it on areas where there's no available internet connection.
Conclusion and Download Link
I really like this app. As per my tests, utter! Voice Commands has proven that it is indeed reliable enough to become your intelligent personal assistant. It's not perfect but it has a lot of good features that you cannot simply ignore. Plus, you can customize it according to your liking. I also like the fact that it can accurately recognize my voice commands. Check this one out.
Price: Free
Version reviewed: 3.0.9.1 (BETA)
Requires: Android 2.3 and up
Download size: 2.6MB
utter! Voice Commands BETA! on Play Store
Related Posts