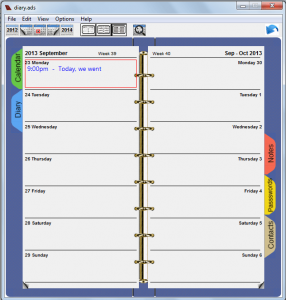 Keeping a virtual diary has its pros and cons. This is also the reason why there are still a lot of people who prefer to write on their paper journals. It's like you can't help but think of the bad things that could possibly happen if ever your virtual diary gets exposed. If you don't want this to happen, you might as well choose a secure diary with a built-in password-protect option. Anyways, let's find out if this software called In My Diary could live up to your expectations.
What Is It and What Does It Do
Main Functionality
In My Diary is a free personal organizer/diary application for Windows. This software is created and developed by Kevin Edwards. What this tool can do is that it lets you have a virtual diary wherein you can keep your special notes, reminders, journal entries, contacts, etc. Basically, this tool is designed to do everything that a diary or personal organizer can do. Its UI also resembles a real paper diary wherein you can just easily fill-in each section with anything that you consider as important or memorable.
Pros
Its user interface resembles the actual design of a paper diary/personal organizer
Responsive and very stable, easy to use
Offers different viewing modes – one day per page, one week, two weeks, etc.
You can easily set your diary to show the entries that you've made within a specific period of time – ex. one month forward, one year back, etc. You can also create multiple diaries in .ads format.
Features an advanced search tool for searching specific entries such as your special notes, reminders and contacts
Has a built-in calendar
Has a built-in password-protect option – with this feature, you can easily lock your precious diary so no one else could open it except you as well as those who are aware of your diary's password. You can also opt to save your diary data in its encrypted form.
Has its own password generator and password manager
Has its own contact manager – you can also export your contacts as vCard (.vcf)
Has a built-in note creator – you can also link the notes directly to your journal/diary entries
Supports Import/Export of diary events – import/export your diary data as .txt, .vcf or .ics
Non-obtrusive – can be minimized in the system tray area
Cons
The user interface needs to be revamped in a way that it could become more attractive and user-friendly
There's no option for password recovery
You cannot set your own custom reminder or alarm tone
You cannot insert media files on your journal entries (ex. photos, special icons)
Discussion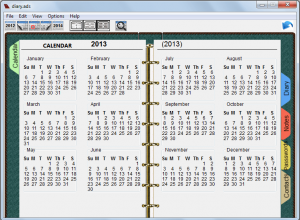 What's great about In My Diary is that it is really easy to use. It also designed to look like those typical personal organizers wherein you can just flip a page to view the entries that you've made in your journal. Moreover, this software is capable of creating multiple diaries in .ads format. Just make sure to keep your default diary file as it is. So before you start creating your entries, I suggest that you create a new diary file first. You can do this by following the steps below:
Step 1: Launch "In My Diary" from your desktop, go to its "File" tab then click "Save As". Name your new diary file as diary2.ads (feel free to choose your own file name) then save it to your preferred file directory or folder.
Step 2: Copy your new diary file's location (Ex. C:\Users\YOU\Documents\My Diary\diary2.ads) then go back to "In My Diary". This time, you go to Options > General Options.
Step 3: Drag and drop the file location of your new diary file to the General Options > Default Diary File section.
After doing the above mentioned steps, you are all set to create your entries may it be a journal entry, a note, a reminder, a new contact, etc. If you want to secure your diary from prying eyes, you can opt to protect it by using a secure password. In this case, you don't need to worry about downloading a separate password generator or password manager. This is because this program has its own. All you need to do is to set your password properly and that's it! It's just that this program doesn't have an option for password recovery so if ever you forget your password, there's no way that you could retrieve it so you better take the necessary precautions.
Another notable feature of this software is its different viewing modes. This means that you can easily toggle between your entries regardless if they are on a different page or section. You can also make use of the advanced search tool to search for particular entries that you cannot easily find by merely flipping the pages of your virtual journal.
While I like most of this software's features, I am not really that fond of its user interface. I like the idea that it's patterned to the traditional diary interface but when it comes to viewing your entries, you won't be able to read your entries in full view without hovering over its snippet. There's also no option for inserting special icons and images. Another thing that I dislike about this software is that it doesn't allow you to make use of your own reminder tone.
Conclusion and Download Link
All in all, I say that In My Diary is a pretty decent software. Functionality wise it is sound, and it has a lot of uses and it is not just restricted to creating journal entries. I would definitely give this software a go if you need this type of software.
Version reviewed: 2.7
Supported OS: Windows XP, Vista, Windows 7, and Windows 8

Download size: 2.11MB
VirusTotal malware scan results: 0/48
Is it portable? Yes

Related Posts