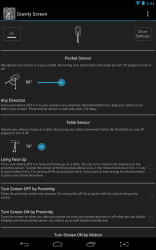 I just got the new Moto X. It comes with a feature called Active Notifications which displays updates right on your screen by only lighting up the necessary pixels. The most interesting part is that it allows you to quickly turn on the screen and unlock it just by picking it up. Although the screen turns on by itself, I wanted a better way to turn it off again instead of waiting for the display timeout to run its course. Laying the phone face down disables the active notifications and keeps the screen from turning on, but it also presented another opportunity entirely. I figured there must be a way to turn my device off as soon as I lay it down- if that were the case I'd have all bases covered. Gravity Screen for Android, allows you to configure your device so the screen turns on when you pick it up, and back off when you lay it down.
What is it and what does it do
Main Functionality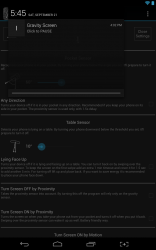 Gravity Screen for Android is a pretty useful application that can do several things- most importantly it can turn your device screen on and off depending on its orientation. It also includes support for devices with a proximity sensor, turning the screen off automatically when you place it inside a pocket. It is worth noting that in the free version, you can only turn the motion timeout up to a maximum of 15 minutes, whereas the Pro version ($1.69) allows you up to 16 hours. This feature keeps the app from using tons of battery by canceling out the motion activation after a certain period.
Pros
Allows you to turn on your display by simply picking up your device or taking it out of your pocket
You can use several different sensors or methods for interacting with the device

Pocket sensor turns the screen off once it reaches a certain angle (facing 60 degrees downward)
Proximity sensor turns the screen on or off when you remove the device from your pocket or place it in- respectively
Turns off the device based on whether or not its resting face down on a surface
Gravity sensor turns off the device when you turn it upside down, and vice versa when you pick it back up

All the settings are customizable
Adds a notification to the system tray so you can pause and resume the service at any time
Includes a setting that starts the service during boot, so that you don't have to launch the app every time you restart your device
Only uses about 13MB of RAM while running, which isn't offensive
Cons
The motion activation mode (sensor) uses about 6% extra battery per life cycle while running
The free version has quite a few limitations and locked settings, you can still configure everything to your liking you just have less options unless you purchase the premium version (the free variant works perfectly fine otherwise)
When the motion detection timeout runs its course you still have to use the power/unlock button to turn on the device, although the timeout is then reset
Discussion
Essentially, this application allows you to turn on your device screen and turn it off again without using the power or unlock button. There are several different ways you can go about this which include using a device's proximity sensor, accelerometer and more. The true beauty of this app is that you can use it even on devices that don't have a proximity sensor thanks to the multiple methods supported.
I'm going to start this off by saying that I originally downloaded the app so that the screen on my Moto X would turn off as soon as I placed it face down. It works so well, that I also decided to install it on my tablet. Naturally, my tablet doesn't include native support for turning the screen on as soon as I pick it up, but this app added that functionality.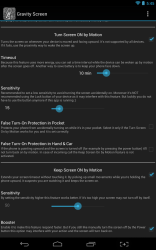 There is a trade-off and I'll point that out right up front. When the motion detection feature is turned on, the app uses a considerable amount of battery. The motion detection timeout can be lessened which also reduces the energy consumption. It works like this, any time you turn off your screen the motion timeout comes into play. Let's say you have it set to ten minutes, it means after ten minutes of inactivity -since the time you first turned the screen off- the motion detection is halted. From then on you need to turn on your screen traditionally by using the power button. Every time you turn your screen on though, that timeout period is restarted. Like the developer mentions, I experienced about 6% extra battery consumption per life cycle when the motion feature was activated on my tablet.
Moving on to the application itself, there are several different ways you can turn on and off your device. There is a pocket sensor that turns the device off after it reaches a particular suspension angle (60 degrees by default), a table sensor that turns the device off once it reaches a certain resting threshold, proximity and gravity sensor support, and motion sensor support.
The motion sensor will also keep the screen on while in use if it detects minor movements. It assumes that you're using the device any time it senses movement while the screen is on. It also overrides the stock display timeout, until it no longer detects motion.
Various settings, like angles and sensitivity ratings can only be set to a certain level in the free version. If you want the full range of availability, you'll have to purchase the premium version for $1.69. Personally, I believe the cost was worth it and promptly purchased the full version after using this app for some time. That does not mean you will feel the same way.
Just for reference, the pocket sensor can only be set to 60 degrees max and the table sensor 10 degrees max. These variables decide when the screen is turned off as you slip the device into a pocket or lay it face down onto a surface.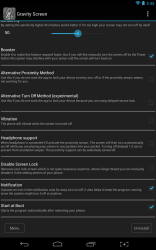 By default, the proximity sensors for turning the screen on and off are already activated. If you don't already know, proximity sensors are used for a wide variety of things and they generally measure the distance of objects from the device. In this case, it's used to determine when the phone is in your pocket or face down. I had to turn these settings off on my tablet because it has no proximity sensor. When disabled, the app falls back to the gravity sensor. The gravity sensor turns the screen on and off by measuring a combination of motion and orientation.
There are a lot of different options to configure and mess with, and frankly it would take me pages to write about all of them. The most important thing is that the app works as advertised. You can setup the screen so that it turns on exactly how you want it to- whether that includes placing it in your pocket, face down on a table, or jostling it around.
The app also delivers a notification to the Android tray so that you can pause and resume the service at any time if you like. You can disable this notification, and you can also disable the lockscreen completely- although I wouldn't recommend doing so.
Gravity Screen also includes a setting that starts the application on boot, so that every time you start your device you don't have to worry about launching the service. It's certainly convenient.
Gravity Screen uses about 13MB of RAM while running. That puts it right in the reasonable usage range, meaning it's not a resource hog, but it's not remarkably efficient either. A happy medium is always acceptable in my book though.
Conclusion and download link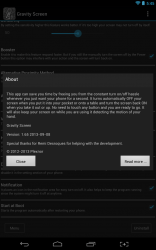 Gravity Screen is an Android application that allows you to ignore the power/unlock button on your device. Like the new Moto X, you can setup the app so that it turns on your tablet or smartphone when you pick it up, or pull it out of your pocket. Adversely, it can also turn the device off again as soon as you're done using it, thanks to support for a number of device sensors. If your device does not include a particular sensor, you can configure options for those it does have- meaning this app should work on almost all Android devices out there in one way or another. While the motion detection feature is active, it causes the device to consume more battery than usual- about 6% more per life cycle. That being said, it's not too bad on resource usage all around including RAM. See the review for a more lengthy description of the various functions. If you're looking for an app that will allow you to turn on the device in news ways, and mitigate the wear and tear of the power/unlock button then this is certainly a worthy option. Personally, I found it so convenient that I installed it on all of my devices and I will definitely continue to use it.
Price: Free, $1.69 (Pro)
Version reviewed: 1.65
Requires: Android 2.2 and up
Download size: 324KB
Gravity Screen – On/Off on Play Store
Related Posts