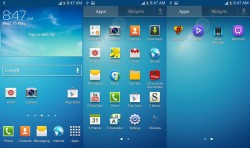 Don't own a Samsung device? Still want to try out Touchwiz? This guide will help you! In no time at all, you'll have Touchwiz up and running on your Android device. Let's get started!
Before We Begin
For this to work, your must meet three requirements:
Your device must be rooted
Your device must be on Android 4.1 Jelly Bean and higher
Your device must have a custom recovery flashed to it
Also, you need to figure out exactly what kind of resolution your device is. The choices are XHDPI, HDPI and MDPI. A bit of research will let you know exactly what resolution type you have. (Do not flash the MDPI version of Touchwiz onto a Samsung TouchWhiz ROM).
After you've figured out what version of Touchwiz you should download one of the following: XHDPI version, HDPI version, or the MDPI version to your internal memory on your device.
How To Download and Install Samsung TouchWiz  Launcher On Any Android Device
Download the version of Touchwiz that is compatible with your device to the root of your sd card.
Boot into custom recovery on your device.
Make a nandroid backup of your device before flashing. This is done by selecting the backup option in your recovery.
After making a backup, look for an option in your recovery that says 'install zip from sdcard' or something similar to it. Select it.
Point recovery to the .zip file of touchwiz that you previously placed onto the root of your sdcard.
After installing the .zip file to your device using 'install zip from sdcard,' wipe the dalvik cache on your device.
Wipe the dalvik cache on your device by going to 'advanced' in recovery and looking for 'wipe dalvik cache'. Do not do a factory data reset!
After doing all this, reboot into Android and Touchwiz will be installed!
Done!
Conclusion
Touchwiz is a pretty interesting and feature rich launcher, but sadly it's only available on Samsung devices. Luckily, with this guide, you've learned exactly how you can get Touchwiz 5 up and running on your Android device! Enjoy!
[via XDA-Developers]
Related Posts