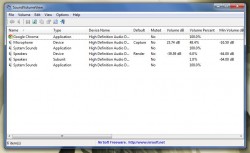 NirSoft is an extremely well known developer when it comes to freeware and portable Windows apps. We've covered software from them plenty of times at Dottech, so I'm sure many of you will recognize the name. That's why it's no surprise that their latest app, SoundVolumeView is just as minimal and portable as their previous offerings. The app allows you to manage and control the volumes for every sound device currently installed on your machine. It comes in a compact, 123KB total package that will run from any directory, including that of an external drive.
What is it and what does it do
Main Functionality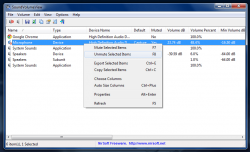 SoundVolumeView is a simple little application that allows you to manage all sound devices installed on your computer. Those devices include things like speakers, microphones, system sound settings and virtual sound devices. You can adjust and view various settings associated with the different hardware, and save configurations for recall later. Casual users may be a bit lost when it comes to monitoring some of the settings, but the app is certainly easy to use- as is generally true of NirSoft's applications.
Pros
Portable and extremely lightweight sound device manager
You can mute/unmute, alter volume levels and edit device state (render/capture)
All settings can be saved to custom profiles and exported in multiple file formats
Includes hotkey support, particular for increasing and decreasing volume levels in 1%, 5% and 10% increments
Cons
Some of the audio stats will be meaningless to casual users, but that's more of a user limitation than a con of the program itself
The UI is rather bland, but the same could be said of all NirSoft's apps — they focus on functionality rather than form
Discussion
This application is offered in a compressed package, otherwise known as an archive. You will need a tool like WinZIP, WinRAR or 7ZIP to extract the related contents. Once extracted, you can run the application by simply opening the executable, there is no need to go through a pesky install process.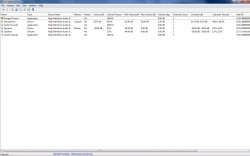 When you run it, you will be presented with a list of installed sound devices. My list included entries for my speakers, microphone, system sounds and even Google Chrome. The app very neatly displays various stats for each of the different items. For example, you can see current volume levels, the min and max dB volume, channels and more. You can also very clearly see whether or not a particular device has been muted.
You can highlight any item in the list and interact by increasing or decreasing volume through hotkeys, or by muting them entirely. It goes without saying, you can also unmute them if you decide you made a mistake. The hotkeys allow you to increase and decrease volume levels in increments of 1%, 5% and 10% values.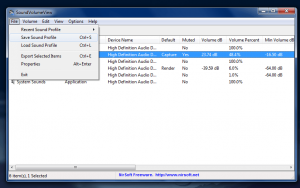 The most useful feature is that you can save all of your current settings to a profile. The profiles save the following settings: volume levels, mute and unmute states, and device modes (render/capture). One may wonder why you would need something like this, so I'll paint a scenario. Let's say you want to have the different sound devices set to varying volume levels, which alternate depending on the time of day or current activity. You can save a custom sound profile, for quick recall later when you're ready to change settings. Instead of configuring the individual options each time you're ready to make a change, you can simply load a custom profile and wallah!
If you need to just preview the settings or review any information, you can store the resulting profiles in HTML, CSV, XML or TXT format. This allows you to open them using a third party tool for quick reference.
SoundVolumeView uses about 2MB of RAM while running, so it's very light on resources.
Conclusion and download link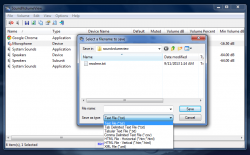 SoundVolumeView is a remarkably lightweight and portable application –as is customary for NirSoft- that allows you to manage the different sound devices installed on your computer. You can alter each device individually, by changing volume levels, muting and unmuting them, or by editing the device state. All settings can be saved to a custom profile, which allow you to quickly recall them at a later time. This is great if you want to configure different settings for multiple occasions, as you don't have to constantly tinker with the settings. Its light on system resources and the interface is bland yet simple. Casual users would have no problem finding their way around, although true audiophiles will be the ones who actually benefit from this app.
Price: Free
Version reviewed: 1.0
Supported OS: Windows 8/7/Vista/XP
Download size: 65KB (compressed), 99KB (executable), 123KB (total file)
VirusTotal malware scan results: 0/47
Is it portable? Yes
Related Posts