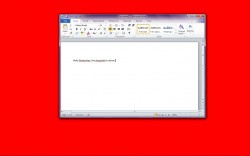 When you're truly looking to be more productive, it's important to keep your focus on the single task at hand or you're final goals. When it comes to using a computer, focus can be remarkably hard to accomplish. What with all kinds of distractions like games, social networks, and media at your fingertips sometimes it can be a trying experience just to keep a spreadsheet or Word document maximized. As a person who seriously combats with ADD (I've never been officially diagnosed, but I'm pretty sure everyone suffers from some form of it) in my day to day activities, I can attest to the fact that it's hard to stay focused and productive while working on a computer. It's very easy to become derailed thus wasting precious time in the process. Dropcloth is a Windows application that dims the rest of the screen so you can focus on what's important. It's worth noting that we did feature a similar app here at dotTech called Le Dimmer.
What is it and what does it do
Main Functionality

The image on the right is supposed to be solid black. That's what the Dropcloth looks like [by default] with no active window.
Dropcloth is a Windows application that dims the rest of the screen besides the active window. The idea is that it will help you to remain focused and productive. It's especially useful for those times when you need to plug through a school paper, work related report, or just plain get something done. If used in combination with apps like Cold Turkey (which locks out access to specific websites like Facebook), you could certainly become quite productive. Of course, it's not just about aiding your self-control it also just makes it easier to focus on the current window when you have more than one open.
Pros
Dims the entire screen background with a solid color, leaving the active window in focus
By default the background color is a solid black but you can customize it using HEX values

If you don't know HEX values there is a color picker tool linked in the app settings

You can customize how the app works in the settings, including leaving the active window behind the dropcloth
Minimal in terms of storage and resource usage
Will shift focus as soon as you change the active window, and you can have multiple windows open at a time
You can set a custom hotkey for the dropcloth focus function
Cons
VirusTotal returned 2/48 potential flags in the Softpedia install package, turning up results for HW32.CDB.1b9e from Bkav, and Trojan.Antavmu.bij from Jiangmin. They could be false positives, however proceed with caution.
There's no official website, and the Lifehacker page appears to have broken links for the necessary files
There are other apps out there that do the same thing, with nearly identical features (Le Dimmer is a great example)
Discussion
Let's start this off right by saying that this app can be used for more than just creating a productive environment. If you're watching videos, or media content you can dim the rest of the screen and leave what's important in focus. It would also be great for meetings and presentations where you want to keep focus on a single onscreen element like a Powerpoint slide.
The application is available in both a traditional install package and a portable one. No matter which version you decide to use, they are both extremely lightweight in terms of size and general resource usage. How it actually works is not much different, as it keeps the simplistic approach all around.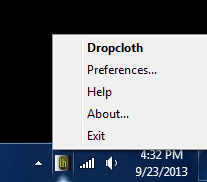 Dropcloth will run quietly in the background, hiding down in the system tray while running. It automatically dims the entire screen save for the active window. The dimmed background remains a solid color, which is black by default. If you want to customize the color or the brightness (intensity) you can easily do so through the app settings. When choosing the background color, you actually use a HEX value similar to creating HTML or CSS content. If you're not well versed in HEX labels don't worry, there's a direct URL link that allows you a reference for such values. More specifically, you can find the color you want using a native HTML color picker.
There are two additional options you can enable in the app settings too. You can choose to show or hide Dropcloth in the taskbar, depending on your personal preferences. In addition, you can change the focus mode which keeps the active window above the dropcloth. If you want the active window to be masked by the background too and have nothing in focus, you would simply disable that option. I'm not entirely sure why you would want that because it kind of defeats the purpose of the app, but hey at least it's there if you do need it. At any time you can change the active window to shift the focus.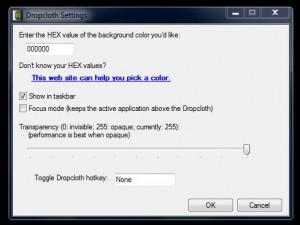 Strangely enough, I couldn't find any active links to an official homepage. The original posting for the app was made on Lifehacker, and several links point to Softpedia. The Lifehacker page is where you can find the portable version, so if that's what you're looking for the necessary link is included below. On that page, you have to right click on the link labeled "dropcloth executable" and choose the "save link as…" option from the context menu. Once saved, the appropriate executable will download to your computer. You must do the same for any and all download links on the Lifehacker page. I would recommend downloading the installation package from Softpedia for casual users (always watch out for bloatware when downloading from third party sites).
Update: It appears the Lifehacker page doesn't work properly, as it just says download failed when you try to pull the files. Unfortunately, you'll have to settle for the Softpedia installation package if you want to use this app.
Conclusion and download link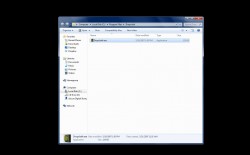 All in all, Dropcloth is a pretty useful productivity tool that allows you to retain complete focus on the active window. Everything in the background is masked by a solid color overlay, which is black by default. You can customize the background color and several transparency items through the app settings. Ultimately though, this app is remarkably minimal even in terms of resource usage. It runs quietly, resting down in the system tray as a simple icon. Unfortunately, the original download links on the Lifehacker page aren't working properly so the portable version won't be easy to acquire (though I'm sure you could track it down). Furthermore, the Softpedia install package turns up flags in VirusTotal and despite the fact that they may be false positives it's still a bit shifty. The app itself works great and offers some useful functionality when installed. Though, you may be able to find better alternatives like the aforementioned Le Dimmer.
Price: Free
Version reviewed: 0.3
Supported OS: Windows 8/7/Vista/XP
Download size: 434KB
VirusTotal malware scan results: 2/48
Is it portable? Yes (A portable version does exist, but the Lifehacker links are no longer active)
Dropcloth on Lifehacker (from dev Adam Pash)
Related Posts