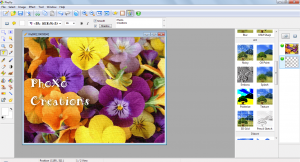 There are a ton of reasons why you need a reliable image editing software. Of course, you cannot just rely on Paint especially if you need to edit your photos in such a way that they will look more pleasing to the eye. You will need those cool photo effects plus what if you need to remove those annoying stains and blemishes? Well, there's no need for you to fret because PhoXo can edit your photos.
What Is It and What Does It Do
Main Functionality
PhoXo is a free image editing tool that is created and developed by Fu Li. What this tool does is that it lets you crop, resize, retouch and edit your images. As a matter of fact, it is said to be like a mini version of Adobe Photoshop. Its features may not be as advanced as the latter but it has all the essentials tools that you need to enhance your photos. This tool also features a wide range of photo and text effects. Just load the photo that you want to edit, choose the appropriate tools and actions then you're all set to save, share and print your photos as BMP, PNG, GIF, TIFF or JPEG.
Pros
Fast loading, nice and neat user interface, user-friendly
Offers a wide range of cool text effects – ex. shadow text, gradient text, texture text, rotate text, 3D shadow text, glass text, wave text and a whole lot more!
Offers a wide range of creative photo effects – ex. soft portrait, soft edge, motion blur, zoom blur, radial blur, oil paint, posterize, bulge, twist, wave, illusion, etc. (more than 50 effects)
Multiple layer support – you can work on your image editing projects using multiple layers
Has all of the basic tools needed for image editing and photo enhancement – ex. lasso, marquee, select, free select, magic wand, color picker, clone stamp, red-eye removal, eraser, paintbrush, pen, transform, fill, etc.
Has a wide collection of clip arts, frames, texture, pattern, brush styles, creative stamps and a whole lot more
Multiple language support – As of now, PhoXo currently supports English, French, Italian, Japanese, Spanish, German, Chinese, etc.
Can open and save images of various formats such as .jpg, .bmp, .gif, .png, .tif, .tga and of course – .oXo
Provides a wide variety of learning tools for beginners – help page, online tutorials, photo samples
Cons
You cannot preview the effects before applying them to your image or photo
The default sizes of the clip arts are too small so when you try to enlarge them, they become hazy or blurred.
You cannot organize or sort your layers into groups
There is no hotkey for creating a new file or project. The same goes for the other tools such as crop, flip and rotate.
You cannot save a project as .pdf (PDF), although this isn't a major issue for most people
Discussion
When it comes to image and photo editing, PhoXo can do a lot of things. It can crop, resize, flip and rotate photos. It can apply a variety of photo and text effects. It also has a wide collection of clip arts and photo frames.
When using this free photo editing tool for the very first time, I suggest that you read its user documentation first. What's great about this program is that its user interface is very similar to Adobe Photoshop so if you have already used the latter, it will only take a while before you get fully accustomed to this software.
In PhoXo, you can handle two or more projects at the same time. By default, your projects will be saved in .oXo format. This is the format that you can use to save your pending projects. Of course, once you are done editing your photo, you can save it as PNG, GIF, BMP or JPEG. Basically, this program is designed to process the most commonly used image formats. Just don't expect it to save your file as PDF. While this may not be a big deal for others, I find this a bit disappointing because I usually use my image editor to create some printouts (flyers, leaflets) and e-book covers. Nonetheless, this doesn't make this photo editing tool less reliable.
As a matter of fact, there are a lot of things that you can do with PhoXo. What I like most about this program is that it loads fast and it doesn't hang while you are in the middle of editing a photo or image. It doesn't even matter if the image that you're working on has a large file size. It pretty much does what it is designed to do plus it also features a wide variety of photo and text effects. You can also make use of its built-in clip arts and photo frames. So instead of making your own designs and effects from scratch, you can simply choose from its pre-loaded files and then you just apply them to your photo or image. It's a great option especially if you want a quick way to edit your images. Besides, this program has all the basic tools for photo editing so you're free to do whatever you like. You can create mosaics, screencaps, word arts, posters, memes, etc. There's no limit to what you can do. Just let your creativity flow.
Nevertheless, this program isn't perfect. It also has its own downsides. One good example of this is its inability to provide a preview for the photo effects. So if you're going to make use of its available photo effects, make sure to save your original file first. Another downside of this program is its lack of hotkey support for certain tools and commands. Plus, you cannot arrange or sort your layers into groups.
Conclusion and Download Link
I like PhoXo. It may not be good enough for heavy-duty tasks that people use the likes of Photoshop and GIMP for, but it is good enough for basic photo editing tasks. I especially like all the effects that it has. Plus, this program is very responsive so even if you are going to edit a high-res image, it won't lag. I definitely recommend checking out PhoXo, and be sure to also read dotTech's review of best free image editors for Windows.
Price: Free
Version reviewed: 8.1.0
Supported OS: Windows XP, Vista, Windows 7, and Windows 8

Download size: 4.50MB
VirusTotal malware scan results: 0/48
Is it portable? Yes

Related Posts