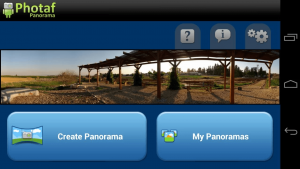 When you are traveling, you are mostly going to find a lot of wonderful places. Of course, this is something that you just cannot simply ignore. You have to capture that moment and guess what? The best way to cherish these moments is to take a good panoramic photo of the places that you've already explored. So if you don't want those precious moments to turn into waste, you better make sure that you have a reliable panoramic photo app on your tablet or smartphone. Speaking of which, Photaf Panorama is a seamless photo app that you can take wherever you go.
What Is It and What Does It Do
Main Functionality
Unlike those free default camera replacement apps, Photaf Panorama simply focuses on panoramic photos. Taking a photo in panoramic mode means that you will take a photo of your entire surroundings. By doing so, you will get a full view of the entire place or area in just one photo. This is how the app works. It will take a series of shots and then it will use its automatic image stitching tool to stitch or fuse those images into a single photograph. Therefore, there's no need for you to manually stitch the photos that you took using your camera phone.
Pros
Clean and well-designed UI, responsive and easy to use
Can easily take panoramic photos in 360° or 180° angle in just a single-click of a button
Automatic Image Stitching – Photaf Panorama will automatically stitch the photos that you took so there's no need for you to stitch the images yourself
Automatic and Manual shooting modes
You can geo-tag your panoramas – this will allow the app to detect and tag your panorama using your actual location
Custom user settings – you are free to customize the app according to your liking
You can adjust your camera's white balance and exposure level
Features its own gallery (local gallery) wherein you can view your panoramic photos in Compass or Touch mode – also supports pinch to zoom
Provides an option for its users to directly upload their panoramic photos to Photaf.com, a public gallery that's exclusive for Photaf users
You can share, rename or re-stitch your photos
Cons
You cannot set the app in Portrait mode – If you want to activate this feature, you will need to purchase the app's Pro version for $2.99
The default picture size of your panorama is 640 x 480 pixels – if you want to create a larger panorama, you'll need to upgrade to Pro
When using Photaf Panorama, you can't make use of those different scene modes
Discussion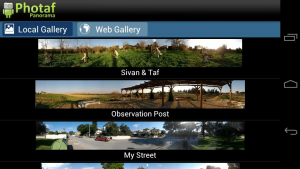 Most Android devices have a default camera app with panoramic shooting mode. Even so, this doesn't mean that you cannot look for an app with better features and options. Say, for example, your camera app can only take panoramic shots with a standard size of 320 x 240 pixels. Would you still use it even if you already know that there's an app out there that could take panoramic shots with a better image resolution?
In this case, there's Photaf Panorama. It's not a perfect app but since it's free, it is already expected to have some limitations. Furthermore, if you want to access its restricted features, you will need to purchase its Pro version for $2.99. In exchange, you will get some nice perks such as being able to set the app's orientation in portrait mode. By default, this app can only take shots in 640 x 480 pixels but if you upgrade, you can set the picture size to 1280 x 960 pixels or to 1600 x 1200 pixels.
Anyways, what's good about this app is that it's very easy to use plus it lets you take your panoramic pictures via auto or manual mode. If you set it on auto mode, the app will take the pictures automatically and each panorama normally contains around nine to ten photos. If you set it on manual mode, then you will need to press the shutter button from time to time.
Another good feature of this app is that it can take panoramic pictures in a 360° shooting angle. This means that you can take a shot of everything that surrounds you and it's a perfect option especially if you're taking photos of a vast area (ex. forests, mountain peaks, rooms, streets, etc.). Of course, you can just stop half-way. You are also free to adjust the app's settings according to your liking.
It is also important to note that once you're done taking your panoramic photo, this app will automatically save the file to your local gallery. So if you want to preview your photos, just go to the app's "My Gallery" section. If you want, you can also share your photos to your friends or contacts via Bluetooth, Gmail, Facebook or Twitter. Just don't expect that you will be able to apply some cool photo effects because this particular option isn't available.
Conclusion and Download Link
Indeed, Photaf Panorama is a very reliable panorama photo app. It takes good quality photos plus it's very responsive. It doesn't crash and it's very easy to use. It does what it supposed to do and overall it great for people who often take panoramic photos. Check it out.
Price: Free – users can upgrade to Pro for $2.99
Version reviewed: 3.2.3
Requires: Android 2.1 and up
Download size: 5.8MB
Related Posts