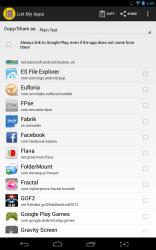 I'm asked all the time by friends, family and colleagues what apps I have installed on my device(s). I'm pretty sure I'm not alone with that experience, as apps are all the rave these days. Unfortunately, aside from penning a list myself there's no way to truly give anyone a complete list of what I use on my daily driver, or alternate devices. I mean sure, I can toss out the names of my favorites here and there, but that's about the extent of it. List My Apps for Android allows you to compile the entire list of installed apps on your device and export it as a plain text file, HTML list or more.
What is it and what does it do
Main Functionality
List My Apps is an Android application that is designed to query installed apps and list them accordingly, so that you can share them with whoever you want. The idea is pretty simple, instead of jotting down all the app names yourself the application takes a screenshot of sorts and then exports the data. You can then share the related data with anyone asking to see what you have installed. This app will be especially useful if you're the go-to mobile and tech guru in your inner circles (family or friends).
Pros
Allows you to quickly and easily share any or all apps installed on your device
The user-defined lists can be exported as plain text, HTML, BBCode, and Markdown

HTML lists include links to download location, you can confine this to Google Play only even if the app came from a third party source

You can copy the list to the system clipboard for use with text entry fields
Share a compiled list using the native Android share menu
Cons
I would like to see a way to share app usage stats and support for custom categories
Uses about 30MB of RAM which is not very light, but this is not an app you'll be running in the background either
Discussion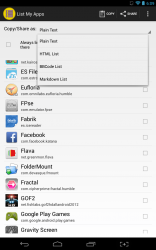 The first time you load the application, it will compile a complete list of everything installed on your device. System apps are excluded from the list, and only user apps are displayed. In the grand scheme of things, that makes perfect sense since a majority of the time system apps are unavailable elsewhere. This saves you the trouble of explaining why an HTC, Motorola or Samsung handset has access to apps that other devices do not.
The list includes the display name of the app, and the apk or package filename. If you don't know what something is at first glance, or want to know a little more you can long press any item. It will bring up a window that displays the version number, install date, install directory and more.
You can tap on the selection box for each item in the list individually, if you only want to share a select few apps. If you'd much rather share your entire catalog of apps you can tap the menu button in the top right and choose "select all" or "deselect all".
If you tap "copy" then the selected list of apps will be saved to the system clipboard. This allows you to paste the text content into any app that supports it. Otherwise, you can tap the "share' button to use the native Android share menu. With the latter option, you can send your compiled list to any installed app that integrates with the system share feature. That includes apps like Facebook, Twitter, Pocket, Gmail, Messaging and much more.
By default, the list is exported as a plain text file. Through the topmost dropdown menu, you can also choose to export an HTML, BBCode, or Markdown list. The HTML list generally includes links to where you can find the apps, such as the Google Play store page. The BBCode and Markdown lists are handy for web forums or general sharing on platforms that allow you to import such files.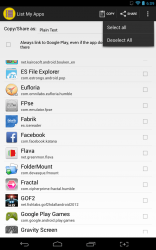 As a small additional option, you can force any app to link to the related Google Play page even if you downloaded it from a third party source. Again, this is great for those situations where you don't want to steer friends, family or others in the wrong direction. Unless you know what you're doing, acquiring apps from Google Play is really the only way to go.
That's the app in its entirety. There's not much to it I'm afraid, but that's okay. It works well even though it's remarkably simple. I can't even begin to count the number of times something like this would have been useful in the past.
It doesn't really matter with this app, because you won't be running it constantly, but just for reference it uses about 30MB of RAM while running.
There are some features that I would love to see added. It would be great if you could see app usage, or show off statistically which apps you use most. I'd also love to see an option to categorize the apps. For example, I have a lot of games installed on my tablet. It would be great if I could separate those from the regular apps using custom categories, and even better if those customizations were carried over to the exported lists.
Conclusion and download link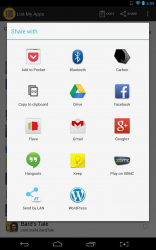 List My Apps is a very simple and efficient way to share your app catalog with friends, family or others. When someone asks you which apps you have on your device, you can quickly compile a list and send it to them via Email, Facebook, Messaging or more. It supports sharing in several different formats including plain text, HTML, BBCode and Markdown. In addition, you can copy all the text content to the system clipboard which allows you to just paste it in a text entry box. Furthermore, the HTML list includes links to a download location for anyone interested in acquiring an app for themselves. You can share your app catalog in its entirety, or you can share select titles- whatever you prefer. If you ask me, it's a brilliant idea especially since I'm often asked which apps I use most.
Price: Free
Version reviewed: 1.3
Requires: 2.3 and up
Download size: 188KB
Related Posts