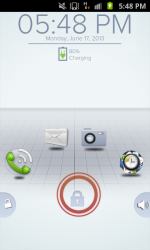 There are already a lot of good and fancy-looking lockscreen apps out there but there's always a room for one more. If you think that you still haven't found your ideal lockscreen app, why don't you search for something with customizable user settings? Wouldn't it be great if you can just launch your most frequently used apps without having to unlock your phone's screen? Well, that shouldn't be a problem especially if you an app like Active lockscreen.
What Is It and What Does It Do
Main Functionality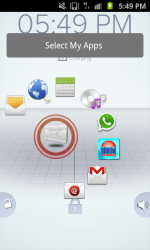 Active lockscreen is a free lockscreen application for Android. With this app, you can replace your phone's lockscreen with a better-looking one plus you can even customize its appearance by selecting your preferred style or theme. Aside from this, this app is also capable of launching your most frequently used (predefined) apps. Just swipe its lock button towards the app that you like and it will automatically launch that app. There's no need for you to unlock your phone. That's not all. This app also has its own plug-ins plus it is designed to utilize your phone's default screen lock pin or password.
Pros
Nice and neat UI, very responsive, easy to use
Utilizes your phone's default screen lock pin, pattern or password – you can set this by going to app's Settings > Advanced Settings > Security
Features a quick launch tool for launching your frequently used, recently used or predefined apps
Has a quick launch tool for your camera and photo apps – this will allow you to launch Instagram or Pixlr Express without unlocking your phone's screen
Has a quick dial tool – with this tool, you can add up to four contacts to your priority list. These contacts will automatically show up on your lockscreen.
You can directly send messages to your contacts via e-mail, IM, SNS or SMS
Has its own set of cool and useful plug-ins – by default, you can enable the app's Facebook, Editor's Choice and Gallery plug-ins. If you want to get more, you can just download from the Play Store.
You can set-up you preferred lockscreen theme – you can also get more free themes from the Play Store. There's the dark theme, deep sea theme, cute cat theme, spring theme, sketch theme and a whole lot more. You can also set your custom lockscreen background image or wallpaper.
Has its own date, time and battery meter widgets – you can customize these widgets by choosing your preferred widget size and color
You are free to enable/disable the app's default features such as its "Settings" symbol and "Mute slider"
Cons
It could take a while before the lockscreen app would appear – it's like there's a one second to two second delay
Most of the app's available plug-ins can be considered as RSS feed aggregators – it could have been much better if there were centralized plug-ins for local and international news, weather, horoscope, entertainment, productivity, health and sports.
You cannot reposition the "Unlock" ring to a different area
Needs more options for custom swipe animations
Discussion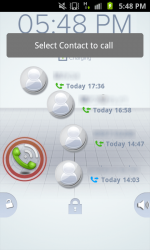 Basically, Active lockscreen works like your default lockscreen but the major difference is that it is packed with more features and options. Once you've successfully installed the app on your Android device, you can immediately test it out by pressing your phone's lock screen button.
Appearance wise, Active lockscreen looks very neat and nice. It's also very slick and responsive. It doesn't crash and so far, I haven't experienced any serious issues with this app. Of course, you cannot really expect it to be perfect. As a matter of fact, it has some minor issues like you need to wait for at least one or two seconds before it appears but that's pretty much tolerable.
I could also say that this app is definitely praiseworthy. It does a very good job plus it won't totally get rid of your default lockscreen. It will just overlay it so if ever you have your default lockscreen enabled, it will still appear as it is. Furthermore, this app will utilize your phone's default security pin, pattern or password so there's no need for you to create a new one. So basically, this is how the app works:
If the lockscreen password is enabled – swipe the Active lockscreen's "Unlock" symbol to the center ring. After which, you will be pointed back to your native lockscreen app's interface so that you could enter your pin or password.
If the lockscreen password is disabled – just swipe the "Unlock" symbol towards the ring and you will be immediately taken to your home screen
As for the rest of the app's features, you basically get four "Quick Launch" tools. These tools are sorted according to their purpose or functionality so there's the button for calling your favorite contacts, there also the button for your SMS and SNS apps (ex. Line, Gmail, etc.) and you will also get the quick launch button for your photo and camera apps. Meanwhile, the fourth button is meant for your favorite or predefined apps. You can only choose up to eight apps so you better be wise with your selection.
Conclusion and Download Link
All in all, Active lockscreen has left me a good impression. It's very responsive and stable. I like the fact that I could customize its settings according to my own preferences plus I could use my own lockscreen wallpaper. Therefore, I could proudly say that it's one of my favorite lockscreen apps for Android.
Price: Free
Version reviewed: 1.1.18.3.1
Requires: Android 2.2 and up
Download size: 3.2MB
Active lockscreen on Play Store
Related Posts