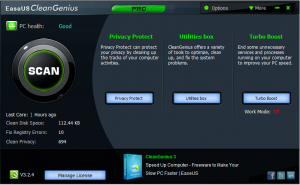 As time goes by, you cannot always expect your computer to give you a top-notch performance. This is because your computer has already accumulated a lot of junk files. Furthermore, these junk files will continue to pile up so if you don't do anything, your computer will become sluggish. Well, it's not like you cannot do anything about it. As a matter of fact, there are a lot of free system utility tools out there that you can use to improve your computer's speed. Speaking of which, let's find out if you can actually rely on EaseUS CleanGenius especially when it comes to speeding up your computer's performance.
What Is It and What Does It Do
Main Functionality
EaseUS CleanGenius is a free system utility tool for Windows. Basically, what this tool does is that it scans your computer system for any known problems or errors and then it will take the necessary action to solve or fix the problem. This means that if your computer needs cleaning or repair, all you need to do is to run this software. Apart from this, this tool is also designed to clean and delete your internet activities. You can also make use of this tool to boost your computer's speed.
Pros
Features a responsive and neat dashboard interface with a PC health status indicator
Can perform two types of scanning methods – Quick Scan and Deep Scan
This tool's overall functions are divided into three main sections – Privacy Protect, Utilities Box and Turbo Boost. Privacy Protect is meant to clean up your internet activities while Turbo Boost can make your computer run faster. Utilities Box, on the other hand, consists of more than twenty tools for system scanning, cleaning and repair. These tools are as follows:

Memory Manager
Startup Manager
Disk Defragment
Registry Defragment
Uninstall Manager
Disk Cleaner
Registry Cleaner
File Shredder
Top File Finder
Cloned File Finder
Empty Folder Finder
Disk Check
Shortcut Cleaner
Context Menu Fixer
Driver Backup
Shutdown Scheduler – you can set a fixed time to restart or shut down your computer
Process Manager
File Splitter
File Encryption – can encrypt files using a secure password
Unlocker (File Unlocker) – unlocks files and folders

Non-obtrusive – can run as a background application, you can also minimize this tool to the system tray area
Auto Care – this is where you can set or update your scheduled system scan settings
Cons
Is a fairly typical jack-of-all-trades-master-of-none type tool; some of the functions in this program are subpar when compared to specialized software (e.g. the uninstaller is basic)
There's no "Pause" tool – so if ever your scanning session gets interrupted; you will need to restart the whole scanning process – this could be a hassle especially if you're scanning all of your local disk drives
You cannot view a detailed log of your previous scanning sessions
You cannot export your 360 Care scan results as .csv or .txt – you can only export the data as .html
Includes bloatware during installation — be careful
Discussion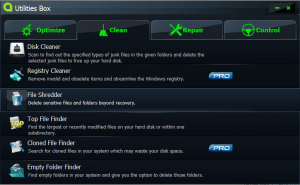 The latest version of EaseUS CleanGenius may be considered as a freeware but guess what? You're actually getting the Pro version. This means that unlike before, you can now avail of its premium features such as its Registry Cleaner and Cloned File Finder.
Functionality wise, this tool reminds me a lot of CCleaner. Its functions are very similar to the latter but with a few more add-ons. As a system utility tool, EaseUS CleanGenius has definitely proven its ability to optimize your computer's speed and performance.
Apparently, the first thing that you will notice upon launching this software is its dashboard-styled UI. When you take a look at its UI, you'll immediately notice that it has a large "Scan" button. If you press this button, you will be able to access its 360 Care section. This section is where you can choose to perform a Quick Scan or Full Scan. What's good about this software is that you can freely choose the tools that you want to use. Say, for example, if you just want to delete your recent internet activities, then you can just check the box that's next to Privacy Sweeper. If you just want to fix your invalid file shortcuts, then you can just enable the Shortcut Cleaner. Of course, you're also free to select all of the tools that are listed on the menu. The choice is yours. Once you're done scanning, you can check the scan results for each section. After this, all you need to do is to press the "Clean" button so that this tool could delete all of the "junk files" that were found inside your computer.
What I like most about EaseUS CleanGenius is that it has a wide variety of tools that you can use to optimize, clean and fix your computer system. It even has a built-in file encryption tool and a Shutdown scheduler. You can also make use of this tool to find and locate your empty folders.
Except for the ones that I've already mentioned above, I haven't encountered any serious issues regarding this software. As a matter of fact, it performs its job well. It runs smoothly and it doesn't crash. Compared to other disk and registry cleaners, its average scan time wouldn't usually take any longer than five minutes. Of course, this will vary according to the number of files that are being analysed.
Conclusion and Download Link
Will EaseUS CleanGenius "speed up" your computer? It depends. If your computer is a cluttered mess that has never had its temp files, junk files, browser cache and cookies, etc. cleaned and never been defragged, then yes you should see a noticable speed increase with EaseUS CleanGenius. For most people, however, EaseUS CleanGenius will not "speed up" anything; instead, it will help clean and maintain your computer, just like all other system utilities.
Now, that may sound like a con and a deal-breaker — after all, we all want our computers to run faster — but you must keep in mind: no program can really speed up your computer since speed is largely hardware and operating system dependent. Rather, most programs (pretty much all programs) prevent your computer from running unnecessarily slow by cleaning and maintaining your computer. And EaseUS CleanGenius does that job admirably. Plus, look at that bloody features list — so many functions in one place (although not unread of for these type of programs.
Overall, I definitely recommend EaseUS CleanGenius to anyone that needs or wants it.
Price: Free
Version reviewed: 3.2.4
Supported OS: Windows XP, Vista, 7 and 8 (32-bit and 64-bit)

Download size: 9.90MB
VirusTotal malware scan results: 1/48
Is it portable? No
Related Posts