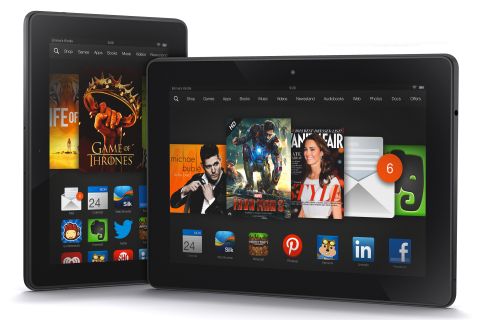 Amazon has no intention to sit back and watch the competition invade the tablet space with more hardware, which one of the reasons why the company has recently announced two new tablets. These bad boys are called the Kindle Fire HDX, and they come in 7-inch and 8.9-inch models. Both devices will compete directly with the line of Google Nexus tablets, along with other Android based tablets in the marketplace.
Now, these are powerful devices. Both come packed with a 2.2GHz Snapdragon 800 System on a Chip processor and 2GB of RAM, which is a substantial enough performance boost over the previous model. Furthermore, the 7-inch model has a 1920×1200 resolution display, while the 8.9-inch model is rocking a whopping 2560×1600 display resolution.
As you may know, Amazon forked Android to run on its Kindle tablets, so both Fire HDX tablets are Android tablets without Google services. The version running on the new tablets is a fork of Android 4.2 called Fire OS 3.0, and it comes with a new email client and a newer version of the Silk web browser.
OK, so I'm betting you guys would love to know the cost of both Fire HDX tablets. Well, the 7-inch model starts at $229 and will ship on October 18, and the 8.9-inch model begins at $379 and ships starting November 7. You can get these in 16GB, 32GB and 64GB versions — we recommend getting more storage if you're a media freak.
[via Amazon]
Related Posts