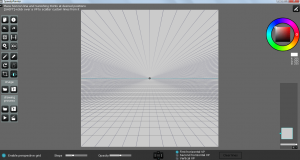 Back in the old days, painters use their paint brushes and canvas to create something "artistic". Nowadays, painters can still opt to paint using the traditional method but there are also those who would prefer to digitize their art works. So if you're currently in the mood to try out your artistic skills, you could try using this free paint tool called Speedy Painter.
What Is It and What Does It Do
Main Functionality
Speedy Painter is a free software for Windows that you can use to create a variety of digital paintings or artworks. It is basically ideal for artists who are into speed painting, a type of painting technique wherein the artists uses a computer graphics program to create a painting within a limited time frame.
With the help of this software, you can use your mouse or your graphic pen to draw on a digital canvas. Not only that, this software will also provide you with a wide range of painting tools – ex. paint brush, eraser, color palette, etc. Once you're done, you can save your artwork as .jpg, .png, .bmp, .tif or .spf.
Pros
Neat and responsive user interface, easy to use
Has a portable version (available as a separate download)
Supports Wacom digitizers – ex. Wacom Intous Pen, Wacom Intuos Pro
You can work with multiple layers
The brush stroke size and opacity will vary according to pen pressure
Can automatically record, export and upload the drawing process to YouTube – you can also replay the drawing process by simply clicking the replay button
Can load and save your art projects into a wide range of image formats such as .jpg, .png, .bmp, .tif and .spf
You can set the program in "canvas only" view – In this mode, only the canvas will be shown on the screen
You can set the program in "reference view" – This mode will give you a side-by-side view of your artwork and reference image
Perspective mode – applies a grid overlay to your canvas
Has all the basic tools that you need for creating and editing your projects – Some of these tools are as follows: undo, redo, zoom, flip canvas, brush, eraser, rotate, select, crop, opacity and color selection
Cons
There's no fill tool
You cannot insert lines or shapes
You cannot automatically select the entire canvas
There's no tool for adjusting the size of your canvas or image
You cannot insert any text into your image
Unknown forced close errors – there are times wherein the program will just crash while in the middle of saving an image
Discussion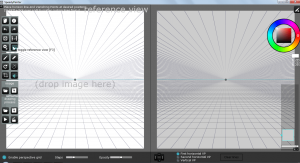 Given its features, it is already apparent that Speedy Painter is ideal for artists who are fond of doing a variety of speed painting jobs. What's good about this tool is that even if it supports digitizers (graphic tablets), you can still use it as it is since it will respond to the movements of your computer mouse.
It's just that without a digitizer, I find this program a bit difficult to use. This is because it lacks those certain tools that I need to speed up my drawing tasks. Say, for example, if I want to fill my drawing with a single color, I have to do it manually since there's no paint bucket or fill tool. Aside from this, there's no tool for inserting a custom shape. Therefore, everything that you want to include in your artwork must be drawn manually. There are no shortcuts. You also cannot resize your image or canvas.
On the lighter side, this program is very responsive and easy to use. It also has the most essential tools for creating or editing artworks. It has a crop tool, a brush, an eraser, etc. You can also set its viewing mode according to your preference. If you choose to set Speedy Painter in "perspective mode", a perspective grid will be added to your digital canvas. This is great especially if you are drawing objects that require the exact dimensions or measurements. This is also great for drawing 3D objects. On top of this, you can also work with multiple layers.
On the other hand, if you set the program on "canvas view", all of the tools will be kept hidden so the only thing that can be seen on your screen is the canvas. If you are trying to create a drawing out a certain picture, you can simply switch to "reference view". This way, you can easily compare your drawing to your reference image.
All in all, I find this program quite good. It's just that it's way better if you can use it together with your digitizer. This is because if you're using a digitizer, you can make accurate strokes since this tool will quickly respond to pen pressure. What disappoints me is the fact that this tool would often crash while saving an image or artwork. It also doesn't have an auto save and auto-recover function so there's a big probability for you to lose all of the changes that you've applied to your artwork.
Conclusion and Download Link
I like Speedy Painter mainly because it's simple, responsive and easy to use. I also like the fact that it's lightweight so it doesn't lag while you're trying to draw those very detailed lines and curves. My major issue with this tool is that often crashes while in the middle of saving an image or artwork, which is a deal-breaker unless you like losing artwork. So for now, I'm going to publiclly appreciate this program for its features but tell you to keep an eye on this one and only get it if crashing is fixed.
Price: Free
Version reviewed: 3.1.8
Supported OS: Windows XP, Vista, 7 and 8 (Your graphics card must support OpenGL 3.0)
Download size: 6.9MB
VirusTotal malware scan results: 0/48
Is it portable? Yes
Related Posts