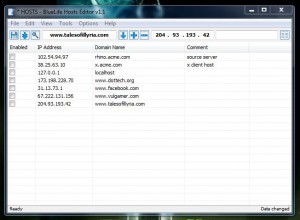 We've covered hosts file editors at dotTech before. If you don't already know or remember what the hosts file is, it's a document that essentially allows you to control domain name and IP address connections. You can do a lot of different things with the hosts file, most of which involve redirecting a particular web address to an alternate location or blocking them entirely. A lot of hosts file editors provide simple text editing options, but if you want to disable a selection temporarily you need to remove the entry and then add it back to the file later. BlueLife Hosts Editor is a tool that allows you to manage the hosts file and individual entries, without actually changing them. For example, there's a visual check box next to each entry that allows you to quickly enable or disable them.
What is it and what does it do
Main Functionality
BlueLife Hosts Editor is a Windows application that allows you to manage the system hosts file. Traditionally, the hosts file is just a simple text document. Unless you use an advanced notepad app (like Notepad++) that means you'll be using a terribly bland and unintuitive method to update the file. This application offers a more convenient and visually engaging environment, along with providing several very useful enhancements. One improvement is the aforementioned check boxes which allow you to easily disable entries in the list without removing them entirely.
Pros
Allows you to edit the system hosts file through a more convenient GUI
Simple and easy to use interface, resembles the stock notepad app in Windows
Several enhancements which improve the overall experience

Quickly enable or disable entries in the list without adding or removing them respectively
There's a quick function that allows you to simply add the domain, the app will lookup the appropriate IP address
Integrated Backup Manager helps you quickly backup the hosts file
Flush DNS and stop the DNS client service right from the tools menu
Includes support for command line parameters

Very minimal footprint, both in terms of storage space and resource usage (2MB of RAM)
Multi-language support: English , Turkish , German , Swedish , Spanish-Español (Argentina)
Cons
When scanned with VirusTotal, Bkav returned a potential flag (HW32.CDB.B78c) but the developers do address this issue on the official site and claim that it's a false positive. The developers are likely right, still you should proceed with caution.
Discussion
This is a portable application that has been bundled in a compressed archive. You will need a tool like WinRAR, WinZIP or 7ZIP to extract the related contents. After doing so, you may then store the application and run it from any directory including that of an external USB drive.
When passed through VirusTotal, Bkav returned what looks to be a false positive. The developers addressed this problem directly on the official download page:
"Please ignore Bkav's False Positive we have already emailed the issue"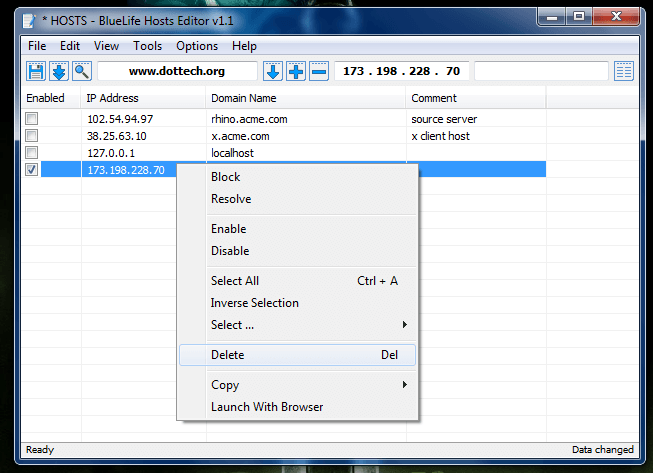 Yes, you can edit the hosts file through notepad or any text editing tool. The reason apps like this are useful is because they provide a native environment for editing the file and enhance the experience with improvements that you wouldn't otherwise have access to. Although, to put it rather bluntly, there are a lot of apps out there that allow you to explicitly edit the hosts file. Because of that fact, I'm going to review the main features that separate BlueLife from the crowd. I'll do my best to provide insight as to how useful they actually are, and help you determine whether or not this app is for you.
Starting with the interface, it's very simple. In fact, it actually resembles the stock notepad app in Windows. The main text menus are seated across the top, with a shortcut toolbar directly below that. The domain and IP list includes entry fields for the obvious items (IP address and domain name), and comments. It also includes a check box off to the left of every entry in the list. This allows you to quickly and easily enable or disable items, once they've already been added to the hosts file. This is incredibly useful, since natively you would have to add or remove items every time you want to make a change to the file. Adversely, you could keep multiple hosts files as backups and change them out by editing the name. Trust me when I say the check boxes in BlueLife just make the whole process that much easier.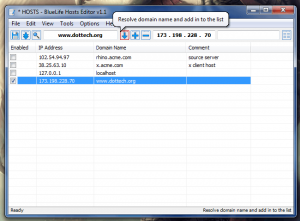 You can also right click any entry in the list and block, delete or enable/disable the item through the context menu that appears. Conveniently, you only have to enter the domain name into the appropriate field, as you can select the "resolve domain name and add in to the list" button. With it, you simply enter the domain name and the application will look up the correct IP address.
From the tools menu, if necessary you can flush the DNS cache or stop the DNS client service altogether. If you want to restore changes, the tools menu is just a click away. Better yet, you can use the BlueLife Backup Manager to backup your original hosts file as well as any additional versions you may have after making edits.
Conclusion and download link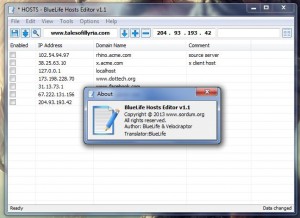 BlueLife Hosts Editor is a simple editing tool for the Windows system hosts file. Like many other apps of its kind you can add and remove domain entries and associated IP addresses to the file through simple text. This application in particular offers several convenient improvements over alternate tools, such as the option to enable or disable entries instantly (without adding or removing them from the list respectively) and an option to make an entry using just the domain (the app will automatically lookup the related IP address). Not only is it portable, which means it can be run from any directory, it's also minimal in terms of resource usage (2MB of RAM).
Because there are a lot of other options for editing the system hosts file, I'll save the usual recommendation spiel and let you decide if the app is right for you or not although I'm fairly certain Ashraf still prefers HostsMan over this. What a jerk.
Price: Free
Version reviewed: 1.1
Supported OS: Windows 8/7/Vista/XP (32 and 64 bit)
Download size: 474KB (compressed), 527KB (unzipped)
VirusTotal malware scan results: 1/48
Is it portable? Yes
BlueLife Hosts Editor homepage
Related Posts