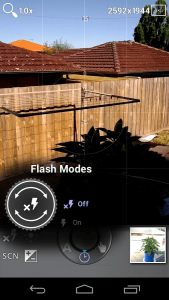 Struggling to get that perfect shot? Well, there's really no need for you to become a professional photographer just to capture that perfect angle. As a matter of fact, you can take lots of marvelous pictures even if you don't have a high-end camera. All you need is a good camera app that can provide you with the right features that's necessary for taking a splendid photo. Anyways, let's find out if PerfectShot has what it takes to replace your phone's default camera application.
What Is It and What Does It Do
Main Functionality
Created and developed by Idea Matters, PerfectShot is a feature-packed camera application for Android. It's a free app and you can even use it as a replacement to your phone's native camera application. What differentiates this app from other camera apps is the fact that it focuses on almost every vital aspect that is needed in order to capture a perfect photo. In other words, it will provide you with tools that you can use to adjust and enhance your shots just right before you press the camera shutter.
To use PerfectShot, just spin or rotate its main mode dial to set your preferred shutter mode. After that, you can use any tool that you like to make your photo look better. Just remember that you should set everything up right before you click or tap the shutter. You can also use this app to record videos of all sorts.
Pros
Neat, well-designed and responsive UI, easy to use
You can use this app to take pictures using your phone's rear-facing or front-facing camera
Custom user settings for Shutter Mode, Sensitivity, Zoom, Geo-tagging, Storage and UI
Automatically saves your photos and videos to your SD card (/DCIM/PerfectShot)
Features five different shutter modes – manual mode, auto mode, semi-auto mode, timer mode and video mode
Features a lot of tools for enhancing photo and video quality plus you can easily enable each feature by simply rotating the app's mode dials. Some of the app's most notable features are as follows: ISO, AE and AF, Picture Size, Color Effects, White Balance, Exposure, Zoom and Scene Modes. By rotating the "Scene Mode" dial, you can easily change the scene to Landscape, Night, Beach, Snow, Sunset, Fireworks, Sports, Party, Candlelight, Backlight and Auto.
Shows help messages – these help messages will show up from time to time but can be disabled in the UI options
Can take pictures and record videos in portrait or landscape orientation
Cons
This app can take videos but it won't let you change its default video resolution. You can only take low-quality videos in 320 x 240 resolution (In some devices, this app's video mode is completely unavailable.)
This app cannot take panoramic shots; the smile shot option is also unavailable
Free users are only allowed to save ten images per day right after the app's unlimited period ends. The unlimited period will only last for 168 hours and after that, it is up to you if you want to upgrade to the app's unlimited version which is currently available at the Play Store for $1.99
Discussion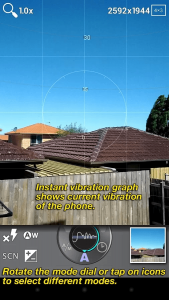 PerfectShot has it good points and bad points. Before using this app, I didn't really have any particular expectation. I just wanted the app to be responsive and stable. Fortunately, it did prove that it is truly capable of taking splendid photos.
What I like most about this app is that it gives its users the ability to control, adjust and enhance the quality of the pictures right before they press the shutter button. Aside from that, you can easily switch from one mode to another by simply rotating the app's mode dials. These mode dials will only show up right after you tap one of the tools that are available on your camera app's preview screen. There's also the main shooting mode dial which alternately functions as a shutter button.
When using the app, you're free to change your default shutter mode. If you choose the manual mode, then you must do everything manually. This also means that you need to press the shutter every time you take a photo. As for auto mode, there's no need for you to press the shutter. The app will automatically take photo as soon as it detects that you're keeping your camera in a fixed position. Meanwhile, the semi-auto mode will still require you to press the shutter but it won't take any photo unless your camera is already in its fixed position. The timer mode, on the other hand, will allow you take any photo right after the timer finishes its countdown. Last but not the least is the video mode. In this mode, you can record low-quality videos in 320 x 240 pixel resolution. This may not be the best option for recording videos but it's decent enough to allow you to capture your pet cat's cute yawn.
As I've said, PerfectShot also has its bad points. It is not a flawless app but it could still be improved for as long as its developer continues to modify and enhance its functions. Even so, there are certain features that this app failed to include. Speaking of which, this app cannot take panoramic shots plus you cannot adjust the resolution of its video. Most importantly, free users are only allowed to take a maximum of ten photos daily. If you want to take unlimited shots, you will need to upgrade the app to its unlimited version.
Conclusion and Download Link
I like PerfectShot and it's a great alternative for your phone's or tablet's native camera application. I wouldn't opt to make this app as my default camera app because it cannot record high-quality videos and it gives limited access for its free users, but overall this is a great app if you find your default camera app to be a bit light on features.
Price: Free, $1.99
Version reviewed: 1.9.1
Requires: Android 2.3 and up
Download size: 1.6MB
Related Posts