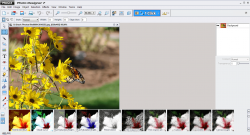 When it comes to image editing, there's really no need for you to spend hundreds of dollars on a premium image editor. As a matter of fact, you can just download one for free unless, of course, your work involves a lot of advanced image editing tasks such as creating custom graphics and corporate logos. If you are just editing images for fun, you might as well check out the features of this free image editor for Windows called MAGIX Photo Designer.
What Is It and What Does It Do
Main Functionality
MAGIX Photo Designer is a free image editing software for Windows. With the help of this software, you can – apply different effects to your photos; restore old photos; crop, scale and rotate photos; remove stains and blemishes from photos; remove objects from photos; automatically stitch images to create panoramic photos; transform photos into funny paintings and caricatures and a whole lot more. This tool also supports red-eye removal plus it can import and export images of various formats.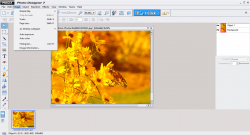 Just like any typical photo editor, you can drag and drop the image that you want to edit to the empty canvas and then you choose the any of the available tools in the toolbar. If you want to learn how to properly use this software, I recommend that you visit its Help section to read its general usage tips and tutorials.
Pros
Nice, clean, well-designed and responsive UI
Easy to use – ideal for newbies or beginners
Features more than 60 effects such as Gaussian blur, Threshold, Pencil sketch, Mosaic, Emboss, Motion blur and Warp
Has all the basic tools needed for editing and cropping images – ex. rotate, flip, scale, crop, cut, copy, paste, clone stamp, etc.
Has advanced tools that allow you easily remove objects from images/photos, correct red-eye, restore old photos, fix uneven or dark lighting, create panoramic pictures, and capture screenshots
Supports various file formats – can import JPEG, BMP, TIFF, GIF, PSD (with layers), PNG, RLE, DIB, TGA, IFF, LBM, RAS, PCX, EMF, WMF, PPM, PGM, PBM and PhotoCD; can export files as JPEG, BMP, TIFF, PSD (with levels), PNG, TGA, RAS, PPM, PGM, PCX
Has two display modes – filmstrip view and effects browser
Supports Adobe Photoshop-compatible plug-ins (.8bf files)
Supports keyboard shortcuts, has a built-in task assistant
Cons
This tool doesn't support layers
You cannot drag the toolbar as well as the object manager to a different area
When handling large images and high-res photos, the effects won't show up immediately so you need to wait for a couple of minutes or seconds
As a free user, you can only test this image editor for 7 days. After that, you are required to register your product to Magix using your e-mail. Registration is free so you don't need to pay anything to get your product activation code, but you still need to register.
Hasn't been updated in over two years.
May contain bloatware/crapware during install — be watchful and read before clicking anything.
Discussion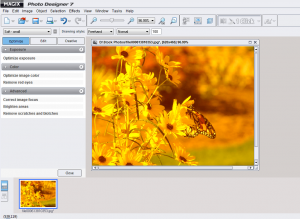 Upon installing MAGIX Photo Designer to your computer, you will be given at least 7 days to test its features and after that, you won't be able to access the software unless you provide the required activation code. Fortunately, the product registration process will only require your e-mail and right after you register your product at Magix, you will receive your product activation code for free.
Functionality wise, this image editor gives a very satisfactory performance and I could say that it's great for users who are searching for a good alternative to Adobe Photoshop. Speaking of which, this tool can also make use of the plug-in filters that are usually intended for Photoshop.
Aside from this, MAGIX Photo Designer is very easy to use. Its UI is a bit similar to Photoshop but there are a few notable differences such as its ability to toggle between its "filmstrip view" mode and "effects browser" mode. In addition, this image editor doesn't support layers. Instead, it uses "objects". It has an object manager wherein you can manage the objects that you've created out of your original image.
Another notable feature of this image editor is its ability to automatically stitch images to create a single panoramic photo. I find this feature very appealing since it provides a hassle-free way of stitching photos. Not only that, this image editor also features a built-in screenshot tool so you can easily take screenshots of your computer screen without downloading a separate tool or software.
All in all, I could say that MAGIX Photo Designer does a good job especially when it comes to performing a wide range of photo editing tasks. It has all the basic tools and options that's needed for photo editing and it can easily touch-up your photos so that they would appear more vivid and vibrant. I just find it a bit disappointing that every time I edit large images and high-res photos, I need to wait for a couple of seconds before I could see the changes that I've applied to my image. This is quite bothersome especially when you're in a rush. Another downside to this tool is that you cannot drag or reorient the windows. For example, you cannot drag the toolbar to a different area.
Conclusion and Download Link
MAGIX Photo Designer is an excellent, reliable image editing program Given its list of features, this tool is a great alternative for users who wish to have a free image editor that does the basics plus more but don't want to shell out the money for the likes of Adobe Photoshop or mess complicated software like GIMP. The biggest downside with MAGIX Photo Designer is that it doesn't support layers but, overall, it is still a nice program. Check it out if you are in the market for an image editor.
Price: Free
Version reviewed: 7.0.1.1
Supported OS: Windows XP, Vista, 7 and 8
Download size: 28.1MB
VirusTotal malware scan results: 1/44
Is it portable? No
MAGIX Photo Designer homepage | Download from Softpedia
Related Posts