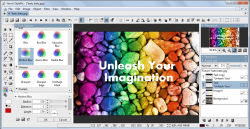 Whether you're a professional graphic designer or not, there will always come a time wherein you will need to edit some photos using a reliable image editing software. It could be for a simple homework or a major project at work. There are also those whose hobbies involve a lot of graphic editing tasks such creating custom designs for greeting cards and posters. This is also one of the reasons why you shouldn't just settle for a mediocre graphic editing software with restricted features and options. As for those who are not satisfied with their current photo editing tool, you better check out this lightweight graphic editing program called Hornil StylePix.
What Is It and What Does It Do
Main Functionality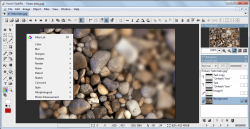 Hornil StylePix defines itself as a lightweight and powerful photo and image editor. Through this software, you can do a wide range of graphic editing tasks such as photo restoration, photo retouching and photo manipulation. You can also use this program to apply special effects to your images or photos. Apparently, this software is pretty much capable of doing a lot of advanced image editing techniques which makes it an ideal tool for photographers and graphic designers.
Furthermore, the tools and features of this program are very similar to today's most widely used graphic editing tools. So if you already have a first-hand experience in using MS Paint, PaintTool SAI and Adobe Photoshop, then it wouldn't take long for you to be able to learn how to properly use this software. I also recommend that you read this software's Online Tutorial so that you will be able to learn more about its basic tools and functions. It is also important to note that this software is mainly used for editing raster graphics.
Pros
Lightweight, fast-loading and user-friendly UI – this program features a unique and responsive user interface called Luna UI
Fully-packed with advanced tools for photo and image editing, some of which are listed below:

Enhance and Restore – burn, dodge, blur, sharpen, red eye remover, scratch remover
Type, Edit and Insert Text – this software features a handy text tool that you can use to add texts and creative captions
Select Tools – auto select, shape region, free lasso, polygonal lasso, etc.
Brushes – you can make use of the software's built-in brushes to apply some major or minor enhancements to your photos
Multiple layer support – you can edit images in multiple layers and you can also set each layer according to your preferred transparency and blending mode
Creative Filters – Enhance your photos by applying a wide range of creative filters such as mosaic, cloud, diffuse, solarize and Gaussian blur
Drawing Tools – You can make your images look more lively by adding custom shapes and lines

Built-in Image Viewer – With Hornil StylePix, you do not need to open a separate folder just to browser for images and photos. Just click on the image viewer tab in the tools options, navigate through your file directory then click and drag the image that you want to use in the empty canvas
Multi-Tab support – you can open and edit images in tabs and windows. This feature also allows you to edit or process multiple images at the same time.
Supports bath processing and you can also use this program to view your images as slideshow. There is also a built-in tool for automatically setting your photos as wallpaper.
Supports images of various formats such as jpg, png, gif, bmp, tif, etc. – you can also open, edit and save your images as TSP, which is the software's native format.
Supports multiple languages such as Japanese, Korean, Thai, German, Hindi, Italian, etc.
Cons
Some of the program's tools are only available in the Pro version. While upgrading to the Pro version isn't compulsory, there are certain tools that you cannot use unless you upgrade to the paid version. This includes the layer styles, dynamic and customizable brushes, desaturate, saturate and smudge tools.
For some reason, I also couldn't find a way to warp or change the perspective of an image. The only options that are available in the transform and align tab are those that sets the angle, size and position of the image. No tool for image warp, skew, perspective, etc.
Free version includes quite a bit of bloatware during install — be very careful
Discussion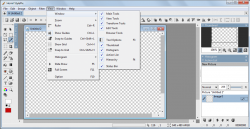 When it comes to image editing, it is important for one to consider the tools that are present in a particular image editing software. If you are just cropping your screenshots, then you can simply use a basic program such as MS Paint but such kind of software wouldn't be able to provide you with all the tools that you need especially if you want to create a masterpiece out of your stock images. This is where Hornil StylePix comes in handy. It is basically a great option for users who are looking for a good alternative to Adobe Photoshop.
First off, the Hornil StylePix is an image and photo editing software that is designed to edit raster graphics. It features a beautiful and well-organized user interface called Luna UI. What I like about this software's interface is that it is user-friendly. It has properly labelled tools plus it is very responsive. It also supports multi-tab image editing which gives you the ability to view and edit images in multiple canvases at the same time.
Another notable feature of this software is its built-in image viewer. This means that you no longer need to open your file explorer just to search for specific images. You can just click the image viewer tab and then your file directory will automatically be shown in the tool options.
Compared to other image editing programs, this program has almost all of the necessary tools and options that you need for editing images and photos. In other words, it is feature-packed. So even if there are certain features that are only accessible for Pro users, you can still do a lot of graphic editing tasks such as restoring and retouching your old photographs. You can even do a wide range of image editing techniques such as photo manipulation, pop art, logos, posters, icons and a whole lot more.
What I also like about this program is that it is very lightweight. It doesn't freeze or crash while you're in the middle of doing a graphic editing project. It also supports images of various formats such as PNG, GIF and JPG. It also features a very spacious workspace.
All in all, I could say that Hornil StylePix is a very commendable software. It's one of the best image editing programs that I've tried so far and I'm definitely keeping this software on my computer. The only thing that I find a bit disappointing is that I couldn't easily transform or distort the appearance of the images that I am editing since there is no image warp, skew and perspective tool that is available in the image transform and align tab.
Conclusion and Download Link
For those who are in need of a reliable image editing software, I highly recommend that you try Hornil StylePix. It is a very good program that is suitable for users who are constantly handling tasks that involves a lot of photo and image editing. Some of its features might not be available for free users but that doesn't make the software less useful. As a matter of fact, it built-in tools and features in the free version are more than enough to cater to your graphic editing needs. Check it out.
Price: Free, Pro – $49.99
Version reviewed: 1.14.0.0
Supported OS: Windows XP, Vista, 7 and 8
Download size: 6.6MB
VirusTotal malware scan results: 0/47
Is it portable? Yes

Related Posts