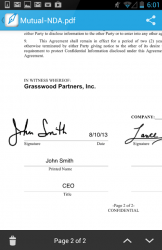 Nowadays, it's so easy to send and receive documents. It doesn't even matter if you're sending a document to a client overseas. Just attach and send your document via email and that's it! Even so, you might still find it difficult to put your signature on a digital document. If this is the case, you might as well check out this free digital signature app called SignEasy.
What Is It and What Does It Do
Main Functionality
SignEasy is a free digital signature application for Android smartphones and tablets. What this app does is that it provides you with a more efficient way to sign and fill your digital documents. With the help of this app, you can easily affix your digital signature (also known as e-signature) to any of your documents. Not just that, you can also make use of this app to insert your initials or any custom text to your registration forms, invoices, etc.
To sign and fill a document, all you need to do is to open it using the SignEasy app and then you tap the "Sign" button to insert the correct signature to your document. If you still haven't created your digital signature, you can draw it on the empty area using your finger or stylus pen. If you need to add your initials or any custom text, just repeat this step but instead of choosing the "Signature" option, choose "Initials" or "Text". You should also make sure that your signature is properly aligned and resized. You can resize your signature by dragging the "resize" bar from left to right or vice versa. If you want to move or reposition your signature, just tap and hold it then drag and place it to your desired section or area. Once you're done, simply press the "Finish" button. This will enable you to save and send your signed document to your contacts via Bluetooth, Dropbox, Google Drive, Email or Evernote.
Pros
Neat UI, responsive and easy to use
Supports documents of various formats such as PDF, Word, Excel, Text, HTML, JPEG, PNG, TIFF and a whole lot more
You can sign your documents using your own e-signature or you can get the signature of another person – for example, your customers and clients
Features a spacious drawing area wherein you can draw your signature and initials using your stylus pen. If you don't have a stylus, you can use your finger.
You can customize the size and ink color of your signature, date, custom text and initials
Password or PIN Lock – to prevent others from altering your digital signatures, you can enable the app's "Password Lock" feature which allows you to secure and lock your SignEasy app using a four-digit passcode.
Built-in share tools – You can easily send or share your signed documents via email, Box, Dropbox, Google Drive, Evernote and Bluetooth
Aside from the originally signed document, SignEasy will also send a copy of the signed document to your email.
Cons
Free users are only allowed to sign a maximum of three documents per month. If you want to sign more documents, you need to upgrade to Premium for $29.99 a year or you can opt for "Pay As You Go" which is $4.99 per ten documents.
There is no zoom in/zoom out feature so you cannot easily browse and preview your documents
The documents aren't encrypted
Discussion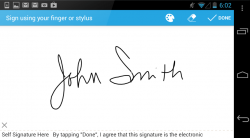 Compared to the usual method of signing digital documents, SignEasy is way more convenient. So instead of printing, scanning and faxing, you just load your documents on your app and then you add your signature before you send the document back to your contact. It's very easy and hassle-free. Besides, you can take it anywhere. This means that you can sign important documents even if you are away from your office or workstation.
Another thing that I like about this app is that it supports documents of various formats so you aren't just limited to signing Word documents and PDFs. Aside from this, this app also allows you to customize your e-signature's size and color. You can also make use of this app to fill out the other important sections of your documents. You can insert your initials and you can even type a custom text which is highly useful especially when you're required to fill out an application form.
It is also important to note every document that you've signed will be automatically saved to your app's folder (/sdcard/SignEasy). All of your signed documents will be secured in a way that they cannot be edited. This is to prevent those fraudulent acts of tampering signatures and initials. Even so, this feature isn't enough to protect your document's privacy. Since the documents that you're loading on the app aren't encrypted, there's still a possibility for others to take a peek at the important information that are enclosed within your documents.
On the lighter side, you can opt to secure the app using a four-digit passcode. If enabled, this feature will automatically lock your app and you won't be able to access any of its features unless you enter the correct passcode. This is quite good since you can keep your documents and signatures safe from unauthorized users.
While majority of the features of SignEasy are very commendable, it is still very important to note that it limits the amount of documents that can be signed by free users. Thus, if you are using this app for free, you should be wary that you can only sign a maximum of three documents per month. If you want to sign unlimited documents, then you need to pay a yearly fee of $29.99 or you can purchase the app's "Pay As You Go" package which will allow you to sign up to ten documents for a fixed price of $4.99.
Functionality wise, this app does a fair job in signing and filling out documents. It may not be able to beat the features of those top e-signature apps in the market but it's good enough.
Conclusion and Download Link
If you are looking for a reliable document signing app with no limits to the number of documents that can be signed per month, then it would be best for you try a different app — I suggest that you try DocuSign. As for SignEasy, it's a good app but because of its limitations, you won't be able to make the most out of its features unless you're willing to pay for its premium version.
Price: Free, $29.99 – Premium, $4.99 – Pay As You Go
Version reviewed: 2.1.8
Requires: Varies with device
Download size: Varies with device
SignEasy:Sign and Fill Documents on Play Store
Related Posts