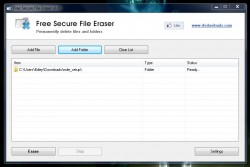 A majority of people don't realize that when you delete a file from your computer, you're actually just removing most of the information associated with them. Unless you use some type of secure deletion method, most deleted files can be easily recovered using special software. That's actually one of many ways that computer forensic teams are able to recover sensitive data or information. Free Secure File Eraser is a Windows application that allows you to wipe files from your system for good. It makes use of several wipe methods, most of which take advantage of an overwrite process that completely eliminates any associated data.
What is it and what does it do
Main Functionality
Free Secure File Eraser is a file and data cleaner for Windows that will essentially wipe all information associated with a file. It comes from the same developer as Reboot Delete File Ex, another fine piece of software that we previously reviewed. Secure File Eraser offers several different file wipe methods that are all more secure than the standard "delete" operation performed by the Windows OS.
Pros
Secure file wiping tool

You mark files or folders for deletion
Adding several items to the list means they will be removed (and wiped) in sequential order
You can stop the process at any time if you realize you made a mistake (though once a file has been succesfully wiped it's gone for good)

Several file deletion methods to choose from: Gutmann (35 passes), DoD-7pass (7 passes), DoD-3pass (3 passes), and Pseudorandom Data (1 pass)'
Includes an option for the Windows Explorer context menu
The file deletion process is remarkably quick, and only takes a few seconds even with large files or folders
Uses very few system resources (12MB of RAM)
Cons
VirusTotal returned 3/47 potential flags; "Trojan.Win32.OpenCandy.Af" from Baidu, "Win32/OpenCandy" from ESET-NOD32, and "Riskware/BruteForce" from Fortinet. It's possible these are false positives due to the additional software offered during the install process, but as always proceed with caution.
During the installation process you will be prompted to install the Amazon Browser Bar, set Amazon as your default search provider and as your home page. This can be avoided easily by unchecking the boxes when you reach the same prompt from the picture on the right. Just pay attention while installing the software and you should be fine.
Discussion
Free Secure File Eraser does ask for elevated privileges when you launch it. Obviously, it needs the rights in order to make changes to user files and data.
When you launch the application you'll notice right away –just like I did- that this application is minimal and serves a very specific purpose. As the name implies, this application will allow you to securely wipe files from your system and mask traces of any data left behind. In other words, the deleted files will not be repairable using data recovery tools.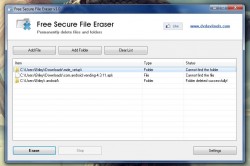 The main UI includes a rather large listbox, along with several interactive dialogue buttons. Three buttons across the top allow you to add a file or folder to the list or clear the list entirely. At the bottom of the window, you can start the erase operation, stop it or access the application settings.
Using the secure file deletion function is as easy as adding a file or folder to the list and clicking on the "erase" button. There are several different file wipe methods you can choose from (through the settings menu), but the active method is used during the wipe process.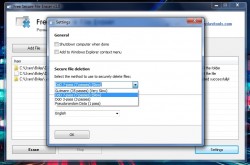 The wipe process is fairly quick, unless there are complications which will be noted accordingly on the screen. If the file you marked for deletion is removed, it will also notate the success.
As I mentioned earlier, in the app settings you can choose from several different file deletion methods. Those include Gutmann (35 passes), DoD-7pass (7 passes), DoD-3pass (3 passes), and Pseudorandom Data (1 pass). By default, the option is already set to DoD 7-pass.
Through the settings menu you can also choose the display language, shutdown the computer automatically when a wipe operation has been completed, or add a secure delete option to the Windows Explorer context menu.
Free Secure File Eraser uses just over 12MB of RAM while running, which is pretty light.
Conclusion and download link
Free Secure File Eraser is a data cleaning tool for Windows, as the name pretty much implies. It allows you to securely delete and wipe information associated with a file. This prevents said data from being repaired or reacquired using recovery software. In other words, once you delete a file it's gone for good. It's successful at wiping files and data, it performs operations in a fairly quick manner and it uses very few system resources to do so (12MB of RAM). Overall, it's a great tool for anyone that wants to stay minimal. However, I don't recommend it. Why? Simply because secure deleters are a dime a dozen and I see no major reason to get Free Secure File Eraser over Heidi's Eraser, a free, open source, and portable secure deletion tool which is also easy to use. Read dotTech's review on best free secure file deletion tool for Windows to learn more.
Price: Free
Version reviewed: 1.0
Supported OS: Windows 8/7/Vista/XP
Download size: 1.15MB
VirusTotal malware scan results: 3/47
Is it portable? No
Free Secure File Eraser homepage
Related Posts