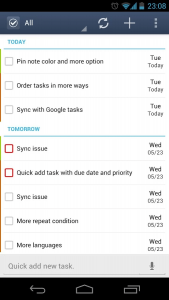 Productive people know how to effectively manage and organize their tasks. They set realistic goals and they make sure that they accomplish their tasks on time. Still, there's no guarantee that you will be able to remember all of the tasks that you are bound to do. This is exactly the reason why you need something that could constantly remind you of the things that you are supposed to do. In this case, you might want to check out the features of GTasks, a simple task and calendar management app for Android.
What Is It and What Does It Do
Main Functionality
Just like other task management apps, the main function of GTasks is to help you create, organize and manage your tasks in a more efficient and systematic manner. So instead of carrying a bulky daily planner, you can just install this app on your Android tablet and smartphone.
Furthermore, this app features a user-friendly interface wherein you can easily create, organize and re-organize your tasks, to-do lists, events and reminders. Just load the app from the app drawer then configure it according to your desired settings and make sure to select your preferred account. You can either choose to sync the app to one of your Google accounts or you can simply choose to put it on local mode. If you choose the latter then all of your data (your tasks, reminders, etc.) will be stored to your phone storage or SD card.
Once you've configured the app according to your desired settings, you can start creating your so-called "Task Lists". Each list should be considered as a different category. For example, you can create a separate list for work projects and another list for house chores. After you have created and organized your lists, you can start creating your first task by pressing the "plus" button on the top-right corner of your main task list menu. When creating a task, you are free to write whatever you want since the app's layout is very similar to writing a note or memo. You can also set a reminder for your urgent and important tasks. Just don't forget to mark your completed tasks as done.
Pros
Lightweight, neat and user-friendly interface – you can scroll the screen horizontally to switch between lists, events and tasks
Can sync with your Google account and TickTick
Creates tasks, to-do lists, calendar events and reminders – also allows you to view your events on your Google Calendar
Allows you to reset the due date of your tasks
Sorts your tasks by name, date, order and priority
Has a built-in search tool and share function – lets you share your lists and tasks via bluetooth, email, SMS, IM or SNS
Features an option for adding tasks in bulk (Batch Add Tasks)
Features a home screen widget that you can use to view your urgent or important tasks
Supports auto and manual data syncing
Customizable user preferences – font size, sync mode, date format, time format, start week on, etc.
Cons
The widget, reminder and snooze feature won't work if you install the app to your SD card.
For the "batch add tasks" feature, free users are only limited to adding a maximum of three items or tasks per batch.
Some of the app's advanced features are only available to paid users. These features are as follows:

Changing the default theme – free users are only allowed to use the light theme
Background Auto Sync – If enabled, this app will automatically sync your data with Google Tasks
App Lock – locks the app to prevent unauthorized users from viewing and editing your tasks
Discussion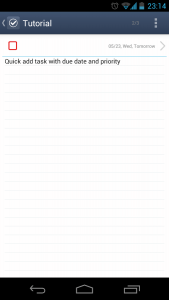 GTasks is a very neat and lightweight app. It's also very easy to use and it does a really good job in organizing and managing your tasks. What's great about this app is that it is not only limited to creating tasks. You can also use it to manage your to-do lists, reminders and even those special and unforgettable events that you want to put in your mobile calendar.
Another notable feature of this app is that it can be synced to your Google account. If you are using TickTick, you can also use this app to sync your data to your TickTick account. When organizing tasks, make sure that you've already created and sorted out your lists so that whenever you create some new tasks, all you need to do is to put them into their corresponding lists. You can also mark your tasks as urgent so that you can easily recognize them whenever you browse through your task list.
Functionality wise, I am very satisfied with this app's performance. It is very responsive and so far, I haven't encountered any serious problems that could usually lead to sudden data loss. Besides, this app supports manual and auto sync so if ever you data gets accidentally deleted from the app, you can easily recover it provided that you've connected the app to your Google or TickTick account.
While majority of this app's features are available to its free users, there are certain features that you cannot access unless you choose to upgrade to the app's premium version. For example, you cannot change the app's default theme plus you cannot lock it using a secure PIN or password. This means that if you are just using the free version, you will need a separate application to lock your GTasks app. It is also important to note that this app's widget, reminder and snooze functions won't work unless you move the app to your phone's local storage.
As a wrap up, I could say that GTasks perfectly does what it is intended to do. It's simple and straightforward. There are no unnecessary features plus it's a very stable application that you could use whenever you want.
Conclusion and Download Link
For those who are looking for a stable and reliable task and to-do list management app, I highly recommend that you try GTasks for Android. It is a simple app with auto and manual sync support. It doesn't have the most beautiful UI, but it gets the job done. f you want a task manager with a more appealing UI, I suggest that you try this app called Shifu, an intelligent to-do and task manager that is also intended for Android users.
Price: Free, Premium – $4.99
Version reviewed: 2.0.3.5
Requires: Android 2.1 and up
Download size: 3.2MB
GTasks: To-Do List & Task List on Play Store
Related Posts