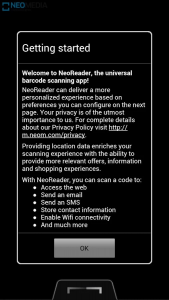 Barcodes are everywhere. They're in books, magazines, business cards and even in t-shirts and posters. The same goes for QR codes. Thus, nowadays, it is already a must for one to have a reliable and accurate QR code and Barcode scanner. So instead of typing lengthy URLs and contact numbers, simply use your QR code/barcode scanner. Speaking of which, NeoReader is a universal barcode scanning app for Android that you can take wherever you go.
What Is It and What Does It Do
Main Functionality
Created and developed by a company called NeoMedia Technologies, NeoReader defines itself as universal barcode scanning application that is intended for Android tablets and smartphones. With the help of this app, you can scan and read almost all types of codes such as QR codes, Data matrix, Aztec, EAN, UPC, Code 128 and Code 39.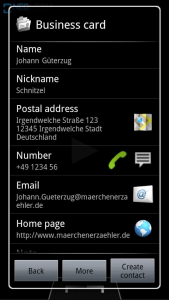 To scan a code, simply install the application on your mobile device and then launch it from your app drawer. After which, just point your device's rear camera at the code that you want to scan and the app will instantly deliver the decoded content to your mobile device. You can instantly view the content of the code that you've just scanned using your mobile browser. It is also possible for you to directly search for codes from your phone's media gallery. You can also scan and read codes via manual entry. The latter option is quite useful especially if you are scanning for EAN and UPC codes.
Pros
Easy to use and responsive user interface
Scans almost all types of standard codes such as QR codes, Data matrix, Aztec, EAN, UPC, Code 128 and Code 39
Has a built-in option for scanning or decoding codes via manual entry – just input the barcode number or simply search for a barcode or QR code image from your media gallery
Scan History – After scanning a code, you can opt to save the information that you've obtained to your scan history
Sharing Tools – You can instantly share the information that you've received from your scanned codes via SMS or Email
Custom user settings – If you want to change or update the app's settings then you can simply go to its Settings tab – you can also change the sound that the app makes every time it gets to scan a new code
Cons
Wrong camera orientation – When on portrait mode, the app has problems in setting the correct camera orientation but it does function properly when set on landscape mode.
Limited sharing tools – you can only share your scanned codes via SMS and email. There's no option for sharing your codes via Bluetooth, IM or SNS
Doesn't support bulk scanning – While you can simultaneously scan for codes, the code information won't be automatically saved to your code history
Discussion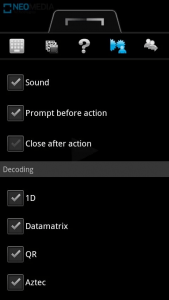 Some of the code readers that are currently available in the market are only limited to scanning Data Matrix and QR codes. This is why it's good to have a universal code reader such as NeoReader which is designed to scan almost all types of standard codes such as Data matrix, Aztec, EAN, UPC, Code 128, Code 39 and of course, the ever popular QR codes.
Functionality wise, NeoReader works like any typical barcode scanning app. You point your device's camera at the barcode or QR code and the app will automatically scan and deliver the content to your tablet or smartphone. You're then free to view the content using your mobile web browser. It's as easy as that. In addition, this app also has a special section called Scan History wherein you can save the contents of the codes that you've previously scanned.
It is also important to note that this app allows manual code scanning. This means that you can scan for codes by simply typing the serial number. You can also scan the codes that you've previously saved on your smartphone. This option is quite handy especially if you are scanning for UPC or EAN codes.
While using this app, I noticed that it has problem with its camera orientation. This problem usually occurs when the app is on portrait mode. This apparently affects the app's performance since it couldn't scan the codes accurately unless you switch it back to landscape mode. Apart from this, the app has limited sharing tools. You can only send the scanned results via Email and SMS. There's no option for sharing the results via Bluetooth, Facebook and even on Twitter.
Despite its notable drawbacks, NeoReader still managed to scan the codes accurately. It might not be the best QR code and barcode reader app in the market but it's reliable enough to decode almost all types of standard codes.
Conclusion and Download Link
NeoReader is a good option especially if you are in need of a portable code scanner that could accurately scan a wide range of codes. It's great for scanning the QR codes that you usually find on magazines and product catalogs. It may have a couple of drawbacks but that doesn't imply that it is no longer worthy of your attention. So if you still haven't tried this app, go ahead and check it out.
Price: Free, Ad-Free version – $0.99
Version reviewed: 4.06.07
Requires: Varies with device
Download size: Varies with device
NeoReader QR & Barcode Scanner on Play Store
Related Posts