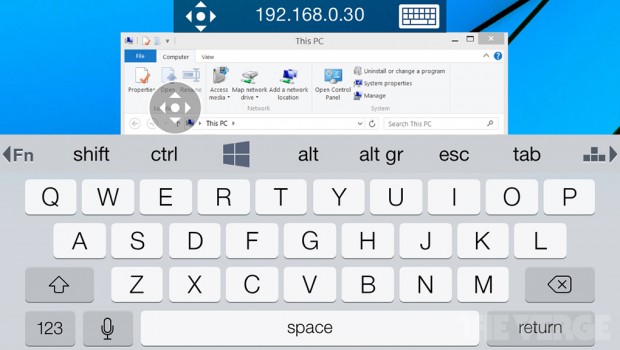 Microsoft has been a veteran user in controlling PCs with PCs remotely through its Remote Desktop Protocol (RDP). Now, however, Microsoft is giving this power to people who want to partake in such technological ascendancy with their mobile devices. A new app by Microsoft, called the Remote Desktop App, lets users with Android and iOS smartphones or tablets access their Windows PCs and control them… remotely, of course.
The Remote Desktop app employs Remote Desktop Protocol that Microsoft has used to control PCs and servers across Windows. Users can control all Windows PCs that have the option of Remote Desktop switched on. (Remote Desktop can be turned on from Control Panel, in case readers don't know.)
However, a few intricacies accompany Microsoft Remote Desktop app on Android and iOS; it is difficult to control a desktop on a small screen of a smartphone, but the Windows 8 interface eradicates this problem. Microsoft Remote Desktop app is best used on tablets, since tablets have larger screens. Microsoft Remote Desktop app supports all Android and iOS tablets. Regrettably, Microsoft Remote Desktop app does not detect PCs automatically, and users will have to know the IP address of the machine in order to connect the machine with the device over a network. On the other hand, Remote Desktop app is quite user friendly, and it has an on-screen keyboard with keys such as ctrl, shift, alt, tab, etc.
Although, some users may not find Microsoft Remote Desktop of important use, this app will primarily serve people in businesses who want to quickly jump back and forth to their PCs. In addition, tech enthusiasts will also get a good taste of Microsoft Remote Desktop App. Microsoft Remote Desktop App has a Windows 8 style interface, and strangely enough, Microsoft has not released its own Windows Phone version of Remote Desktop App.
Remote Desktop App can be downloaded for free from Google Play Store and Apple App Store.
[via The Verge]
Related Posts