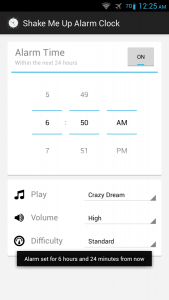 One of the disadvantages of using your phone as your alarm clock is that you tend to abuse its snooze button. So when the time has come for you to actually wake up, you can just postpone your alarm clock's ringing and then you go back to sleep like 10-15 minutes more. In the end, you still wake up late. Well, the time has come for you to put an end to your bad waking habits. With Shake Me Up Alarm Clock, you can finally say goodbye to your alarm clock's snooze button.
What Is It and What Does It Do
Main Functionality
Shake Me Up Alarm Clock is a free alarm clock application for Android that is specifically designed to help you wake up on time. What makes this app different from other alarm clocks is that it purposely removed the snooze button. So instead of clicking "snooze" or "dismiss", you can turn it off by shaking your phone. Furthermore, the alarm won't stop with just a simple shake. You need to shake your device to a certain extent, with the whole idea being you will get up on time if you have to work harder than simply hitting snooze.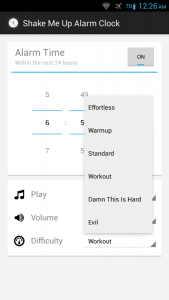 To use the app, simply configure its alarm settings just like your usual alarm clock. You get to set its alarm time, ringtone, ring volume and of course, the level of difficulty for its shake function. You can opt for the easier level which is called "effortless" or you can go for a more difficult level which usually ranges from "workout" to "damn this is hard" to "evil". The higher the level of difficulty, the more you need to spend some effort in shaking your phone. Once everything is all set, simply turn your alarm on.
Pros
Minimalistic UI, easy to use and very stable
Anti-cheating system – purposely removes the snooze and dismiss button so you cannot cheat your way into putting the alarm sound off
Fully disregards your phone's silent/vibration mode – the alarm sound will still ring even if your phone is on silent mode
Features a total of six shake difficulty settings – effortless, warm-up, standard, workout, damn this is hard and evil
Configurable volume settings – you can set the volume level to high or low
Leaving the app won't turn it off
Custom alarm tones
Cons
You cannot set multiple alarms – this app only allows you to create one alarm at a time.
There is no repeat alarm option – you cannot set your current alarm to repeat during a specified interval (ex. repeat every day, repeat every Monday, repeat every Saturday, etc.)
You cannot set custom labels – once the alarm sound rings, the app will only show the shake progress screen. It won't show any notes or labels so there's no way for you to determine what your alarm is for by simply looking at your phone's screen.
Discussion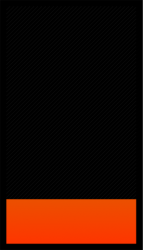 Shake Me Up Alarm Clock is a very straightforward alarm clock app. It is very easy to use plus it features a minimalistic user interface which, in turn, makes it easier for you to configure its settings according to your desired preferences.
Unlike the usual alarm clock apps, Shake Me Up Alarm Clock doesn't have any snooze or dismiss button so you are literally forced to shake your phone just to turn the alarm off. This is a great way to wake up on time especially if you are the type who keeps on abusing the snooze button.
What I like most about this app is that it features an anti-cheating system. This means that whatever you do, you cannot turn off the alarm unless you shake your phone to a certain extent or level. So even if you leave the alarm for a few minutes, nothing will change. It will still keep on ringing. It will also continue to ring even if you intentionally set your phone to silent or vibrate mode. You cannot even lower its ringing volume by simply pressing the volume down button. All of these features will be automatically disregarded so you cannot cheat.
Another thing that I like about this app is that when it's time for it to activate the alarm, it will automatically show its shake progress meter. The shake meter will apparently show you the progress that you've made while shaking your phone. In other words, you need to fill the shake meter (the screen must turn from gray to orange green) before you can turn the alarm sound off.
Nevertheless, this app also has a couple of missing features. This includes its inability to set multiple alarms. You can only set one alarm at a time which is quite a downer especially if you are frequently using your alarm clock. Aside from this, this app doesn't have the option for repeating your alarm and you cannot also set some custom labels for your alarm.
Conclusion and Download Link
Shake Me Up Alarm Clock is a very interesting and useful application. I highly recommend this app to anyone, especially to those who cannot easily wake up despite setting multiple alarm clocks. It has a couple of downsides but they aren't deal-breakers. So if you are really determined to put an end to your bad waking habits – go ahead and try this app!
Price: Free
Version reviewed: 1.2.0
Requires: Android 2.2 and up
Download size: 506KB
Shake Me Up Alarm Clock on Play Store
Related Posts