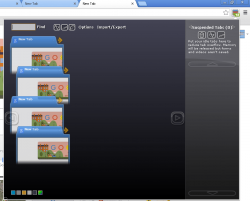 Do you ever find yourself getting ridiculously unorganized with an unnecessary amount of tabs open in your browser? As a journalist I'm constantly having to open a dozen tabs while researching an article, or creating new graphics. Maybe you work in an office, or perhaps you're a student working on an assignment, either way, having so many open at once can get very confusing. This is way I decided to check out TooManyTabs for Google Chrome and Firefox.
What Is It and What Does It Do
Main Functionality
The entire purpose of TooManyTabs is to help you stay organized, and generally maintain your sanity. It gives you multiple different views of the tabs you have opened, as well as ways to keep them arranged, and allow you to easily find the ones you need.
Pros
Birds eye view of opened tabs
A preview of what you have on each page
Multiple different ways to sort tabs
Very useful search option to find the tab you need
Different themes so you can try and match the theme you are using in your browser
Very easy to learn, and get used to
Cons
No tab scrolling
User Interface looks a bit dated, even with different themes in place
For some reason the preview for a tab does not always show up, not that big of  deal
Completely useless to anyone who doesn't frequently use at least a dozen tabs or more
Discussion
Overall I feel like whoever designed this extension had the right idea in mind. I noticed a good word someone else used to describe the user interface, "clunky". That's exactly what it is, and is my main quarrel with the extension. It could definitely use some refinement.
The thing I like most about this extension is the ability to search for a tab. If you have, say, 20 tabs open and you really need to find that awesome dotTech article you were reading, you can simply search "dotTech" and it will immediately show you the tabs related to dotTech.
Conclusion and Download Link
In conclusion, it is a very helpful extension for those of you who will have more than a dozen tabs open in your browser on a regular basis. In that case I would highly recommend it. If you only need a large amount of tabs open every once in a blue moon, or you have under ten open on a semi-regular basis, it's kind of useless.
Generally I would say this is a fairly short, simple review, but there is really nothing else to say. If you feel the need to have an absurd amount of tabs open, this is fantastic. Other than looking like it was made for Windows 98, of course. If you don't regularly need that many tabs open, don't install it. You don't need it.
Price: Free

Version reviewed: 2.0.0

Requires: Google Chrome and Firefox
Download Size: 249 KB
Related Posts