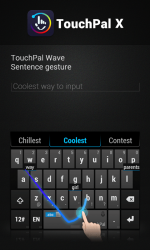 Are you one of those users who often get annoyed by the fact that they cannot properly type on their touchscreen tablet or smartphone? Have you ever encountered those instances wherein you cannot properly type the words that you want because you often get a lot of typos? Well, it's time for you to look for a better and more reliable onscreen keyboard. Speaking of which, why don't you try this alternative keyboard app for Android called TouchPal X Keyboard?
What Is It and What Does It Do
Main Functionality
TouchPal X Keyboard is a free keyboard application for Android tablets and smartphones. You can use this app as a replacement for your phone's native onscreen keyboard. With this app, you can type on your touchscreen with ease. This is because unlike your native onscreen keyboard, TouchPal X Keyboard has a built-in word and sentence gesture recognition system that helps predict the words and sentences that you are about to type. Through this technology, you can type without worrying too much about getting a lot of typos and misspellings.
To use this app, simply set TouchPal X Keyboard as your default keyboard. You can do this by going to your phone settings then select "Locale and Text". Check the box next to TouchPal X in the section for "Select Input Method". After that, press back then launch the app from the app drawer. On the app's main menu, select "Set as active keyboard" then once again, select TouchPal X from the given list of options. After you follow the said steps, you're now free to type using your new keyboard. You also do not need to worry about using it for the first time. The application will guide you through so all you need to do is to follow its on-screen instructions.
Pros
Rich and responsive UI, very easy to use
Uses word and sentence gesture technology – just swipe your finger on the letters. The keyboard itself will predict the words and sentences that you want to type.
You can insert emojis and emoticons
Walkie-Talkie style of voice input – just long press the space bar, speak on the mic then release the space bar to confirm your action
Quick input for numbers and symbols – long press on the key or letter to view its corresponding number or symbol
Automatically corrects your mistyped words
Custom user preferences – you can enable or disable certain options such as auto space and auto capitalization
Multiple theme support – you can change the layout and appearance of your keyboard by selecting a different theme
Features different keyboard layouts for easy typing – T+, T12 and T26
Learns from your messages, contacts and tweets
Multi-language support – supports more than 70 languages
Cons
Doesn't have all of those special characters and symbols
The emojis would still appear as emoticon
It takes time before you get fully accustomed to typing using word and sentence gesture controls
Discussion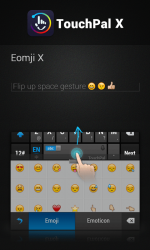 I like the TouchPal X Keyboard a lot. Out of all the keyboard replacement apps that I've tried, this one has definitely exceeded my expectations. The good thing about this keyboard is that it doesn't leave you clueless about what you are going to do. Right after you install the app on your device, it will guide you through the entire app configuration process until you can finally do things on your own. So even if you are a newbie, you won't get confused as to how you should use a particular feature or control.
What I also like about this app is that it is very responsive. It doesn't crash and it doesn't lag even if you are typing fast. The keys are well placed especially the most commonly used symbols such as the question mark, comma, period, etc. In just one swipe, you can also access the TouchPal X Keyboard's full list of emojis and emoticons. Plus, if you are too lazy to type, you can just use the app like a Walkie-Talkie. Just long press the space bar then talk. The app will automatically convert your speech into text. It's also very accurate for as long as you properly pronounce your words.
Another notable feature of this app is its ability to learn from your tweets, contacts and messages. So for example, it can intelligently learn the name of the people that you have in your contacts. Thus, there's no need for you to constantly recheck if you got the spelling of your friend's name correctly. Just type at least the first two letters of the name and it will automatically show up in the suggestion bar.
Aside from this, I also like the fact that you can customize the TouchPal X Keyboard's layout and appearance. So if you prefer typing on your phone on portrait mode, you can easily change the keyboard layout to T+. If you prefer typing on landscape mode, then you can switch to T26 or T12.
I really don't have any serious complaints about this app. As a matter of fact, it is very commendable especially when it comes to its accuracy and responsiveness. It's just that it could take some time before you get fully accustomed to using this type of keyboard but that is not really a big deal for as long as you are patient and persistent.
Conclusion and Download Link
If you are looking for a great alternative for your device's native onscreen keyboard, I highly recommend that you try TouchPal X Keyboard. It is a very good keyboard application with lots of useful features and options. It could take some time before you get used to using this app but this is not enough to make the app less useful. So go ahead and check it out.
Price: Free
Version reviewed: 5.4.5.2
Requires: Android 1.6 and up
Download size: 12MB
TouchPal X Keyboard on Play Store
Related Posts