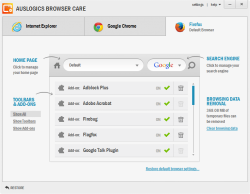 If you are a lover of all things zeroes and ones and often install new software, you've probably have your fair share of run-ins with unwanted toolbars and homepage hijacks. It can sometimes be a hassle to deal with such situations, and that is why Auslogics Browser Care was born. Let's see if it is worth your time.
What Is It and What Does It Do
Main Functionality
Auslogics Browser Care performs three main functions: remove browser toolbars and addons/extensions, change browser homepage, and change browser default search engine.
Pros
Allows you to disable/enable or delete and uninstall browser toolbars and addons/extensions
Lets you change the homepage for your browser
Lets you change the default search engine for your browser
Can clear browser cache, cookies, history, and saved forms/passwords
Can reset browser to default settings (aka settings as if you just freshly installed the browser)
Gives you the ability to easily search Google for more information about an addon or toolbar
Automatically creates backups of changes that you make with Auslogics Browser Care, letting you undo the changes with the click of a button (e.g. if you delete an addon, you can undelete it via RescueCenter)
Supports Internet Explorer, Chrome, and Firefox
If you have multiple browsers installed, will allow you to perform all the above-mentioned functions on all those browsers right from within the same window
Well designed interface
Cons
Does not provide any assistance or recommendations as to what addons/toolbars to disable or delete; you are simply told what addons/toolbars are installed and then it is up to you to decide what to do with them
Cannot disable or delete in batch. In other words, you cannot select multiple addons or toolbars to delete or disable with one click, you have to manually delete or disable each addon or toolbar that you don't want.
Only supports Internet Explorer, Firefox, and Chrome. No support for Opera and other less popular browsers
Does not provide any unique or amazingly awesome features. Everything done by Auslogics Browser Care can be done from within the browsers themselves — Auslogics Browser Care just makes it easier to do by putting it all in one place.

On the same note, if you are plagued by a toolbar or addon which cannot be removed from within the browser itself (i.e. malicious toolbar or addon), Auslogics Browser Care won't be able to remove it either.

Updating Auslogics Browser Care is annoying and a hassle; it doesn't have a built-in updater that automatically downloads and installs updates. Rather, you have to redownload the whole program and reinstall it to update.
When installing Auslogics Browser Care, it sets itself to automatically start at Windows boot… which is very annoying considering the fact that there is no need for Auslogics Browser Care to automatically run at Windows boot. Be sure to click "more options" and uncheck "Launch program at Windows startup" during install to avoid this. If you forget to do this, you can also turn off this behavior from settings after install.
Discussion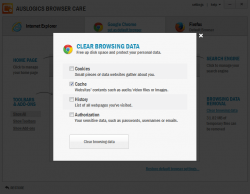 The name of the game for Auslogics Browser Care is convenience. While Auslogics may market Auslogics Browser Care as a "unique new tool" that "lets you take back full control of all browsers installed on your PC", it actually doesn't provide you with any unique functionality that you won't find elsewhere. Rather, what Auslogics Browser Care provides is convenience.
You see, Auslogics Browser Care lets you manage the addons/toolbars, homepage, and default search engine for Internet Explorer, Chrome, and Firefox in one place; plus it lets you clear their respective browser privacy-related data. This isn't a major attraction to people who only have or only use one browser, because you can do all these things directly from within each browser itself, no need to download Auslogics Browser Care. However, for those of us that juggle between two or more of these browsers, having the convenience to manage addons/toolbars, homepage, and search engine and clearing browser history from one place is very nice.
That said, though, don't expect Auslogics Browser Care to work any magic. As I already said, it does not have any special functionality that would make you drool over this program. But if you accept it for what it is — a tool of convenience for multi-browser users — then you and Auslogics Browser Care may become good friends.
Conclusion and Download Link
Auslogics Browser Care is good but it is not great; the value-added aspect of Auslogics Browser Care is not features — it is convenience. So if you use multiple browsers and want the sort of convenience offered by Auslogics Browser Care, then grab it. If you don't use multiple browsers or don't really care for the convenience offered by Auslogics Browser Care, then don't get it. (Did I really need to tell you that?)
If you are looking for a bit more advanced assistance in removing addons/toolbars (notably the malicious ones), I suggest you take a look at avast Browser Cleanup and AdwCleaner.
Price: Free

Version reviewed: 1.3.2

Supported OS: Windows XP, Vista, 7 and 8
Download size: 6.3 MB

VirusTotal malware scan results: 0/48

Is it portable? No
Auslogics Browser Care homepage
Related Posts