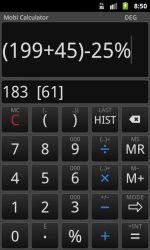 Even if you are not so good in Math, there will always come a time wherein you will need to compute something using your scientific calculator. Besides, you cannot always rely on your smartphone's built-in calculator app since it lacks a lot of mathematical functions. To be sure, you better keep a handy and user-friendly scientific calculator app as a back-up. Speaking of which, let's find out if the free version of Mobi Calculator has all the necessary mathematical functions that you're looking for.
What Is It and What Does It Do
Main Functionality
The free version of Mobi Calculator is currently available for Android tablets and smartphones. Compared to your phone's built-in calculator app, you can use this scientific calculator to calculate almost anything regardless if it is a simple or advanced type of mathematical operation. You can do the basic addition, multiplication, division and subtraction. You can also compute for the square root, percentage and time difference/interval. Furthermore, this app is very easy to use and its UI resembles that of an actual (physical) scientific calculator. Just install and launch it from the app drawer, input the numbers or the correct mathematical equation that you like then just leave the rest to the app. It will automatically solve the equation for you and all you need to do is to view the correct answer.
Pros
Easy to use, responsive and very stable user interface
Can easily calculate any kinds of advanced mathematical equations – this includes those tricky equations in Trigonometry, Algebra, Physics, Geometry, Calculus, etc.
Supports many different types of equation for time, square root and percentage calculation – ex. To know the square root of 9, you can either use "?9" or "2 ?9". Both types of equations will give you the same answer.
Time calculation – you can use this app to compute time
Configurable user options – you can opt to change the app's default settings for display, storage, control and calculation
Customizable themes – you are free to change the app's layout and appearance from dark to light, simple and aqua
The maximum length of the numbers that you can input in a single operation could go up to 48 digits
History – lets you access all of your previously solved equations in just a few clicks. You can even copy and send the data to other users.
Cons
While this app supports both portrait and landscape mode, there's no option wherein you can set the app to show all of the buttons (standard and scientific) in just one page. This could be useful especially when you're using the app on landscape mode.
Some of the app's mathematical operations are a bit tricky because it is different from what you're used to do on your old-fashioned calculator
Discussion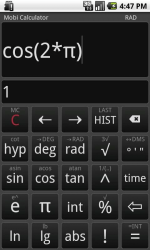 The free version of Mobi Calculator is a very good scientific calculator application and it is definitely useful especially if you need an advanced yet handy calculator that you can take wherever you go. What I like most about this app is that it can perform a lot of advanced mathematical operations may it be related to Geometry, Physics, Trigonometry, Algebra, etc. You can even use it to calculate time and percentage which is really great for those who are often tasked to calculate discounts, taxes, etc.
Another thing that I like about Mobi Calculator is that its user interface looks very neat and responsive. Its buttons are large enough for typing plus you can easily switch in between its standard calculator mode and advanced calculator mode. You can also set this app to automatically convert decimal numbers into binary numbers, hexadecimal numbers into octal numbers and so forth. Aside from that, this scientific calculator has a built-in guide and reminder messages that randomly pops up from time to time especially when it senses that you aren't really sure about what you are doing.
In addition, this app also features a variety of themes that you can use to change the UI layout and color. You are also free to configure the app's default settings according to your liking. Furthermore, those who wish to retrieve their previous calculations can easily do so by simply viewing to the app's calculation history. You can even copy and send your archived calculations to your friends and colleagues.
So far, I haven't found anything that would make me think that this app isn't capable of solving simple and advanced mathematical equations. As a matter of fact, it is pretty accurate and you're guaranteed to get the correct results given that you actually know how to compute for the correct percentage, ratio, square root, radian, degrees, tangent, cotangent, hypotenuse, etc.
Even so, it could have been better if this app has the option for putting all of the functions in just one page so that there's no need to flip from one page to another. It is also important to note that some users might this scientific calculator a bit confusing because you need to follow the proper format or equation in order to come up with a correct answer.
Conclusion and Download Link
I find this app really useful not just for students and teachers but also for people whose line of work involves a lot of computing such as those who are running their own businesses and companies. So if you are looking for a good replacement to your old-fashioned (and bulky) scientific calculator, I highly recommend that you try Mobi Calculator on your Android tablet or smartphone.
Price: Free, Pro – $3.49
Version reviewed: 1.3.15
Requires: Android 1.5 and up
Download size: 187KB
Mobi Calculator FREE on Play Store
Related Posts