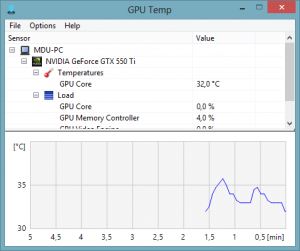 For anyone who has a graphics card especially a high end one, its important to understand its cooling needs. Whether you're a gamer or graphics designer, you have to be conscious on how much heat your GPU may be generating. If you receive drivers with your graphics card, it will most likely come with a list of proprietary applications to help you set your graphics card up and allow you to control and configure it. One of the functions of these applications may or may not allow you to monitor the temperature of your graphics card and a lot of these applications aren't intuitive or user friendly. That's where GPU Temp comes in.
WHAT IS IT AND WHAT DOES IT DO
Main Functionality
GPU Temp is a free bone simple to use application that allows you to monitor the temperature of your GPU and the load.  The name is not misleading in any way, this application does exactly what its name implies and nothing else.
Pros
Simple to use
Aesthetically pleasing user interface
You can monitor the core temperature and the load of each graphics card component
Runs in the background and can display the GPU temp on the system tray
Can be launched from windows start up
The source code is publicly available for modification, as long as the terms of the license are retained.
Very lightweight
Cons
Does not archive or keep a history of the temperature
It only seems to retain information for the last past five minutes
There are no options to lengthen the time that the graph measures temperature for comparison
It only measure in degrees Celsius and there is no option to choose Fahrenheit
How about other temps and not just GPU?
Discussion 
Very simple and very easy to use. In fact, its as easy to install as it is easy to use. No bloatware or registrations needed. The install file clocks in at about  592 KB. Installations can go by in less than a minute. One of the complaints that can be made about it is there is no help documentation to speak of but it can be assumed that the developers found it unnecessary. It is a very simple tool to use. I don't see the original developers expanding on it or releasing any new iterations a
ny time soon because it was made for a specific purpose and it serves that purpose particularly well. I like the tree display and the neat little icons placed next to each category.
If you run it on a computer without a graphics card or an on board GPU, it will crash after the install. If you then try to run it again, it will most likely work but what you'll get under the tree display is your PC name and nothing else.  In my opinion, a notification informing the user that the tool cannot detect a GPU or load would have been better.
Conclusion And Download Link
GPU Temp is good but I see no reason why anyone would want to use it; it has no value-added features. Instead of GPU Temp, I suggest you take a look at HWMonitor. HWMonitor is a free program for monitoring GPU, CPU, and motherboard temps; it shows temps in both C and F, plus it is portable. Check it out.
Price: Free
Version reviewed: 1.0
Supported OS: Windows XP, Vista, 7 and 8
Download size: 592kB
VirusTotal malware scan results: 0/46 
Is it portable? No
Related Posts