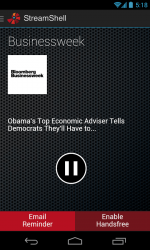 One of the many advantages of using a text-to-speech app is that you can easily listen to your favorite e-books and websites even if you're doing something else. It is a great option for people who likes to multi-task as well as to those who are just simply in a hurry to accomplish multiple things at once. If you're the type who likes to keep yourself updated with the latest news and current trends, you can try this cool text-to-speech application for Android called Listen to Emails and News.
What Is It and What Does It Do
Main Functionality
Alternatively known as StreamShell, Listen to Emails and News is a free text-to-speech app for Android that you can use to listen to your favorite podcasts, websites, technology news sites and online articles. You can also use this app to read your emails. What makes this app even more interesting is that you can customize its channels according to your liking. Therefore, you're not stuck with the same old content. The app itself has a wide selection of news and information channels. All you need is to pick the ones that you like such as Engadget, TechCrunch, The Verge, Android Police, etc.
To start using this app, you need to download its voice files first. After that, load the application then select your preferred profile. Your preferred profile could be related to news, business, sports, startups, technology and lifestyle. After you've selected your preferred profile, you will be given the option to listen to certain channels. Select the channel that you want (ex. The Onion) then you're all set to browse and listen to its latest entries. Moreover, this app features a built-in tutorial for new users so you can simply follow the instructions that will appear on your screen.
Pros
Neat, well-designed and responsive user interface
Easy to use
Hands-free support – lets you control the app via Bluetooth, voice or proximity sensor
High-quality text-to-speech engine – by default, the app can read the text using its male sounding voice but you can adjust its voice pitch and voice speed according to your liking
Can read emails, websites, blogs, articles, etc. – provides a wide selection of profiles and channels which includes some of today's most popular sites such as Mashable, Engadget, CNN World, The Verge, Just Jared, The Onion, Reuters, Huffington Post, Businessweek, CBS Sports and a whole lot more
Customizable profiles and channels – you're free to select the channels that you want to listen to which also includes your linked email accounts
Cons
It would be nice if there's an option wherein the user can add a custom website or URL
Needs a separate profile for showbiz and entertainment, there are also limited channels for health, relationships and lifestyle
There is no option wherein you can save or bookmark a certain entry so that you can listen to it at a later date or time
Discussion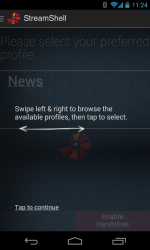 Listen to Emails and News can be compared to that of a news aggregator but instead of just showing the news articles, it reads it to you out load using its high-quality text-to-speech engine. Not only that, this app can also read your emails so it is a great option especially when you're multi-tasking or when you're riding a train to work. It also comes in very handy especially when you want to stay updated with the latest news and tech tidbits while you're working out or while you're doing some household chores.
What's great about this app is that it is very easy to use plus it features a neat, well-designed and responsive interface that supports hands-free controls that can be triggered via Bluetooth, voice commands or via proximity sensor. So when you opt to enable its hands-free control, you can just put your palm on top of your phone screen and the app will automatically respond to your gestures/hand movements.
Another good feature of this app is that you can customize its profile and channels according to your liking. It also features a wide selection of channels which covers a lot of interesting topics such as stocks, weather, business, technology, lifestyle, sports and so on. You are also free to select the profile that you like. For example, if you choose the "technology" profile, the app will automatically enable the channels that are related to technology. The rest of the available channels will be disabled but you can manually switch them on.
All in all, I can say that this app is very useful and reliable. It's just that it could have been better if it provides the option wherein its users can manually add their favorite websites and blogs. It also needs more channels since it still lacks in certain categories especially when it comes to entertainment, lifestyle and health. There's also no option for bookmarking a certain entry or article. This feature could come in handy especially when you want to listen to a certain post or article at a later date or time.
Conclusion and Download Link
Listen to Emails and News is a very reliable text-to-speech application for Android. This app is suitable for people who are busy and often read while traveling, such as when driving or riding a train or bus, or people who hate reading but still want to stay up-to-date with the latest events. Moreover, its hands-free controls are very slick and responsive so you can comfortably listen to your unread emails and news articles. It may have some lacking features but it's still good and it's definitely worth checking out. Grab it, now.
Price: Free
Version reviewed: 1.70
Requires: Android 2.3.3 and up
Download size: 4.4MB
Listen to Emails and News on Play Store
Related Posts