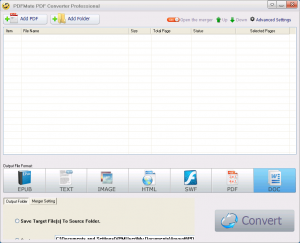 Need to convert PDF to Word, HTML, or images? dotTech has a review on best free PDF to Word, HTML, and images converter. Not happy with the program we mention in our review? Then maybe PDFMate PDF Converter Pro is more your taste. Let's see if it is worth your time.
What Is It and What Does It Do
Main Functionality
PDFMate PDF Converter Pro lets you convert PDF files to various other formats, namely DOC, DOCX, JPEG, TXT, EPUB, HTML, and SWF. It can also merge PDFs.
Pros
Convert PDF to DOC, DOCX, JPEG, TXT, EPUB, HTML, and SWF
Can merge PDFs

You can do regular PDF with PDF merge (i.e. one page per sheet) or you can shrink PDF pages while merging, to fit two pages per sheet or four pages per sheet

Supports OCR
Lets you pick if you want to convert whole PDFs or only select pages
Supports batch processing
Supports drag + drop
Works with regular PDFs and owner-encrypted PDFs
Does not require Microsoft Word to be installed to do PDF -> DOC/DOCX
Fast and easy to use
Cons
Hit or miss conversion quality when converting PDF to DOC/DOCX

Of the four different types of PDFs I tested, one was converted beautifully while other three outputs were pathetic

Does PDF to DOC/DOCX but not PDF to RTF
Does PDF to JPEG but not PDF to other image formats, like PNG and GIF
Works with owner-encrypted PDFs but not user-encrypted PDFs; it won't even let you enter PDF password for user-encrypted PDFs, for those PDFs that you know the password for — it simply doesn't accept user-encrypted PDFs into the program
OCR supports English only
Program window cannot be resized, and the program window is quite long in height… so if you have a small resolution/monitor, the settings at the bottom of the window will be cut off
As per my tests, PDFMate PDF Converter Pro is buggy:

DOC outputs are corrupted (DOCX outputs are fine, not corrupted)
OCR does not work. Either the program freezes if you convert PDF files while OCR is enabled (program uses 100% CPU but never outputs anything) or it doesn't convert anything.
Conclusion and Download Link
I had high hopes for PDFMate PDF Converter Pro but, aside from one PDF -> DOCX that it did really well, PDFMate PDF Converter Pro is a flop; there are way too many issues with this program for me to recommend it to anyone. Of course, you are welcome to give it a try yourself — they offer a free trial you can test before buying — but I wouldn't spend $39.95 on this program.
Instead of PDFMate PDF Converter Pro, I recommend you check out UniPDF or Cometdocs. Both are free/freeware programs that convert PDF to DOC and other formats, and they both work very well.
Price: $39.95

Version reviewed: 1.7.1
Supported OS: Windows XP, Vista, Windows 7, and Windows 8

Download size: 33.5 MB

VirusTotal malware scan results:
Is it portable? No

PDFMate PDF Converter Pro homepage
Related Posts