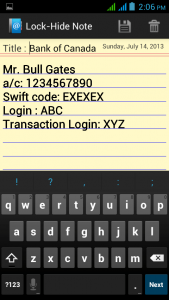 There are many reasons why you should opt for a private note-taking app. After all, it would be too risky for you to save your personal info as plain memos. Come to think of it, there is no guarantee that you can always keep your notes safe from nosey users. What would happen if they get to see the memos that contain some crucial information that shouldn't be exposed to others? Before that happens, it would be best for you to have a simple note-taking app with password lock and hide options. Speaking of which, you might as well check out this app called Lock-Hide Note.
What Is It and What Does It Do
Main Functionality
Lock-Hide Note is a free note-taking application for Android tablets and smartphones. Compared to other note-taking and memo apps in the market, this app features both public and private notes. With private notes, you can automatically keep your notes in a private folder and any content that you will store in this folder will be kept hidden and protected by a password. Meanwhile, the public folder can be readily viewed by anyone and it's great for keeping your daily shopping lists and to-do notes.
To get started, all you need to do is to launch and open the app. After which, choose the password that you want to use for your private notes. Just make sure to create a strong password that is not difficult to remember. Once done, you can start creating your private notes. The method for creating notes is very simple. Just write the title as well the content of your note then save it. You can even share the notes that you've created via Bluetooth, QR code, IM, SMS, SNS, email, etc.
Pros
Simple layout, very easy to use
Features two folders – public and private – In the private folder, all notes are hidden and protected by a master password
You can create unlimited private folders with unlimited notes
Built-in sharing options – you can share your public and private notes via Bluetooth, email, SMS, IM, SNS, QR code, etc.
Works offline – you can access all of your stored notes even if your device isn't connected to the internet
Ad-free – this app doesn't contain any annoying ads that will just randomly pop-up while you're in the middle of viewing or creating a note
Cons
No password recovery option – if you forget your password, you won't be able to retrieve it
You cannot create a backup of your private and public notes
Needs an option for viewing your private and public notes in thumbnail or detailed list view
Lacks the option for sorting out your notes by date modified, date created and by alphabetical order. There is also no built-in search function.
Discussion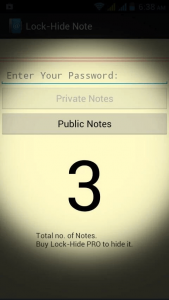 Feature wise, Lock-Hide Note may not be the fanciest note-taking app in the market but despite its simple layout, it is very dependable. What's good about this app is that it offers both private and public notes. Therefore, you have the option to keep your notes as public or private. If you choose private, then you can keep your notes hidden. Furthermore, your private notes cannot be viewed by anyone unless they know your master password.
What I also like about this app is that the private notes are completely hidden. So even if you try to find them in the file manager, they won't appear. The only way to view them is to open the private folder.
With Lock-Hide Note, you can create an unlimited number of private folders and private notes. Each private folder is protected by a master password so be extra wary when creating a password. Make sure that you can remember all of the passwords that you've created because there's no way that you can retrieve them. If you forget your password, you won't be able to view all of the notes that you've kept in your private folder.
Functionality wise, this free note-taking app does a very decent job. It doesn't provide a lot of tools for editing notes but it lets you adjust the font size according to your preference. The notes are also very simple so you can focus more on the content of your notes.
While I like the fact that this app provides a secure and convenient way for keeping notes, I wouldn't say that it's already free from flaws. As a matter of fact, this app doesn't have a built-in search tool and it doesn't provide an option wherein you can automatically sort your notes by date, size or alphabetical order.
Conclusion and Download Link
I like Lock-Hide Note because it gives me the option to create private notes. It may lack in certain aspects that would make it more user-friendly but it is reliable enough to protect and hide your private notes from nosey users. So if you value your privacy more than anything else, I recommend that you try this simple yet secure note-taking application.
Price: Free
Version reviewed: 1.4
Requires: Android 2.2 and up
Download size: 65KB
Related Posts