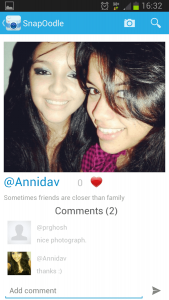 If you are fond of sharing your photos online, then you shouldn't just limit yourself to one photo sharing app. There are a lot of great photo sharing apps out there that you can use to build a network of loyal followers. Speaking of which, there's this interesting photo sharing application for Android called SnapOodle. Let's find out if this app deserves to have a space in your phone's crowded app drawer.
What Is It and What Does It Do
Main Functionality
SnapOodle is pretty much like Instagram but with additional features for photo editing such as being able to draw and add text to your photos. After installing the app on your device, you will be required to create a new user account using your preferred username, email and password. After that, you're free to modify your profile according to your liking and you are also free to explore the entire SnapOodle community for interesting photos and users. That's not all. This app also allows you to follow other users and they could also follow you back.
In addition, this app features a basic photo editing tool that is powered by Aviary. So you basically get more than a dozen of cool and attractive photo filters. You can also add custom frames to your photos and if that's not enough, you can also add some custom doodles and text. Once you're done editing your photo, you can simply add the finishing touches such as the photo description, tags, etc. You can also check the option that will prompt the app to automatically share you photo to Twitter.
Pros
Simple, neat, well-designed and very responsive user interface
User-friendly – just swipe the screen to the right to view the app's main control panel
You get to have your own profile page; the notification area is also on a different page
You can follow other users and vice versa, they can also like and comment on your photos and vice versa
You can edit and enhance your photos before you upload them to your profile
Features more than twelve cool and interesting filters – you can also make use of the app's built-in editing tools such as crop, draw, add frames and add text
You're free to explore the SnapOodle community via search – you can use tags or keywords to search for interesting categories and users
Cons
If you want to add new frames and filters, then you'll need to download them separately from the Play Store – this application doesn't support in-app downloads
There is no share button – when viewing photos, there is no option that would allow you to share them to other sites or networks such as Facebook, Pinterest, Twitter and Tumblr
You cannot change the viewing mode of the photos that you've shared and posted to your profile – the default layout is in thumbnail view, you cannot change it to list view
Discussion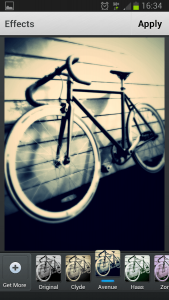 When I first learned about SnapOodle, the first thing that came to mind was the fact that its features can be compared to Streamzoo and Instagram. It's basically a photo sharing app that has built-in photo filters so whenever you get to share your photos, you can enhance them first. So what makes this app unique? To be honest, I do not see a lot of features that makes it different from the other photo sharing apps but it is very stable and responsive. You can scroll through its photo feeds easily and in just a single-swipe, you can easily access its main control panel.
Functionality wise, SnapOodle certainly does a good job. When you upload your photo to your profile, you can edit and enhance it first by applying a wide selection of cool and attractive filters. It is also important to note that the app's built-in photo editor is powered by Aviary so you'll basically get some of the most basic photo editing tools that you can find in the official Aviary photo editing app. There's the crop tool, photo filters, photo frames, drawing tool and add text.
Another notable feature of this app is that you can follow other users and they can also follow you back. This is great especially if your goal is to showcase your works in photography and digital art. You can also add hashtags to your photos. You can also follow specific tags. For example, if you want to stay updated with the latest uploads in the hashtag for dogs, then you can just follow the dog hashtag. No need to retype that tag in the search box over and over again.
So far, I could say that this app is pretty neat and stable. It doesn't crash and it doesn't have those annoying forced closed errors. It works just fine but it is not free from flaws. As a matter of fact, it has some lacking features and options. One good example of this is when you're viewing the photos that you've uploaded to your profile, you cannot change the viewing mode from thumbnail view to list view. There's also no option that will allow you to instantly share your SnapOodle photos to other sites such as Facebook, Pinterest and Twitter.
Conclusion and Download Link
Despite the fact that SnapOodle lacks in certain aspects, I still find it very useful and reliable. It's a great choice especially if you are looking for a good Instagram or Streamzoo alternative. It has all of the basic features that you can usually find in today's most commonly used photo sharing apps. It's just that you might find it a bit difficult to invite your friends to join the SnapOodle community since most of them are already using Instagram. And that ultimately decides if you should grab SnapOodle or not — if people you know are using it, then of course. If not, then either you should be open to finding new friends on SnapOodle or skip out on this app.
Price: Free
Version reviewed: 1.1.0
Requires: Android 2.3 and up
Download size: 7.4MB
SnapOodle – Photo sharing on Play Store
Related Posts