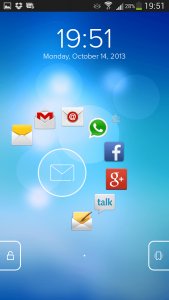 Just as when you thought that your phone's lock screen could never become more attractive and interesting, here comes Start – an app that will transform your dull-looking lock screen into a dynamic start screen. Just as its name suggests, this free app for Android can directly launch apps and plugins straight off your lock screen. So if ever you're interested in checking out this app, better read on.
What Is It and What Does It Do
Main Functionality
Start is a free personalization app for Android tablets and smartphones. Unlike other lock screen apps, the features of Start go way beyond being a simple lock screen. This is because it does not only lock/unlock your screen, it also can also launch apps and plugins straight off your lock screen. This makes it easier for you to access your most commonly used apps and you can even read the latest updates from your favorite sites and blogs without having to unlock your phone.
To use Start, all you need to do is to download and install it to your Android device. Launch it then wait for it to configure its default settings and that's it! Everything is all set and you can just lock your phone screen just like the way you used to. This app will automatically replace your phone's default lock screen and you can even customize it according to your own preferences. Once enabled, just long press and drag its main control ring (the white circle with a small dot on the center) to any application that you want to open. If you want to unlock your screen, just press the lock button (the one located at the bottom-left corner) then slide it to the main control ring.
Pros
Very nice and intuitive UI, easy to use
Very responsive and stable
Customizable user settings – you can choose your preferred theme, personal background, widgets, plugins, shortcuts, etc.
You can set-up and launch up to 24 apps – by default, the application will show your most recently used apps.
You can directly launch your camera apps and default messaging apps
You can directly call up to four contacts
Features four default plugins – search, gallery, RSS feeds and Yahoo! Weather but you can change or edit these plugins
Shows the time, date, day and remaining battery level
Utilizes your phone's native security settings
Cons
Some of the plugins are not directly available for download. You need to get them separately from the Play Store
There's only one default theme that you can use – the rest of the themes must be downloaded separately at the Play Store
Discussion
While the idea of launching apps from the lock screen isn't new, there are only a few apps in the market that can successfully execute it without those annoying bugs and forced close errors. As for Start, it is one of the best lock screen and quick app launchers that I've tried so far. Its UI is very smooth and responsive and it quickly responds to my commands so there's no need for me to press that lock/unlock button over and over again.
What I also like about this app is that it is visually appealing. Its user interface presents a neat yet very modern design. You can even customize its appearance by choosing a different theme and image background. By default, you can use the original Start theme but you can switch to other themes such as the dark theme. It's just that in order for you to use these themes, you will need to download them separately from the Play Store. Fortunately, these themes are free so you do not need to pay even a single cent.
As for setting the image background, you can use your own image or photo. This is actually a great option since you might want to make your lock screen a tad bit more personal. You can also customize the apps that you want to access through your lock screen. The maximum number of apps that you can put in your Start menu is twenty-four but if you don't set any, the app itself will automatically load your most recently used applications.
Aside from the above mentioned features, you can also have up to four plugins on your lock screen. You can set or modify the plugins that you want to use in the user settings but if you prefer to go with the default ones, then you'll get a plugin for search, gallery, weather and RSS feeds.
Conclusion and Download Link
If you are looking for a great personalization tool to liven up your phone's dull lock screen, then you might want to seriously consider this app. With Start, you can do more with your lock screen than normal. It is also a very stable and responsive app and you can easily customize it to match your lifestyle and personality. Check it out.
Price: Free
Version reviewed: 2.1
Requires: Android 2.2 and up
Download size: 5.3MB
Related Posts