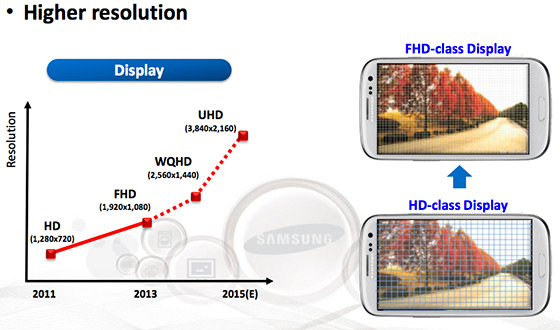 During Samsung's Analyst Day, the South Korean company also made a presentation regarding their future product plans. One area of the presentation had to do with their plans for the displays on their devices, specifically the resolution increases that they intend hit over the next couple of years.
According to the presentation, Samsung intends to replace its current full HD displays (1920 x 1080) next year with WQHD resolution displays, which is 2560 x 1440. That resolution paired with a likely display size of around 5-inches would result in a screen with over 500ppi. Then in 2015, the company plans to up the ante even further by driving up the resolution all the way to 4K, or 3840 x 2160, the same resolution you see is starting to be pushed in the television space.
Though the benefits of a 4K resolution on large 65-inch TVs would most certainly be noticeable and even appreciated, that kind of resolution on a smartphone screen or even a tablet screen might not even be necessary. There's also the question of how much more that would tax the device's GPU and use up energy, energy that could instead be used to drive up battery life instead.
What do you think of the idea of 4K displays on a smartphone? Is it something you'd like or is it overkill? Let us know in the comments!
[via The Verge]
Related Posts