Unrooting your device means restoring it to the original stock firmware and removing all mods and hacks you installed after rooting . In this article , we will show you how you can easily unroot your Samsung Galaxy Note 3 back to the stock firmware and erase all the contents on your device .
BEFORE WE BEGIN
Unrooting your device will remove all the data so make sure you take a back up before you begining the process .
Note : We will not be held responsible if you're device is bricked/damaged during the process . Read the instructions carefully
Devices Compatible : 
Galaxy Note 3 :
SM-N9005
SM-N900 Octa-core
SM-N900T T-Mobile
SM-N900V Verizon
SM-N900P Sprint
SM-N900W8 Canadian
Requirements :
1 . Put your device into Download Mode
Step 1 : Switch off and unplug your device
Step 2 : Now hold down Volume Down , Home and Power button all at the same time . Release it when the screen turns on or a warning message appears
Step 3 : Press Volume Up button to enter download mode and connect your device via Micro-USB cable
2 . Unroot your Galaxy Note 3
Step 1 : After downloading the Odin zip file , right click and extract all the contents
Step 2 : Once done , open Odin . You should see a yellow or blue box at top left corner . In case you dont see a yellow/blue box , download and install Samsung USB Drivers . The screenshot below step 3 doesnt show a yellow/blue box because I haven't connect my Note 3
Step 3 : Click 'PDA'  and select tar.md5 file you extracted earlier from the downloaded stock firmware then click Ok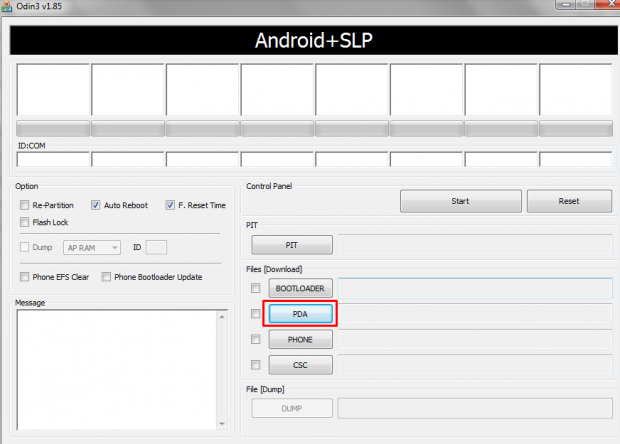 Step 4 : Make sure only "Auto Reboot" , "PDA" and "F. Reset Time" are ticked . Do not touch anything else
Step 5 : Click start and let the program finish the process
Once done , you'll see a "PASS!" message in Odin program . In case you get a "FAIL!" message , retry the process or change the USB cable .
3 . Put your device into recover mode
Once you have done the above steps successfully and your device switches back on , you'll recognize that your apps/photos etc . were not removed . If you only wanted to restore to the stock firmware then skip the recovery mode steps mentioned below and do not perform them . But if you want to erase all contents on the phone including apps and photos then follow the steps below :
Step 1 : Switch off your phone and hold down Volume Up, Home and Power buttons at the same time until you see a "Recover Booting" message
Step 2 : Now choose "wipe data/factory reset" to erase everything on your phone and choose "Yes" and "Reboot System Now" . Wait until the reset is complete and your phone reboots.
CONCLUSION
If you follow the steps properly , your device will successfully reboot and return back to the stock firmware without anyone realizing that you had rooted your Note 3 . If you face any problems during the process , leave a comment .
Related Posts