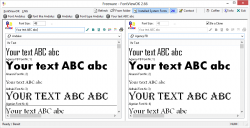 I have a strange relationship with fonts. When I started writing applications, I was a little over the top and creative with the user interface colour scheme. I used to choose the most bourgeois fonts for labels, text fields and titles. I noticed from going  to PC to PC that my fonts don't work on every computer. I realized it was because I was attempting to use internal system/Windows fonts.  How I sorted this out is not important but while I was initially writing my first few fabulous applications, it would have been really interesting to see what fonts are on a system without writing it into my code. FontViewOK would have been much appreciated back then.
What Is It and What Does It Do
Main Functionality
FontViewOK is free font viewing application developed by SoftwareOK. It allows you to view system fonts or fonts from a specified folder. It also allows you to search for similar fonts online.
Pros
Compare how two fonts look, side-by-side
You can choose to customize and see how a font reacts when the text and background color is changed, when text is italicised, emboldened, underlined or struck through
Simple, straight forward user interface
It's portable
Cons
Cannot be minimized to the system tray
Colorless and uninspiring user interface
Discussion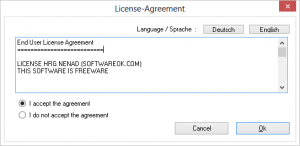 FontViewOK is lightweight and portable. When you first run it, it brings up a usage and license agreement screen. The license text can
be viewed in either German or English. Once you accept the agreement, it never appears again even after you close and start the application again. Which tells me that it saves user information locally on your computer.
What you'll notice as soon as the application opens up is that its colorless and plain. The top menu bar only contains two options –  'FontViewOK' – which has an option that disables the I-Net toolbar and an option to exit the application; 'LNG'  – which allows you to change the language the application is in and translate text by contacting the applications main developer.
The I-Net bar basically links contextual information to the applications default search engine. By this I mean if you've selected something or you're writing text, the I-Net bar display an option to search for that text, its font or similar fonts through a German search Engine called Surfok. The search engine just links to other more established search engines and translates the results into German.
You have two options when displaying fonts. You can either view system installed fonts or fonts from a folder. There is a refresh button that basically checks if there were any changes to the fonts while you had the application open. A feature that I found extremely impressive was that you could open two font windows which allows you to compare two separate fonts.
In the font window, you can control the size of the font, what text you want the font to be displayed in and the format of that text. You can also print your font text from this screen.  You can either choose your font from the drop down menu or peruse through the giant font text area and look for your font.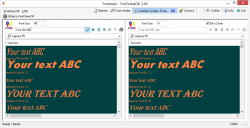 The second font screen can be a direct clone of the first where changes on the first screen also reflect on the second screen or it can be completely independent depending on what option you choose. you can use this option to compare fonts and texts.
There's also a contact button that basically links you to the website and help resources. I wasn't sure what the coffee button did until I clicked on it and discovered that it links you to donations on their website. It's got an info button that works as a an about dialogue and also displays a change log.
Conclusion and Download Link
FontViewOK is a straight forward font viewing application with useful functions but has an interface as white and as plain as a piece of paper. Overall, it is a good program I can't see any reason why this particular piece of software does not deserve a try if you need such functionality. If you somehow find FontViewOK to have too many intolerable qualities for you, a great alternative is AMP Font Viewer.
Price: Free
Version reviewed: 2.66
Supported OS: Windows XP/Vista/7/8

Download size: 152 KB
VirusTotal malware scan results: 0 / 42
Is it portable? Yes
Related Posts