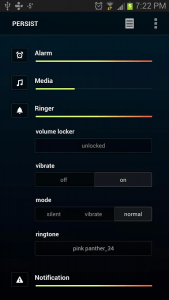 Do you often forget to switch your smartphone to silent or vibrate mode? Well, you are not alone. Come to think of it, switching from one volume setting to another can become quite troublesome especially if you are in a rush to attend your early morning classes, business meetings and so on. If you want a hassle-free way to adjust your phone's settings, then you better check out this free volume control app called Persist (Volume Control).
What Is It and What Does It Do
Main Functionality
Persist is a free volume control app for Android tablets and smartphones. With this app, you can easily control and adjust your phone's volume settings. No need for you to go to your phone's main settings for sound, notifications and incoming calls. All you need to do is to launch the app from your app drawer. You will then be able to set the volume for each section by simply dragging the volume bar from 0% to 100% or vice versa. In other words, you are free to set your desired volume level for alarm, media, ringer, notifications, system, voice, Bluetooth, etc. You are also free to create and set different profiles to match your lifestyle. Each of these profiles will be made up of predefined settings that are specifically created for a certain time or event such as your sleeping time and work-related appointments.
Pros
Slick UI, easy to use, very stable
Predefined profiles – Night, Silent, Appointment and Default
You can create your own volume preset with full settings for alarm volume and alarm ringtone, media volume, ringer volume, ringer vibrate, ringer mode, ringer ringtone, notification volume, notification vibrate, notification ringtone, system volume, voice volume, Bluetooth volume, etc.
Volume locker – you can lock the volume for each section to a certain level
Customizable user settings
You can easily view and access your volume and ringtone settings via the notification drawer
Cons
Some of the app's settings are only available for Pro users. These features include the ability to schedule presets by time or location as well as the ability to add home screen widgets. All of the in-app ads will also be removed as soon as the user opts to upgrade to the app's Pro version.
Discussion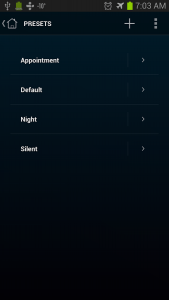 Persist is a volume control app that can automate your device volume and ringtone. It features a slick and modern-themed UI that is made up of easy-to-use and properly labelled controls. Furthermore, this app provides a hassle-free way of adjusting the volume for your alarm, media, ringer, voice, system, Bluetooth and notifications. So instead of going to your phone's settings, you can just open the app to set your preferred volume level and ringtone.
To use this app, all you need to do is to go to its main menu and then select the section that you want to adjust. For example, if you want to adjust the volume level for the alarm – simply drag the volume bar from left to right or vice versa. Dragging the volume bar to the right will make your alarm volume go louder. You can also mute your alarm volume by dragging the volume bar to the far-left until it reaches zero.
If you want to access the rest of the volume settings, simply tap the icon that corresponds to the section that you want set. This means that if you want to adjust your phone's ringer volume, vibrate mode and ringtone, all you need to do is to tap the bell icon. The same method applies for the rest of the app's sections.
It is also important to note that some of the sections have a volume locker option. This option is intended to lock or secure your volume settings just so they cannot be changed even if you press the volume buttons. Aside from this, this app also features a couple of predefined profiles that you can readily use at certain times or occasions. If you want to create your own preset, simply go to the app's Presets page then tap the "create new preset" icon. Name your preset, add your custom settings then press the apply/confirm button. After which, your newly created preset will automatically appear on the list. Tap the preset that you want to use and that's it.
All in all, I can say that Persist volume control app does its job well and it is really great to know that it doesn't limit its user to a selected number of predefined profiles and presets. It also provides a convenient way to adjust your volume and ringtone settings and it will definitely save you from browsing through your phone's intricate menus. Just keep in mind that there are certain limitations to the app's free version so if you want to unlock the app's full features, you need to upgrade to Pro.
Conclusion and Download Link
Persist for Android is a reliable volume control app that you can use to effectively manage and monitor your phone's volume levels and ringtone. Its presets will also come in handy especially if you do not want to repeatedly set your volume controls for each event or occasion. If you are interested in using this app, I would suggest that you try its free (ad-supported) version first before you decide to upgrade to its Pro (ad-free) version.
Price: Free (Ad-supported), Pro – $3.87
Version reviewed: 3.3
Requires: Android 2.1 and up
Download size: 5.2MB
Related Posts