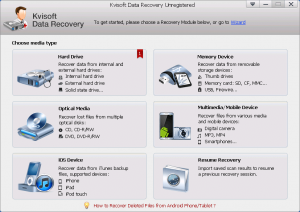 For whatever reason, sometimes we are in a situation where we must recover lost or deleted files. For those needs, dotTech has a review highlighting the best free file and data recovery software for Windows. Not happy with our suggestions? Kvisoft Data Recovery is another option. Let's see if it is worth your time.
WHAT IS IT AND WHAT DOES IT DO
Main Functionality
As the name suggests, Kvisoft Data Recovery lets you recover lost and deleted files.
Pros
Has three modes for scanning — Quick Recovery, Deep Scan, and Raw Recovery — which allow you to undelete recently deleted files, recover deleted files that were deleted in your current Windows, and recover lost files which were deleted prior to or because of a reformat
Can filter scan results by folders, file type, date or you can use your own custom search query
Can preview document (Word, TXT, PDF, etc.), image, video, and audio files prior to recovery
Allows you to recover files in batch; you can recover as many files as a time as you like
Tells you the recoverability "status" of each found item
You can save scan results and load them later, if you are ever in a situation where you want to recover files found in a scan but need to close Kvisoft Data Recovery for whatever reason; when you save a scan result, you won't have to re-run the whole scan again, simply load the saved results to recover files
Supports recovery from all internal and external hard drives (including HDDs, SSDs, and USB drives), removable media like USB flash drives, CDs/DVDs, and mobile devices (smartphones, tablets, MP3 players, etc.)
Easy to use and well designed interface
Cons
Does not have the ability to create a bootable recovery CD/DVD/USB
Not all video and audio file types can be previewed; developer is not clear on exactly which types can be previewed and which can't. The developer only tells us the following:

"Documents: preview undamaged Word, Excel, PPT, TXT and etc.
Image: preview JPG, PNG, GIF, TIF and etc beforehand.
Video: AVI, MOV, MP4, M4V and more types can be previewed.
Audio: audio like MP3, WAV, WMV and etc are previewable."

No offline help documentation
Program window cannot be resized
Program window can be minimized to task bar but cannot be minimized to system tray (which is an important lacking feature because data recovery can, by nature, take a long time to complete and some people may not want it sitting in their task bar the whole time)
$69.95 is a large price for a program in a highly saturated field and lacking the ability to create bootable recovery media
Since Kvisoft Data Recovery has the ability to save scan results, it would be nice if it had a feature that allows you to leave the program running while you are away from computer, automatically save scan results once the result is complete, automatically shut down/hibernate your computer after the results, and then allow you to load saved scan results the next time you run the program.
CONCLUSION AND DOWNLOAD LINK
One feature I was pleasantly surprised to find in Kvisoft Data Recovery is the ability to save scan results; two other features I also like are its ability to filter/search scan results and the fact that it gives us the recoverability status of find files. Overall, however, Kvisoft Data Recovery is just another data recovery program; there really isn't anything in this program to make it stand out above the crowd of data recovery mediocrity. I'm not saying that it is a bad program; it isn't. I'm saying that it isn't any better than the rest.
In fact, in my book, Kvisoft Data Recovery is worse than some of its rivals because of its lack of ability to create bootable/recovery CD/DVD/USB. As I've said over and over, being able to run from outside Windows via bootable/recovery media is essential for a data recovery program and a program that can't do it is semi-useless, simply because of the nature how data recovery works.
That being said, do I recommend Kvisoft Data Recovery? You are welcome to grab it if you want — they do have a trial you can test before buying — but I don't recommend it. Why not? Because the lack of bootable/recovery media is a deal-breaker in my opinion. Personally, if I were looking to recover lost or deleted files, I'd pick from dotTech's review of best free file and data recovery software for Windows rather than pay $69.95 for a program that can't run from outside Windows. And I suggest you do the same.
Price: $69.95

Version reviewed: 1.5.2
Supported OS: Windows 2000 / XP / 2003 / Vista / 7 / 8
Download size: 8.7 MB

VirusTotal malware scan results: 0/47

Is it portable? No
Kvisoft Data Recovery homepage
Related Posts