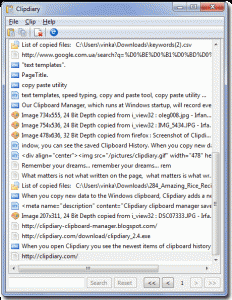 Copy/cut and paste is a great feature found in Windows (and other operating systems); it allows you to easily move data from one place to another on your computer. However, the issue with Windows Clipboard is it only keeps track of the latest clip you copy/cut; all other clips before that are deleted. This is an issue for people that often copy/cut + paste a lot because they may want previous clips to be saved and reused at a later date. That is why clipboard managers were invented, and dotTech has a review on the best free clipboard managers for Windows. If, however, you aren't satisfied with our picks, Clipdiary is another one. Let's see if it is worth your time.
What Is It and What Does It Do
Main Functionality
Clipdiary is a clipboard manager for Windows; it monitors Windows Clipboard and records whatever you copy/cut. You can then paste recorded clips whenever you want, instead of just being able to paste the latest clip as allowed by Windows Clipboard.
Pros
Records all copied or cut data (text, images, files, etc.) as clips and lets you paste individual clips at a later date
Recorded clips remain even after computer restart
Supports both plain-text and rich-text clips and lets you optionally paste rich-text clips as plain-text
Works with hotkeys
Has ignore lists you can use to tell Clipdiary to a) not record clips copied/cut from specific programs b) not record clips that contain certain file formats c) disable Clipdiary hotkeys when using specific programs
Has built-in search function to search recorded clips
Can save recorded clips as text file
Can search the text content of recorded clips via Google
You can delete database of recorded clicks with the click of a button
You can pause/unpause the program, if there is ever a time when you don't want Clipdiary to record clips but don't want to close/reopen the program
Easy to use
Has a portable version
Cons
Cannot reorder list that shows recorded clips; the list is always in chronological order, meaning the newest clips are at the bottom… which may annoy some people
You cannot password protect the program or database of recorded clips
There is no feature that automatically clears database of recorded clips every X mins or every time an X even happens (e.g. computer restart)
Doesn't really have any significant features that would make you want to get Clipdiary over the dozens of other clipboard managers. In fact, lacks some features found in rival programs — such as the ability to easily share recorded clips with others, either via the internet or local network, and the ability to "sticky" commonly used clips at the top of the recorded clips list for easy access
Can be a bit heavy on computer resources while idle. For example, at one point it was using roughly 6 MB of RAM. In and of itself 6 MB of RAM isn't a lot, but other clipboard managers don't use as much so Clipdiary can, at times, be heavier than rival software.
Conclusion and Download Link
I first reviewed Clipdiary back in April 2009 and gushed about the program; I loved its features and ease-of-use. Today, four years later, I still love its ease-of-use… but I find its features to be lacking. It isn't that Clipdiary is a bad program with no good features. It is far from a bad program — it is a very good clipboard manager that does exactly what it claims. I'm not saying Clipdiary is bad; I'm saying Clipdiary doesn't provide unique functionality.
Really the only feature that I found to be outstanding in Clipdiary is the ignore lists it has. Other than that, Clipdiary provides the bare minimum features expected of a clipboard manager. Sure, the features it provides are enough to help you record and paste clips, but, in my opinion, they aren't enough to justify shelling out $19.95 for this program.
You are more than welcome to give Clipdiary a try yourself to make up your own mind — they do offer a trial which you can test before purchasing — but I see no reason to spend $19.95 on this program when you can get the same (and more) features and the same ease-of-use with freeware clipboard managers. Read dotTech's review on best free clipboard managers on Windows to learn more.
Price: $19.95
Version reviewed: 3.51
Supported OS: Windows XP, Vista, 7 and 8
Download size: 2.6 MB

VirusTotal malware scan results: 1/47
Is it portable? Yes
Related Posts