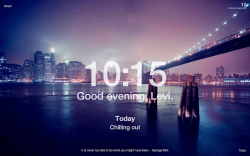 Chrome has once again updated its features and whether you like it or not, you'll have to get used to its newly modified New Tab homepage. If the sight of your recently visited sites bothers you, then you might as well use Momentum to instantly transform your browser's New Tab homepage into a personal dashboard with inspiring quotes, soothing backgrounds, To-Do lists and welcome notes.
What is it and what does it do
Main Functionality
Momentum is a free extension for Google Chrome that is intended to change or transform your browser's New Tab homepage into a personal dashboard. In your personal dashboard, you will see a personalized greeting together with other interesting elements such as the ones listed below:
Soothing backgrounds – nature, city lights, beautiful landscapes, etc.
Geo-targeted weather and temperature update
Real-time clock that can display time in 12-hour or 24-hour format
Inspiring quotes
Daily reminder for your main focus/goal
To-Do List
"Apps" button – instantly directs you to the default Chrome Apps homepage
Once enabled, Momentum will automatically change your New Tab homepage into a personal dashboard so there's no need for you to do anything. All you need to do is to open a new tab on your Chrome browser. Just don't forget to fill in the blank sections with the required details. You can also adjust or set the weather tool so that it would accurately show your city's temperature and weather. Aside from that, you can use the To-Do list to note down the most important things that you need to do and that's it. Your personal dashboard is all set and it will automatically appear every time you open a new tab or new window.
Pros
Neat UI, fast-loading, easy to use
Doesn't lag, doesn't cause the browser to crash, very stable
High-quality, rotating background images
Visually appealing with a variety of useful elements such as the time, weather, to-do list, etc.
Features a daily inspiring and motivational quote and you can also set your main focus for the day
Helps boost your productivity since every time you open a new tab, you will be reminded of the things that you should do so you don't procrastinate
Works offline – can be used even when there's no active Internet connection
Cons
You cannot choose or upload your own background image
There's a clock but there's no date – it would be nice if they add a feature where the date and the day would appear right below or above the clock
The "Apps" button will only show a plain text with a direct link to the Apps dashboard – this could be replaced by an actual button
It would be nice if there's an option that will allow you to enable/disable the weather widget just in case you do not want the extension to track your actual location
Only works on Chrome – not applicable to other browsers such as Safari, Opera, Firefox and Internet Explorer
Discussion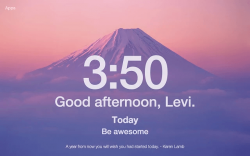 Momentum is a splendid Google Chrome extension that will instantly transform your browser's New Tab homepage into a personal dashboard. Furthermore, this simple extension is very useful for individuals who are aiming to boost their productivity and work performance.
What I like most about Momentum is that it's simple yet very straightforward. It also features a variety of high-quality image backgrounds. Every day, you will get a different image background for your personal dashboard and all of these backgrounds are very soothing to the eye. So whenever you feel tired or stressed, you can just open a new tab and stare at the background for a few seconds.
Aside from the soothing image backgrounds, your personal dashboard will also feature a simple "To-Do List" and weather widget. Therefore, you are free to note down all of the important tasks that you need to accomplish within that day and you can also note down your main focus or goal. This feature is quite useful since it will serve as a reminder of the things that you should do. This will also help keep you away from distractions so you can focus more on your work instead of doing things that will cause further delay.
All in all, I can say that Momentum does a good job in transforming your New Tab homepage into a personal dashboard. It has this minimalistic effect which is quite good especially if you just want to focus more on the things that will help you become more productive at work. Nonetheless, this extension could still be improved in many ways and it would be really great if it adds a new feature that will not only show the time but also the date. It would also be great if there's an option that will allow you to quickly enable or disable the clock widget. This option could come in handy especially if you do not want the extension to keep track of your location.
It is also very important to note that this extension is not yet compatible with other browsers except Chrome. It also works offline so you can use it even if your computer is not connected to the Internet.
Conclusion and download link
Momentum for Chrome is a neat-looking and very useful personal dashboard and I highly recommend it to anyone who wishes to improve the quality of their work. So if you think that your browser's default New Tab page isn't that appealing, you might as well try and install this extension to your web browser.
Price: Free

Version reviewed: 0.19

Requires: Google Chrome on any desktop operating system (Windows XP, Vista, 7, 8, Mac OS X, Linux)

Related Posts