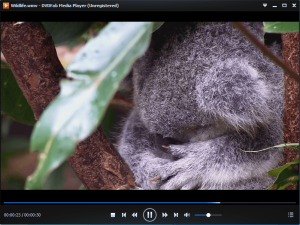 Watching Blu-rays and DVDs is extremely easy using a Blu-ray or DVD player; pop in your disc and go. On your computer, however, it isn't as easy due to restrictions placed by DRM protection. Blu-rays and DVDs not protected by encryption/DRM can be easily played in almost any media or video player. However, you need specialized software to watch protected Blu-rays and DVDs on your computer. DVDFab Media Player is one such program. Let's see if it is worth your time.
What Is It and What Does It Do
Main Functionality
DVDFab Media Player is a video player for Windows that allows you to play and watch Blu-rays, DVDs, and other video formats. It supports bypass of DRM-protection.
Take note there are free and paid versions of DVDFab Media Player. After you download and install DVDFab Media Player, if you don't purchase or register before the 30-day trial ends, it reverts to the free version. The free version is restricted in features; it can play other video files and DVD/Blu-ray folder/ISO but cannot play DVD/Blu-ray disc and doesn't support Blu-ray menu. In other words, the free version of DVDFab Media Player is essentially the same as all other media players — only the paid version offers advantages.
Pros
Plays Blu-rays (disc, folder, ISO), DVDs (disc, folder, ISO), and other video formats

Support formats are: "*DVD/Blu-ray Discs; *DVD/Blu-ray ISO files; *DVD/Blu-ray movie folders; *.3g2; *.3gp; *.3gp2; *.3gpp; *.amv; *.asf; *.avi; *.bin; *.cue; *.divx; *.dv; *.flv; *.gxf; *.iso; *m1v; *.m2v; *.m2t; *.m2ts; *.m4v; *.mkv; *.mov; *.mp2; *.mp2v; *.mp4; *.mp4v; *.mpa; *.mpe; *.mpeg; *.mpeg1; *.mpeg2; *.mpeg4; *.mpg; *.mpv2; *.mts; *.mxf; *.nsv; *.nuv; *.ogg; *.ogm; *.ogv; *.ogx; *.ps; *.rec; *.rm; *.rmvb; *.tod; *.ts; *.tts; *.vob; *.vro; *.webm; *.wmv"

Supports encrypted/DRM-protected/region-locked Blu-ray and DVD movies and TV shows, plus regular non-encrypted Blu-rays and DVDs
Works with HD and SD content
Supports Blu-ray and DVD menu
Expert users can modify playback settings (codec, subtitles, etc.)
Excellent playback quality
Clean, easy-to-use interface that has multiple different skins you can use in the program
Cons
"Failed to initialize" on my Windows XP (32-bit) test machine. Works fine on my Windows 7 (64-bit) computer.
No real help documentation, online or offline
According to the developer, "DVDFab Media Player always supports newly released movies as long as you allow it to access Internet and get advantage of its powerful server." It isn't clear if this is means you have to always have an active internet connection in order to watch a DRM-protected Blu-ray or DVD or just a one-time connection to download an update necessary the break a specific type of encryption. Either way, this will be a deal-breaker for some.
Doesn't support 3D playback, yet
Is expensive — $49 for lifetime license with one year of updates, $65 for two years of updates, and $99 for lifetime updates

It is not clear if the active internet connection required (as mentioned in the previous bullet) is considered an "update" by DVDFab or not. If it is considered an update, that means it is only available for as long as your update subscription and you would be better off paying the $99 for lifetime updates. If it isn't an update, you could pay the $49 for a lifetime license with one year of updates and continue to use the program to play the latest Blu-rays and DVDs.
Conclusion and Download Link
DVDFab Media Player is a good program. Sure, it has its drawbacks but the attraction of the program is its ability to flawlessly play Blu-rays and DVDs — particularly DRM-protected ones — and it does that in grand fashion. It is a bit expensive, but quality comes at a price; plus, there really aren't many, if any, reliable free/freeware players that flawlessly play both Blu-rays and DVDs.
Overall, I recommend this program… if you are willing or able to pay the high price. I did run into an issue of it not working on my Windows XP computer, but Windows XP is listed as officially being supported by DVDFab Media Player so it could be just an issue with my particular computer; don't write off the program if you are a Windows XP user without first trying it yourself.
Price: $49, $65, $99

Version reviewed: 2.20
Supported OS: Windows XP, Vista, 7 and 8
Download size: 9.7 MB

VirusTotal malware scan results: 1/47

Is it portable? No
Related Posts